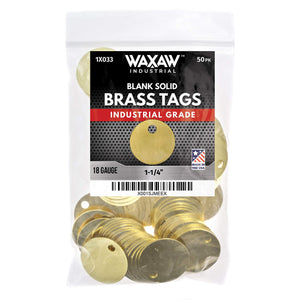 1.25u00e2u20acu009d Solid Brass Stamping Tags Industrial Grade (0.040") Blank Chits for Pipe Valves, Tool Check-Out and Equipment Labeling | Made in USA (50 Pack)
Regular price
$249.95
$0.00
Condition: New
Shipping: Free shipping to US addresses
Satisfaction garanteed!
* MADE IN THE USA from the highest-quality 18-gauge brass available. These .040-thick flat brass chits resist bending so they are suitable for industrial, correctional and other harsh environments.
* NON-FERROUS metal flat brass blanks won't produce a spark, making them safe to use as valve tags, key tags, pet ID tags and more. Inscribe information easily by metal stamping or with an etching pen.
* RUST-PROOF solid brass is perfectly suited for both indoor and outdoor applications, as well as humid environments around plumbing and steam.
* IMPROVE WORKPLACE SAFETY and keep track of equipment with WAXAW Industrial Round Brass Tags. Label wiring, keyrings and tools with engravable blank chits that withstand the effects of time and temp.
* PRE-DRILLED HOLES measure 0.1875", making our tags compatible with many utility hooks and nylon cable ties. These sturdy brass ID tags are ideal for compliance with regulations for equipment labeling.
Product description
Make information available at a glance
WAXAW Engraveable Brass Discs can be affixed to virtually anything by a split ring, ball chain, nylon cable tie or similar device. Blank discs are easy to add information to by metal stamping or with an etching pen. This makes our brass tags ideal for denoting hot / cold supply lines, voltages, contact phone numbers and other information crucial to performing work safely and efficiently.
Countless ways to use WAXAW Brass Tags
Brass tags are the perfect way to maintain accountability of company assets by having employees exchange personalized chits for keys, wrenches, 2-way radios and other tools and equipment. They can also be used to account for staff by having each employee post a brass tag inscribed with their name when they enter the premises and remove it upon departure. In the event of an emergency, you'll know at a glance who is on the jobsite. With large 0.1875" pre-drilled holes (3/16"), our brass tags hang easily from utility hooks, nails and pegboards.
Proudly made in the USA
We use the highest-quality 18-gauge brass for long-lasting durability. Brass discs are unfinished and rust-proof to endure temperature extremes, precipitation and environmental pollutants. They resist bending to thwart vandalism and to serve you reliably for years to come. Available in 1", 1.25" and 1.5" diameters, you're assured of finding the perfect size brass chit to convey information concisely without risk of fading or breaking.
Post key information clearly and reliably in any environment. Add WAXAW Industrial Solid Brass Disc Tags to your cart today.
Product information
| | |
| --- | --- |
| Manufacturer | WAXAW |
| Brand | WAXAW |
| MPN | 1X033 |
| Weight | 0.697 lbs |
| Lenght | 5.8312 inches |
| Width | 3.9006 inches |
| Height | 0.5122 inches |
| Type | OFFICE_PRODUCTS |
| PartNumber | 1X033 |
| NumberOfItems | 50 |
| PackageQuantity | 1 |