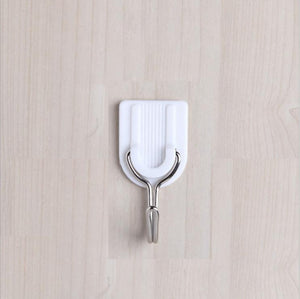 6 PCS Large Utility Hook for Bathroom Kitchen Wall Door Ceiling
Regular price
$8.99
$0.00
Item Description:
·    Material:PS+ stainless steel
·    Size:3*2.5cm / 1.18*1 inches
·    Color:white
·    Item Type:Hook
·    Quantity:6pcs
·    Weight:30g / 1.1 ounce
·    Brand:Comzendle
Features:
       ·    Adhesive hooks apply on a variety of smooth surfaces.
       ·    Waterproof and Anti-moisture.
       ·    Small hook great capability, Heavy load of 20lbs items. Durable and Reusable, easy to clean and replace without surface damage.
How to Use:
      1. Clean the place surface where you want to paste the hook
     2. Peel off the cover from the bulge, not touch the adhesive surface
     3. Press the hook from middle to edge, remove air, make sure the basic of the hook fully attached to the surface
     4. After 12 hours, hanging weight effect is better.
     5. Washing the adhesive surface by water if it is dirty. but do not touch it by hand, then use again when it dry naturally.

  Note:
              1. Do not stick on the surface of water, dust, oil, wax. Please clean the adhesive surface with water if it has dust covered before reposition the hook.
             2. Do not hang valuable and fragile items.
             3. Do not use near high temperature. 
             4. Please do not use it on painted wall. 
Package Included:
          6 pcs x Utility Hook