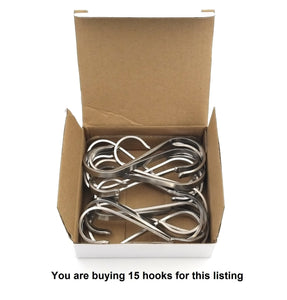 eeZe Rack ST-FSH-02 304 Stainless Steel All-Purpose Flat-S Utility Hook (X-Large, 15-pack)
Regular price
$19.99
$0.00
Brand: eeZe Rack
Color: 304 Stainless
Features:
EASY ORGANIZATION: These heavy duty S hooks are a simple yet brilliant storage solution for any kitchen or work area where space is limited as well as for those areas where you might simply need to hang something up. Don't let clutter distract you from the task at hand and take up your precious time. With the S hooks you can easily organize those crammed together kitchen utensils or workshop tools.
USER FRIENDLY AND SAFE: There is no need to worry with tools or fret over putting holes in your beautiful walls. S hooks easily hang on existing objects (e.g., racks, bars, and shelves) without the need for nails, screws, or adhesives. Made from durable stainless steel, these hooks are strong and safe, so you can hang heavier items without fear of them falling or becoming damaged.
STYLISH: The stylish, sleek stainless steel design complements any kitchen, workshop, or outdoor area. If you're looking to upgrade/update your kitchen or work area, the S hook will go a long way in improving both the professional look and aesthetic appeal of any room. And don't worry about spending a ton of money to get the polished, organized look you desire because these sturdy S hooks are affordable and made to last.
VERSATILE: One of the great things about S hooks is that they are not limited to a specific area of your home. They can be used both indoor and outdoor and for a number of things: use them in the kitchen for hanging pots, utensils, or even coffee mugs; in the bathroom for hanging towels; in the garage for organizing your tools; or take them outside for hanging plants or for keeping up with your grill utensils.
BUY WITH CONFIDENCE: Try them today and buy with confidence with our simple, hassle-free, no-questions-asked 100% MONEY BACK SATISFACTION! Tough, durable construction and fine workmanship.. Click the "Add to Cart" button to order. .
Publisher: eeZe Rack
UPC: 653233426156
EAN: 653233426156
Package Dimensions: 4.0 x 3.5 x 1.5 inches