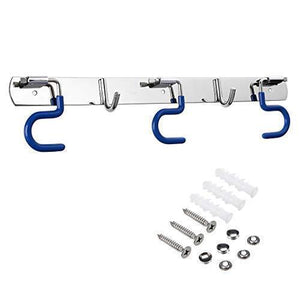 Itafusa Mop Broom Holder Organizer, 3 Positions Holder with 2 Hooks Wall Mounted Cleaning Tools Organizer Rack, Space Saver Rakes Holder, Stainless Steel Broom Mop Handle Holder for Kitchen Garage
Regular price
$15.99
Sale price
$22.55
Sturdy Mop Holders - These are great for organizing your cleaning supplies. They were easy to install. They install with three screws each, which are included. You're mop and broom hang on them easily and are easy to get off. The hook has a rubber type material which prevents slipping of your item.
This multi-function mop holder has a fashionable design, and has features of saving space and organize mops. It serves as a good helper for keeping the mops and other stuff well organized and tidy. The 2 hooks offer additional options for storing things like a dustpan, brush, and grocery bags filled with grocery bags.
Great space saver - This product is fantastic! It was easy to mount and hanging things are a breeze. It can help you to clean up the dreaded corner of shovels and a mop. And it also comes with hooks, you can also hang your aprons and purse on it. This piece is sturdy and so are those little hooks.
HEAVY DUTY UTILITY HOOKS- This mop and broom hanger to be built very well. The stainless steel body is solid, along with the S-hooks. In addition to brooms and mops, use a couple in your garage or gardening shed to store rakes, shovels, etc. One hooks on each unit give you plenty of places to hang buckets, rags, or any other items that can be hung on a hook.
This is a really nice option for hanging up heavier mops and brooms and things. The hooks are sturdy and durable, have a finished look and grip well. They are really nice for use in garage, utility room, sheds or anywhere inside of your home.