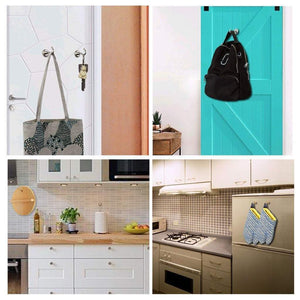 TLBTEK 10 Pack of 75 LBS Neodymium Magnetic Hooks Heavy Duty,Powerful Strong Magnetic Hooks for Bathroom,Bedroom, Kitchen, Workplace, Office and Garage
Regular price
$30.99
Sale price
$43.70
Brand: TLBTEK
Color: 10 Pack
Features:
【SUPER STRONG RARE EARTH MAGNETS】-TLBTEK magnetic hanger hooks bulk are made of high grade of Neodymium (N38) and and Carbon Steel. It is the strongest magnetic material in the world and not easy to be destroyed, break or bend.Three layers nickel coated on durable magnetic hooks greatly reinforces corrosion resistance ! Maintenance free, no rust !
【MULTI PURPOSE】-TLBTEK lightweight industrial strength magnetic and hooks set perfect use for hanging little gadgets, the 75lb magnetic hooks usually used to hang and hold hats, keys, towels,clothes,pictures,coat,calendar,bag,grill tool and so on.
【SMALL SIZE】-Magnetic hook has the characteristics of small size, large suction, when vertical adsorption on the material surface, can maximize the suction. But, the contact surface's thickness, material, roughness and friction force will also influence the suction in some degree.We do not suggest to use this 17lb magnetic hooks for hang heavy items, though you can really feel the pull when attaching them to a metallic surface via vertical adsorption on the material surface.
【APPLICATION】-TLBTEK powful wall metal magnet utility hooks can be used indoor and outdoor for kitchen,refrigerator,bedroom,bathroom,bedroom,whiteboard,windows,utensils,lockers,door,clipboard,offices,school,workshop,bbq,office,home,locker,barbecue,warehouse,garages,classroom,cruise cabins,anywhere magnetic surfaces.Important to achieve up to 75 LBS pull strength the magnet needs to be attached to a horizontal application - reduced by 2/3 if used vertically.
【EASY ASSEMBLE】-TLBTEK ultra extra strong swivel magnetic storage hooks are easy to remove, they would be great in any small space to aid storage and easy accessibility, and these powerful magnetic hooks fit in anywhere and serve a purpose that cannot be duplicated.Quick and easy to use with no tools, no drilling, no glue, nails, or screws. Due to the power magnetism, if you want to use these Magnetic utensil hook on stainless steel fridge, we suggest to put a tissue or something else between t
Publisher: litbit
Details: TLBTEK Premium high power magnetic hooks are the Strongest Magnetic Hooks in the world! Small, lightweight and extremely strong.
Hundreds of uses perfect for kitchen utensils, shed tools, filing cabinets, child safety, mechanics, wiring, washing lines, steel doors, hanging lights, decorations, cruises, the refrigerator and so much more!

The Pulling Attraction About the SNE16 Magnetic hooks.
Horizontal Pull Attraction: 25 pound
Vertical Pull Attraction: 75 pound
The attraction will be affected by the material and the smoothness of the surface attached to.
The vertical pull attraction is much bigger than the horizontal pull attraction.
The actual pull force achieved is dependent on the surface that is being clamped onto (material type, thickness, flatness, friction levels, etc), its quality (e.g. rust free), its size (thickness plus total surface area), etc.

Are TLBTEK magnetic hooks anti-rust?
YES!TLBTEK magnet was electroplated with Ni+Cu+Ni which is the best guard of rust. The shell and hooks was made of stainless steel. So the hooks is totally anti-rust.

How to Install?
NO TOOLS REQUIRED. QUICK AND EASY TO USE.Put them on any magnetic surface.No drill. No holes. No mess.

Package Include:
10×75lb Magnetic hooks Set
Please Attention:
Due to the power magnetism, if you want to use these Magnetic hook on stainless steel refrigerators, we suggest to put a tissue or something else between the magnet and the surface to protect the surface from scratching.
Package Dimensions: 5.7 x 4.4 x 3.4 inches