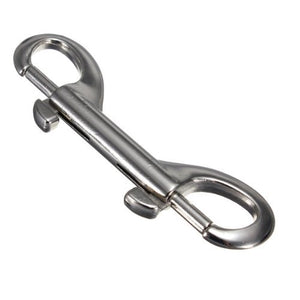 10pcs DOUBLE ENDED METAL Snaps PLATED TRIGGER HOOKS CLIPS Snap Key Holder Security NEW
Regular price
$16.30
$0.00
The classic snap hook. Made more versatile with double-end hooks.
Spring-loaded bolts snap closed and can be opened using the basic pull lever.
Two easy open ends makes it easy to use for tie down purposes, wire security, and rope and cable holding.
Great for household and industrial applications and doesn't corrode or freeze in tough weather conditions.
Can be used for a gate latch, a bucket hanger, hanging feed tubs, hay bags in the stall and many other various uses.
MECO Amazon ASIN B00HTY2BE8 Home & Kitchen Storage & Organization, Home Storage Hooks, Utility Hooks