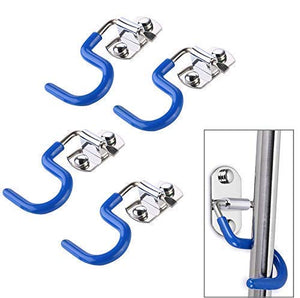 Heavy Duty Broom Mop Holder Organizer of 18/8 Stainless Steel, 4 Pack S-Type Space Saver Cleaning Tools Organizer Brooms Mops Rakes Mop Handle Holder for Kitchen Garage Bathroom (Wall Mounted - Blue)
Regular price
$12.99
$0.00
Heavy Duty Utility Hooks- This mop and broom hanger to be built very well. The stainless steel body is solid, along with the S-hooks. In addition to brooms and mops, use a couple in your garage or gardening shed. One hooks on each unit give you plenty of places to hang buckets, rags, or any other items that can be hung on a hook.
Sturdy Mop Holders with Antiskid Rubber- These are great for organizing your cleaning supplies. They were easy to install. They install with two screws each, which are included. You're mop and broom hang on them easily and are easy to get off. The hook has a rubber type material which prevents slipping of your item.
This is a really nice option for hanging up heavier mops and brooms and things. The hooks are sturdy and durable, have a finished look and grip well. They are really nice for use in garage, utility room, sheds or anywhere inside of your home. Because they are in 4 separate pieces you can space them out just the way you want them.
Easy to install, looks awesome, and the hooks that holds your heavy brooms. Nicely to a variety of handle sizes but holds firm. The hooks are fairly sturdy and fold out of the way when not being used. You can hang a broom, swifter mop and swifter duster and other long-handled tools.
Space Saver - Whether whenever you needed a mop or broom you had to go on the search for where it was left... the closet or garage Next to the fridge In the laundry room These hooks are the exact solution for your needs. It's a space saver and a organizers dream!! No more clutter!! Lift to remove a broom or mop. And simply press back down, to put it back in place.
These wall hooks have strong bearing capacity which can help you to hang the mop, broom and rag.
They attach to the wall with two screws. It makes your home more organized.
This is a perfect solution for your home with limited space. Incredibly handy items for hanging brooms, mops, and other long-handled tools.
These mop holder are strong and obviously well made, and the blue and shiny stainless steel combo is quite attractive.
If you're looking for a great set of hooks that are reasonably priced, this is it!
The holders are a very simple, but effective design and are made up of an S shaped hook which is attached to a back plate which screws to the wall.
The hook is covered by a sticky rubberised plastic material that grips the tool and stops it from falling.
Keep Your Room Organically and Beautifully: No Space Occupying.
This mop and broom holder gives you a safe, quick, and easy way to store and organize not only brooms and mops, but much more as well.
Easy to install and use, it's ideal for use in the broom closet, laundry area, garage, shed, utility room, office, and more.
Features:
1. Material: 304 Stainless Steel and plastic. Very heavy-duty, durable and long-lasting Comes with 4 hooks and mounting screws
2. Anti-skid, s-shaped design: you sit your broom in there and it doesn't move. Very easy and fast to hang and take down, with a terrific grip
3. You could probably make them even sturdier when pushed into a stud
4. Great for organizing and getting those brooms and mops out of the closet and hanging from an empty wall
5. Condition: Used for bathroom,toilet,shower,bedroom,etc.
6. Space-saving: Works great for organizing your mops, brooms, and brushes in minimal space
Package:
4 x S-type mop Hangers
8 x Screws
VaLaVie Amazon ASIN B07KXGXXQ6