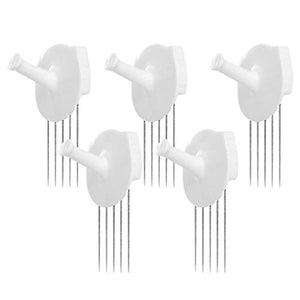 HOTLISTOR Reusable Multipurpose Wall Hook White 5PCS 10PCS Decorative Pin Stick Hooks Office Partition Panel Hanger Home Kitchen
Regular price
$9.95
$0.00
CONVENIENT AND ENVIRONMINTALLY FRIENDLY - It is a cubicle hooks that can be fixed easily and stably by using '5 fixing pins' instead of adhesive, screws or nails. Additionally it rarely damages the surface. It is also easily detachable and reusable.
PURPOSE OF USE : It is a hooks fixing things on the wallpapers at home or partition in the office. It can hold up to 2.2lb. It can hold wall clock, picture frames, key chains, office supplies and other small items. It is a flat type hanger which does not expose the hooks on the back side of wall clock or picture frame.
UNIQUE DESIGN - It is a unique product to attract people's attention with unique and cute pig character instead of general cubicle hooks design.
COLOR CONFIGURATION - There are white and five different color options to suit your taste and purpose.
HEIGHT OF HANGER - There is difference in height between white (0.4 inches) and color (0.3 inches). Please choose according to your purpose.
HOTLISTOR Amazon ASIN B01GZ6GN26 Home & Kitchen Storage & Organization, Home Storage Hooks, Utility Hooks