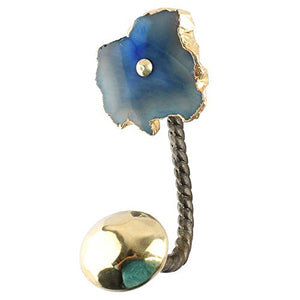 Indianshelf Handmade 1 Artistic Vintage Blue Stone Rail Hooks Hangers/Towel Holder Kitchen
Regular price
$26.00
$0.00
Rust Free/ 100% Handcrafted in India/ Safe for Use in Room, Kitchen and Bathroom/ Thick, Strong & Long Lasting Hardware/ Kids Friendly
Free Shipping/ 5-7 Days Delivery Time on Orders Above $30 and 10-12 Days on Below $30
Material: Stone, Height: 5 inches, Width: 1.75 inches, Projection: 3 Inches Approx.
PLEASE NOTE: This item is made exclusively by "IndianShelf". If the "Ships from and Sold By" above says any seller besides "IndianShelf" then please click on "Offers" to select "IndianShelf" as the seller.
Handcrafted Multipurpose Hooks for Holding Scarfs, Hats, Coats, Keys, Clothes, Bags, Belts, Towels, Handbags, Umbrellas, Purse, Jackets, Jewelery, Calendar, Decorative Crafts and More
About Hooks: These hooks are handmade and gives a classic look. Available in multiple designs and colors. Made by experienced craftsmen of india. You can use these hooks to hanging clothes, hat, keys, towels, coffee mugs and more. About showroom: quirky, sophisticated, trendy whatever statement you want to convey about your personal taste, there is a huge collection of designer wall hooks. Products are made from traditional techniques, skills and hand-based processes. We promote green products, craft based, contemporary and affordable.
Indian Shelf Amazon ASIN B07JZBFQPP Home & Kitchen Storage & Organization , Home Storage Hooks , Utility Hooks