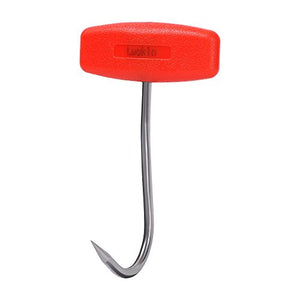 LuckIn 6 Inch Meat Hook for Butchering, Stainless Steel T-handle Boning Hooks, BBQ Smoker Meat Hanger Tool, Great for Kitchen Butcher and Restaurant, Red
Regular price
$7.99
$0.00
Stainless steel meat hook, rustproof and non-deformed, ensuring durability and longevity.
Designed with non-slip T-handle, butchering hook helps you effortlessly to hang smoking meat.
Ideal for butchers, chefs, meat processors, hunters, BBQ grill masters, butcher shops and restaurant kitchens.
Every meat hook has a plug on sharp top, which prevents from scratch. Considering safety, please to store the hooks where children can not touch.
Easy to use and easy to carry, practical to hang chunks of beef and turkeys. Get one for Chrismas and family barbecue time! 30 days money back guarantee.
LuckIn Amazon ASIN B075QFB2JQ Home & Kitchen Storage & Organization, Home Storage Hooks, Utility Hooks