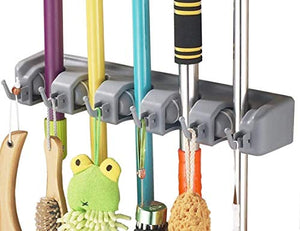 Mop and Broom Holder Wall Mount, Utility Storage Hooks Multi-Used in Kitchen, Garage, Outdoor Yard By W.O.B (2)
Regular price
$0.97
$0.00
Strong and sturdy - The mop and broom holder organizer is made of tough plastic, which can hold up to 22 lbs(10kg) of weight.
Broom and Mop Holder Wall Mounted with Screws Drilling Installation - Fit to Wall Easily and Never Worry The Hanger Will Fall Down on The Next Morning.
Save Space - The broom hanger Organize your broom closet, kitchen, garage, garden, basement, or laundry room with this sturdy and versatile storage solution. Also idea for garden and yard tools racks storage and organizer.
Can easily hold heavy tools with a no-slip grip, and will also withstand extreme temperatures, so can be used outside and inside, 5 tool clips and 6 hanging hooks give you enough storage.
Easy to install and use - The friction-grips clamp down securely on broom/mop handles, adjusting automatically to the handle's thickness. And release instantly when the handle is lifted.
Broad Applications:
With the 5 slots and 6 hooks, the mop and broom holder rack just help you keep everything neatly stored instead of getting in the way. Perfect for kitchen,
bedroom, bathroom and utility room for organizing cleaning tools, hardware, sports equipment, kitchenware.
No Messily Placed Tools Any Longer:
It's really annoying that the mop and broom always fall down when you open a cabinet full of tools or be tripped over the random placed tools.
But this mop and broom holder with 5 slots and 6 hooks comes to help organize various household tools so as to save much room and keep your home tidy.
Fit Clamp Most of the Hand-held Tools:
Each of the 5 slots equips with an mobile spring ball which will automatically adapt to the hand-held tool size with the diameter between 0.68 to 1.12 inches,
allowing most of your hand-held tools to be clamped. Additionally, each slot features serrated rubber lumpwhich help hold the tools securely and firmly.
Bonus 6 Foldable Hooks:
Added foldable hooks design offers more storage space for you. Simply pull down the hook to hang lightweight gadgets such as umbrellas, keys, hats,
towels, bags, etc. And push it back when not in use, which will make the rack look neater.
30LBS Carrying Capacity in Total:
Simply mounted it on the wall with the included screws as instructions on the external packaging, and the each slot can holds up to 6.0 lbs for a total of 30 lbs. So rest assured the rack would be durable and sturdy enough to hold your mop and broom securely.
W.O.B Amazon ASIN B07KR64QTS Tools & Home Improvement Storage & Home Organization , Garage Storage , Storage Racks