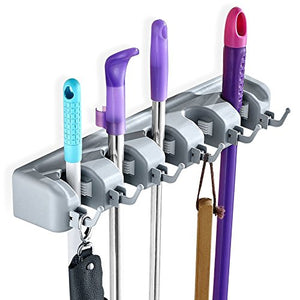 Mop Rake and Broom Holder Garden Tool Organizer Utility Storage Rack Wall Mounted for Home, Kitchen, Laundry, Garden, Garage, 5 Non-Slip Positions with 6 Hooks (Grey)
Regular price
$17.90
$0.00
Utility storage rack for home, kitchen, laundry, garden, garage, shed and office.
Clean Clutter and Save Space-Allow your mops, brooms, dustpans, rakes etc, to cleanly and neatly hang in a simple and organized fashion.
Strong and Sturdy-Wall mounted, with a solid, yet lightweight plastic design, this mop, rake, and broom organizer can hold well over 10 lbs of weight.
Great Grip-Non slip friction ball automatically adjusts and securely grips to a handle's thickness (up to 2.5' in diameter).
Easy to Use-Comes with screws and anchors for installation. Push in the handled item to hold, lift up to release. Simple!

Mop and Broom Holder Wall Mounted Orgnizer for Kitchen, Laundry, Garden and Garage
"Science is organized knowledge. Wisdom is organized life."
- Immanuel Kant
Is your garage cluttered and messy Do you have sports equipment laying around A bunch of disheveled gaqrden tools (pun intended...hahaha) Get rid of those eye sores with this extremely versatile organizer with storage hooks.

Features:
Material: Durable plastic.
Perfect for: Home, kitchen, laundry, garden, garage, shed and office
Color: Light grey
Size:
3 Non-slip Positions with 4 Hooks, measuring 10.2" X 2.5" X 3.2"
5 Non-slip Positions with 6 Hooks, measuring 16" X 2.5" X 3.2"

Package:
1 * Mop and broom Holder
6 * Plastic tucks
6 * Screws

Note:
We value every one of our customers. Please feel free to contact us first if you meet any problem before/after purchasing, and we'll respond within 24 hours.

Sky-e Amazon ASIN B078H7CDC7 Tools & Home Improvement Storage & Home Organization , Garage Storage