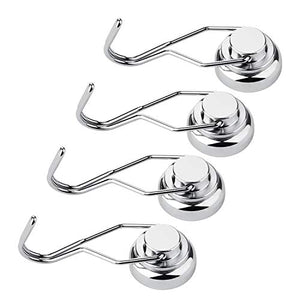 Ninth Five Swivel Swing Magnetic Hooks, 30lb Strong Powerful Heavy Duty Neodymium Magnet Hooks - Use for Home Kitchen Office Garage Outdoor Hanging(4 Pack)
Regular price
$10.99
$0.00
4 Pack Magnetic Hooks included. Permanent Neodymium magnet, Nickel-Copper-Nickel three layers plating, reliable, long-lasting, corrosion & weather resistant.
Multifunction rotating head, the hook part is made of stainless steel and can rotate 360 degrees and swivel 180 degrees. So flexible and convenient for your daily use.
Each of the hook weights 38g, the vertical attraction is 14kg(30 pounds), horizontal pull attraction (sideway hanging force) is reduced by 2/3(about 10lb). Test conditions: 10mm thick pure iron and smooth surface.
These cute magnetic hook is ideal for your refrigerator, fridge, whiteboard, shed, locker, range hood wherever there is iron or steel. Use for organizing, decorating and storage. Suitable for hanging all kinds of beautiful decorations, keys, utensils, towels, tools and more.
No tools required. Quick and easy to assemble. Put them on any magnetic surface. No drill. No holes. No mess. 4 free 3M scratch free adhesive pads included which will effectively reduce scratching or damaging your delicate surfaces.
Ninth Five Amazon ASIN B01N916JV8 Home & Kitchen Storage & Organization, Home Storage Hooks, Utility Hooks