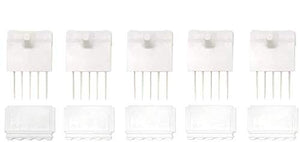 Raum Reusable Multipurpose Wall Hook White 5PCS Decorative Pin Stick Hooks Office Partition Panel Hanger Home Kitchen
Regular price
$0.97
$0.00
- No Hammer, Drilling or Glue
- Easy Fixation of Wall Hook in 3 Seconds
- Perfect in Any Space at Home, Kitchen or Office
- Only Small Needle Traces on the Wall After Removal of the Reusable Hook
-The excellent grip of a pin
-Five pins on the top end are fixed by being inserted into the gap between the wall and the wall.
-Both the support of the wallpaper itself and the attachment of the wallpaper and the wall are excellent at supporting vertically downward forces.
-The sub-block helps withstand even greater weight than the same hook without a strengthening block.
4kg is the load during the test and the allowable load for safety is within 2~2.5kg

Installation method:
1. Tilt the wall 45 degrees to make a hole and allow the needle end to come into contact with it in a straight line.
2. Push it all the way down through the cracks in the wall and on the wall.
3. Insert the anti-down reinforcement blocks.

Notice:
1. Can only be installed on the type of wallpaper (hangage, silk wallpaper, fabric wallpaper) of the toffee.
2. The picks are fixed to the wallpaper and hang props, even if the back side of the wall is concrete or plaster.
3. Avoid using objects that are fragile or too heavy.
4. As the pin is sharp, it should be kept in the wallpaper or out of reach of children when not in use.

RAUM Wall Pin Amazon ASIN B07G5R5J94 Home & Kitchen Storage & Organization , Home Storage Hooks , Utility Hooks