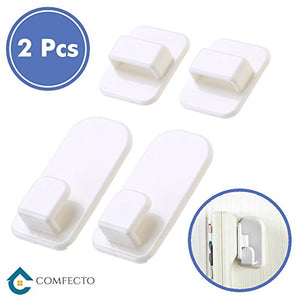 Remote Control Holder Wall Self Adhesive Hook - 2 Set Multiuse TV Remote Control Air Conditioning Cordless Phone Sticky Wall Mount Key Hanger Organizer Holder Wall Sensor with Premium Grade ABS Resin
Regular price
$10.97
$0.00
MULTIUSE REMOTE CONTROL HOLDER - Your remote vanished mysteriously We bet that you deal with that situation too often. No more frustration of losing your remote, since this remote control holder is the perfect solution you can come up with to keep the remote where you want it to be. Perfect for holding TV remote control, air conditioning remote control, ceiling fan remote, sensors, cordless phone and even car and home key hanger, it can hold any kind of remote weight of up to 10.58 ounces.
PREMIUM GRADE ABS RESIN MATERIAL – Our TV remote holder comes with a set of 2 (2 hooks and 2 hanging buckles). Made of high premium grade, high-quality ABS, this key holder wall mount is really sturdy, lightweight, impact resistant, and will definitely stay with you for many years to come.
SUPER STICKY BACKSIDE - Each set comes with sticky hooks and hanging buckle. With the adhesive on the back, you can put the hook on any walls or polished wood. (Do not use in the rugged walls, whitewashed wall, wallpaper and water oily wall.) Make sure the surface is clean and dry. Unlike the others, our hanger organizer is stable and will not fall easily!
BRILLIANT DESIGN WITH COMPACT SIZE - The brilliant design will make this wall mount organizer perfect for any home. It is not too big as it won't be an eyesore for you. The hook size is 1.92" x 0.94" and 1.18" x 0.98" for the hanging buckle.
GRAB YOURS NOW WITH PROMO DEAL - Organize your remote, keys, cordless phone securely with easy access by using our remote control organizer. Also, we have some offers for buy 3 get 10% off, buy 2 get 5% take this great offer before is over with click Add to Cart button above. Order our remote organizer NOW while stock lasts!
Comfecto Amazon ASIN B01CI3EFJI Home & Kitchen Storage & Organization, Home Storage Hooks, Utility Hooks