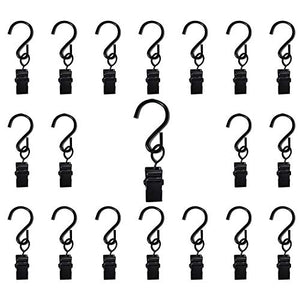 Renashed 50 Pack Curtain Clip String Hanger Outdoor Indoor Photo Hook Stainless Steel Hook Silver (Black)
Regular price
$11.85
$0.00
Packaging includes: 50 packs of Black stainless steel decorative clip
Material: made of high quality rust steel, stronger tension clamp support heavier, durable and not rust.
Size: Portable and compact approx 6cm/2.4inch length, 2cm/0.8inch width. can be hooked together to extend the length.
Suitable for hanging party light, copper wire, christmas light hangers, flashlight, lanterns, tent, and more
Black Metal Hanging Clamp Hooks to hang your curtains or other things, such as Photos, Showers, Bedroom, Living Room, Home Decoration, Arts & Crafts
50 Pcs Party Light Hangers

Size:
- 2.4 inches in Length, 0.8 inch width.

Material:
- Made of premium stainless steel; durable and rust resistant. Portable and compact.

Easy to install
- You can quickly install the party light or curtain by holding a wire or string, no need to break the wall or ceiling You will discover more uses by having these little clips in hand, such as hanging photos,arts & crafts work,paper lantern in Bedroom, Living Room, Shower Room for Home Decoration.

Used Widely:
- Great for hanging your curtains,also ideal for hanging party string light, lanterns, lamp, wind chime, photos, christmas light for home,party,camp,tent,awning etc.

Renashed Amazon ASIN B07DK7WNZG Home & Kitchen Storage & Organization , Home Storage Hooks , Utility Hooks