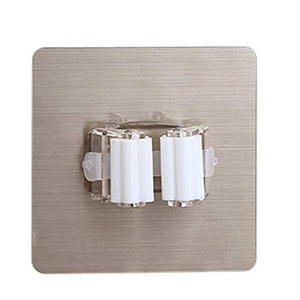 Self Adhesive Mop and Broom Holders Wall Mounted Storage Racks Mop Hook for Home Kitchen Bathroom Mop and Broom Holders
Regular price
$0.97
$0.00
1 .You only need to tear the back glue of the mop hook, stick it on the position that you need and drain the air out of the paste surface, installation is finish in a few seconds.
2.High-elastic buckle and petal-shaped gear design, you can clamp different sizes of mops, broom, umbrella, kitchen tools,
3.Mop holder without nails max loading weight is 5KGS/11lb. No Drilling almost removable and the boom gripper holds can be circularly used.
4. The mounted storage rack helps you save space. Unique transparent design makes it almost invisible which is quite suitable for nice home decoration. Maximize house space utility.
5.Broom Gripper Hold Organizer won't fall off even it is under the bathroom shower. it is adhesive and sealing power.
oduct description
Adhesive Mop And Broom Holder - Ultra practicality

Can be used as - different sizes of mops, broom, umbrella, kitchen tools, various sundries, etc.
Heavy Duty - max bearing 11lbs(5kg)weight per holder.
Material: plastic+ ABS
Color: metal
Size:9.5cm
Size: Gray ABS mop elastic clamp - Suitable for clamp different objects with 0.86-1.29 inch2.2CM-3.3CMDiameter Handles
Packing Type: 3pcs/set
Tips
1.Please clean the adhesive surface with water if it has dust covered before re-paste the hook.
2.Do not stick on the surface of water, dust, oil, wax, wallpaper wall, painted, plaster or cement surface.
3.Do not get close to 80 degrees of high temperature.
4.Do not hang overweight and dangerous fragile items on it.
5.If the hook with sticky dirt is not good, please clean and dry after the original viscosity can be restored.
6.Use the holder after 12 Hours.
7.It needs a genuinely flat surface to attach to. They would not work well on textured plaster walls or uneven or pitted surfaces.
LYLDX Amazon ASIN B07L5K6H5Y Home & Kitchen Storage & Organization , Home Storage Hooks , Utility Hooks