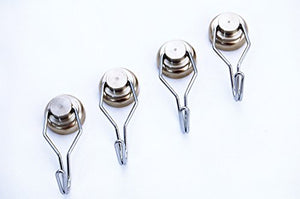 Sol Mercantile 25 Pound Swivel Magnet Hook, Heavy Duty Strong Neodymium Swivel Magnetic Hook(25 Pound (4 Pack))
Regular price
$24.95
$0.00
PERFECT FOR HOLIDAY DECORATIONS .
A great solution for organizing your workshop, garage, shed, closet, kitchen, product display, retail store, warehouse or office
These strong, chrome-plated swivel magnet hooks from Sol Mercantile will make a nice-looking, functional addition to your refrigerator or file cabinet, and are even strong enough to pull duty on your tool box. We use the highest quality neodymium magnets, to ensure that we offer the strongest magnets on the market. These 25 pound rated magnets will hold the full 25 pound rated weight horizontally from the underside of a thick steel surface. In a vertical application (ex. the side of a fridge), the strength diminishes about 2/3 due to shear forces. The 25 pound strength is suitable for your heaviest magnetic hook applications, or situations when you don't want movement (ex. a heavy winter coat on the side of a file cabinet, or a tool belt hanging on your toolbox). Magnets should only be used by adults - be careful, these magnets are strong! Also, if you have trouble with magnets sliding on a slick surface, like a fridge, cut a small circle out of a rubber balloon. Presto! More friction without losing much strength! If you have any questions or problems with your Sol Mercantile brand magnets, please contact us, we believe in offering the best customer service available. If you accidentally get your magnets stuck together, remember 25 + 25 = 50lbs of pull force! Try to slide them apart, not pull them apart. If you still have trouble, place them on the edge of a table with one above and one below the edge, then push the top one onto the table top! Magnets purchased from Sol Mercantile come with a 60 day money back guarantee. If you're not happy with the product for any reason, simply return it for a full refund. This manufacturer's warranty applies only to purchases made from Sol Mercantile.
Sol Mercantile Amazon ASIN B01GZ8D7S2 Home & Kitchen Storage & Organization, Home Storage Hooks, Utility Hooks