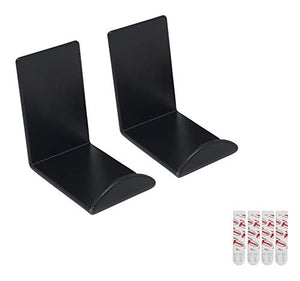 Stick-on Headphone Hooks 2 Pack
Regular price
$11.99
$0.00
Sticks strongly on almost any clean surface yet EASILY REMOVED WITH NO DAMAGE. 5 pound capacity. (Even the heaviest headphones weigh about 1 pound.)
Each hook is mounted using two Scotch 3M DAMAGE FREE REMOVAL Adhesive strips which are included. 3M Command mounting strips have proven reliable in millions of installations.
Keeps your headphones handy without clutter. No awkward stands or obnoxious "prong" forms of cheap monitor hooks. No clunky mechanisms or screws. Not made from silicone or rubber that get dirty and hold germs. Designed for people who appreciate quality, discreet style and ultimate versatility.
Excellent hanger for even large and wide headband headphones. Do not mount on wallpaper, vinyl or damp locations. If you have any problem we will absolutely fix it. GUARANTEED.
Smooth, super strength and hypoallergenic ABS plastic. Do not hold grime or debris like silicone or rubber hooks. For mounting on monitors, computers, desks, inside stereo cabinets, dorms, and office cubicles. Also search Amazon for our UNDER DESK MOUNT and our double width XL HEADPHONE HOOKS.
eLhooks are specifically designed as headphone hangers. A high quality design for even heavy headphone with wide headbands. 3M (Scotch) "Command" adhesive mounting strips offer proven reliability in millions of installations all over the world. eLhooks have been chosen for multiple installations by a major New York Metropolitan art museum, libraries, military bases, schools and colleges. Replacement medium size 3M Command mounting strips are available at all home centers, office supplies and on Amazon. eLhooks are also excellent hangers for many other items including jackets, hats, purses, dog leashes, for kids room and dorm rooms etc. Use eLhooks anywhere you need a wide and user friendly hook.
eLhook Amazon ASIN B00P9GYUE2 Home & Kitchen Storage & Organization, Home Storage Hooks, Utility Hooks