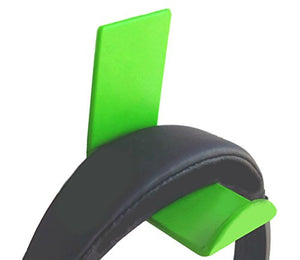 Stick-on Headphone Hooks 2-pack, Green
Regular price
$9.99
$0.00
Intense Wild Lime color is molded in, not painted on. Sized to hold even the largest and heaviest headphones.
Two 3M Scotch Brand Command Strips per each hook stick strongly. Holds up to 4 pounds. Not for damp locations, vinyl or wallpaper.
Removes easily. No holes, mess or damage to mounting surfaces.
Can be mounted to your monitor or computer so headphones are handy but not in the way. Reduces desk clutter. Sleek minimalist design.
Not clumsy and gawky like headphone stands. Not unsightly like "prong" style cheap monitor hooks.
Perfect holder for all headphones but also for cables,hats, jackets, pet leashes, kids room etc. Bright color is great for hanging your safety gear too.3M Scotch brand Command strips are very strong yet removable with no mess and no damage to walls. Replacement medium size 3M Command strips available at all home centers, drugstores and on Amazon.
eLhook Amazon ASIN B01M0M5KQ8 Home & Kitchen Storage & Organization, Home Storage Hooks, Utility Hooks