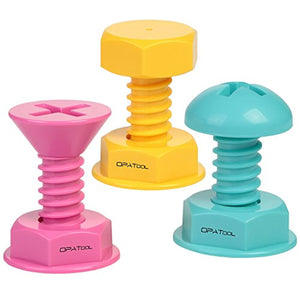 Wall Hooks Decorative, Adhesive Hooks, Wall Hooks Adhesive, Safe Funny 3-Color wall hooks for kids Game zone organizer, Decor Hooks, Office Multifunctional Organizer
Regular price
$10.71
$0.00
TEACH YOUR CHILD TO CLEAN ROOM: Hooks are funny so they are suitable to kids wall decor.
SHOW YOUR CHILD HOW THREADED CONNECTIONS WORK: Our Wall Hooks are not only functional, but also informative. They will help your child learn how threaded connections work and to understand the right-hand rule.
SUITABLE FOR ANY ROOM: including bathroom, bedroom, office
SAFE MATERIALS AND SHAPE: Our Wall Hooks are made of high quality ABS plastic. It is safe for your health, so you should not worry about it. The shape of our hooks is round which makes them perfect organizers of your home space. The size of each hook is 2.4"1.8" (about 61x46 mm). You can hang them in any room and they will serve you for a long time.
EASY INSTALLATION: It is extremely easy to install our Wall Hooks and you don't have to make any holes in your walls for them. 3M adhesive tape makes the mount steady and can carry out the weights up to 1 kg. So if you need high-quality multifunctional wall hooks adhesive in your home, buy our adhesive hooks!
Opatool Amazon ASIN B01LCT5UPC Home & Kitchen Storage & Organization, Home Storage Hooks, Utility Hooks