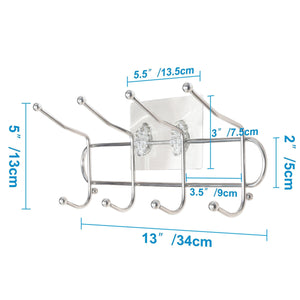 WEBI Adhesive Hooks, Transparent Heavy Duty Sticky Utility Wall Hooks for Towel, Loofahs, Belt, Scarves, Purses, Hats, Keys Holder, No Nail, Waterproof, 2 Packs
Regular price
$22.99
Sale price
$32.42
Brand: WEBI
Color: Silver
Features:
1.Multi-Application: These adhesive utility hooks also work great for hanging loofahs shampoo, soap in the bathroom, belts, scarves, purses, keys in closet, jewelry in the bathroom and some smaller items.
2. Scope of Application:You can not only use them on tile, window, shower, cabinets, closet, brick surface, wood other type applications. Please pay attention that there are limits on painted surface.
3.Easy to Use: If you don't want to put nails in your room for hanging items, it's ideal for using these adhesive hooks. You just need to peel of the back cover and put the hook on smooth surface which is easy to clean.
4.Stylish Appearance: Transparent design perfect fashion unique appearance makes it almost invisible. It's suitable for furnishing decoration. Just peel off the cover from the bulge, then put the hook on the smooth surface and you can barely see the square of the adhesive.
5. Dimensions: Please kindly take the detailed image on the left as the standard.
Publisher: WEBI
Details: How to install
1.Clean and wipe the place where will install the sticker.
2.Rip off the transparent paper on the back.Please don't touch the stick-up surface.
3.The placstic snap should avoid installing between the tile joints.
4.Paste the stickers in parallel and suqeeze it with a little pressure to drain the air.
5.Put the hook on the snap and buckle down the snap. It is finished when listening "ka".

Application
Great for hanging shower and bath accessories in a bathroom or kitchen utensils and tools on a tile backsplash
Great for hanging towels, purses, scarves, jewelry, keys

COMPANY -
WEBI is a company specialized in research, development, manufacture, and marketing of architectural hardware for almost 10 years. Supplying not only hardware of high quality, but also professional technical customer services, Webi has achieved a good reputation in construction industry.
So do not hesitate to buy, and do not hesitate to contact our customer service if any problem. Webi will back you up.
UPC: 607569905212
EAN: 607569905212
Package Dimensions: 13.5 x 5.4 x 3.0 inches