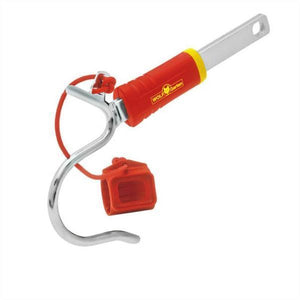 WOLF GARTEN | Multi-change Tree Shaker, Hook
Regular price
$30.00
$0.00
WOLF GARTEN | Multi-change Tree Shaker, Hook
This branch & tree hook from WOLF-Garten allows you to effortlessly remove branch cuttings and even loads of snow from trees. You can even hang holiday lights or other decors with ease! The RTM Utility Hook can also be used for shaking fruit trees during harvest. This is the perfect tool to have readily available on tree farms, orchards, and in your own backyard.
Effortless removal of loose branches and snow from trees
Especially good for shaking
Can also be used to support fruit trees
Safe working without ladders at heights of up to 5.50 m with the Vario handle
Handles purchased separately
Note: Poles are ordered separately as this product is part of the Multi-star range which is a system that allows you to have one pole for a number of different Wolf Garten Heads. We have the full range available which includes the Aluminium telescopic 3m and 4m handles.
| | |
| --- | --- |
| Recommended handle | ZM-V 3 / ZM-V 4 |