These stainless steel appliances stand out and create contrast in all-white cabinets.
The importance of a happy kitchen can't be stressed enough. When it comes to home remodeling and updates, the kitchen tends to be the most popular spot for these plans. It's not uncommon for people to upgrade their kitchens before they look to upgrade any other part of the home. The kitchen is an important source of food, comfort, family, and togetherness. Often, families enjoy spending time preparing a meal together or simply sitting at the dining table and going over the tasks of the day.
Therefore, it's more important than ever to take a look at what the kitchen means to you. The newest trends allow for more connection with technology, as well as an alternative to some traditional cooking methods which may inspire you towards a healthier and more productive lifestyle. So, if you're into technology, there are a lot of new Bluetooth features to be on the lookout for as well.
In 2022, the latest appliance trends will give you a glimpse of what the future can truly hold. From new ways to keep your home smart, to devices that simplify everyday tasks, just look and see what is in store for your kitchen this new year. Let us know what your favorite trends are!
Trend #1. On the Rise: Steam Ovens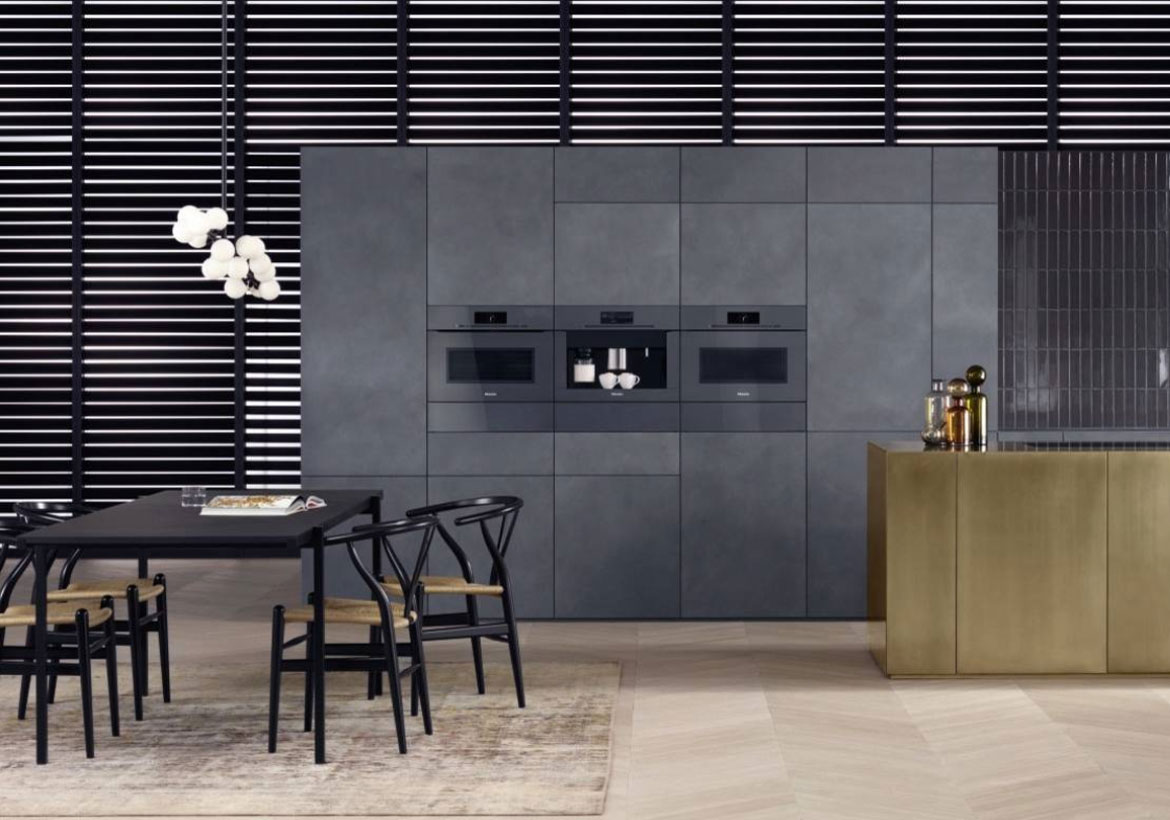 Elegant and sophisticated kitchen with dark appliances.
Starting off this list is something that is truly up and coming. Our experts have noticed that one of the fastest-growing trends in the kitchen appliance world is the rise of steam ovens, something that will really be showing its face more often from now on.
Steam is a versatile fork of heat, helping you to both power and sanitize your world. Steam ovens are used as a healthy method of cooking that can grant you squeaky-clean results. And if you're looking for something that doesn't sacrifice heat for health, try a convection steam oven.
Trend #2. The Fridge Revolution
The sleek refrigerator blends well with the custom cabinets.
Refrigerators are getting a huge upgrade in 2022. This is probably one of the biggest all-around style and utility changes in the entire kitchen. Refrigerators are about to become versatile and doubly functional.
First, let's talk about color. Glass panels for drawers and doors are the thing to expect in 2022. Next, there will be a combination of food zones which compartmentalize the different types of food you wish to store. Some food zones will be flexible, while others are specific to a certain ingredient. 
You can also expect that refrigerators will make handles a thing of the past. Incorporation with smart technology will give refrigerators an auto assist feature to streamline your kitchen processes. Manufacturers are also elevating the ice makers in the refrigerator, so that it filters the water (for the ice) as well. Others have changed the shape of the cube to spherical to attract the connoisseur of craft cocktail drinkers. 
Trend #3. Make Way For Bluetooth Sync
Everything will be available for you in a touch of a button in 2022.
This 2022 trend affects appliances across the board. The ability to sync with a wireless Bluetooth device is a powerful new way to get things started in the kitchen. No longer will you need to rely on old oven timers or long preheat wait times.
You can use state-of-the-art ranges to sync with your microwave and other connected appliances, according to GE's newest invention. Your oven can tell your microwave when to sync timers. It will also automatically turn on the lights when it's in use and perform other similarly useful functions.
Trend #4. Finger Touch Gets Rid Of Knobs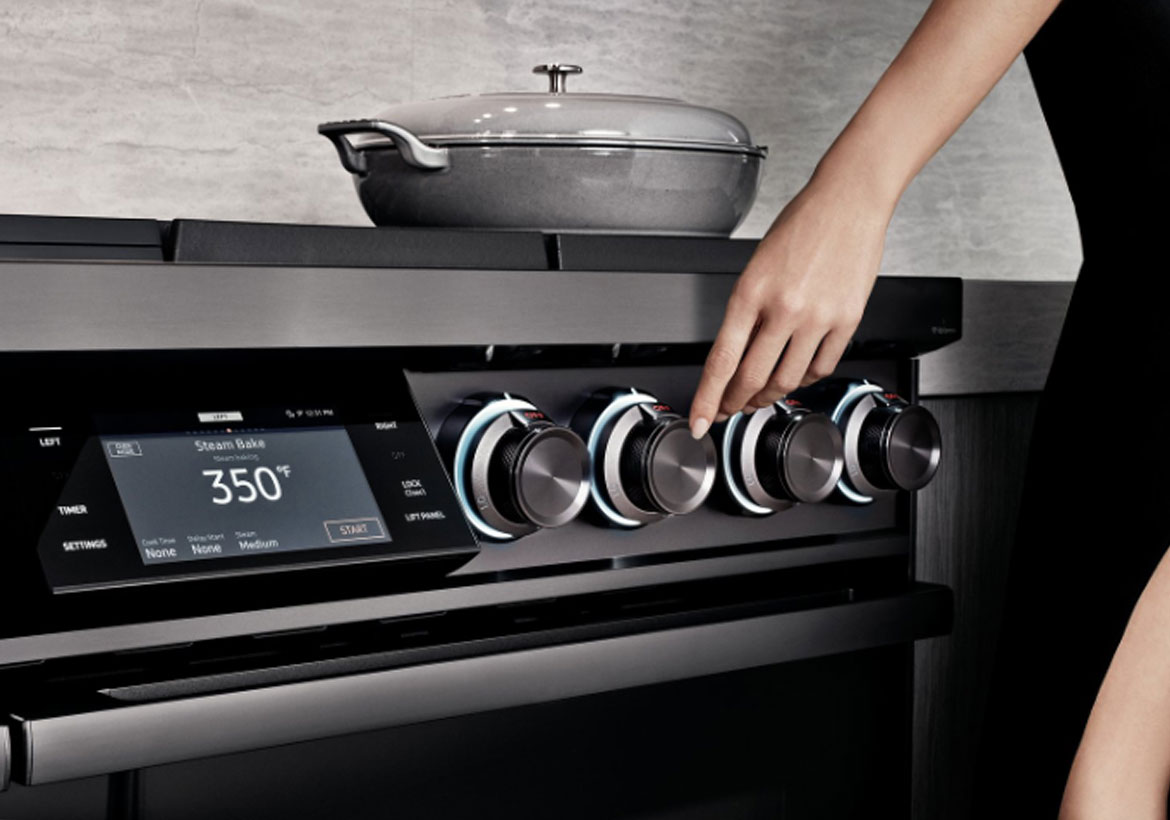 Dacor
Say goodbye to knobs and controls, and say hello to touch controls!
Another up and coming fashion statement in the world of 2022 kitchen appliance trends is the larger introduction of finger touch and swipe controls. These high-tech controls replace knobs and give you a glimpse of what it's like to live in the world of the Jetsons.
It all works through electromagnetic heat, rather than field heat. What it does is it allows you to turn on your range and control the temperature of your flames with a touch and a swipe. Little indicators will appear on the site, letting you turn up or down the intensity of the flame. It's a great way to control your fire and keep things clean and smooth all throughout the day!
Trend #5. Keep It Cool With An Icy White Look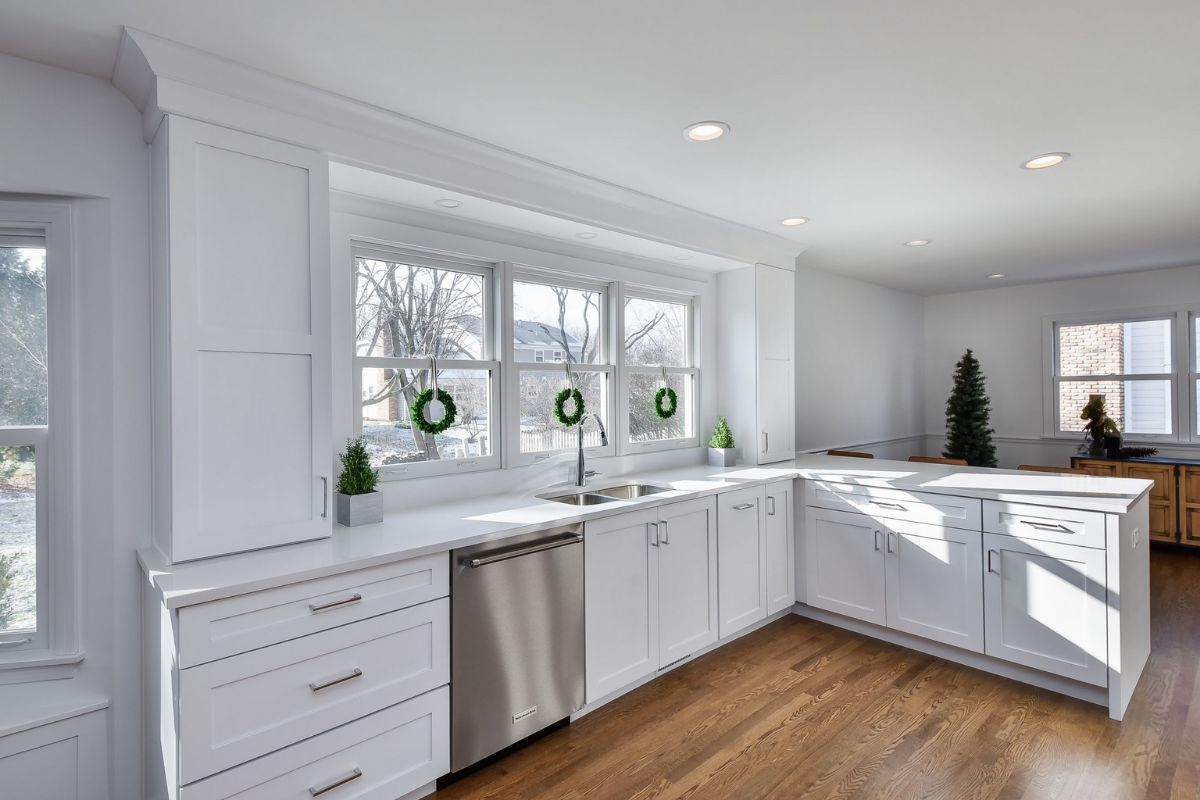 No matter the era, white never goes out of style.
White is one of many top color choices of the year for 2022 kitchen appliances. White ice appliances are introducing a new way to reflect cleanliness in the kitchen while also adding a touch of class.
Whirlpool has a new line of white kitchen appliances known as the Ice Collection. Combined with slate finish appliances, these white ice designs are a thing of the new year. See for yourself how these sleek bright trends can reflect a new emerging style for your modern appliances.
Trend #6. The WiFi Connection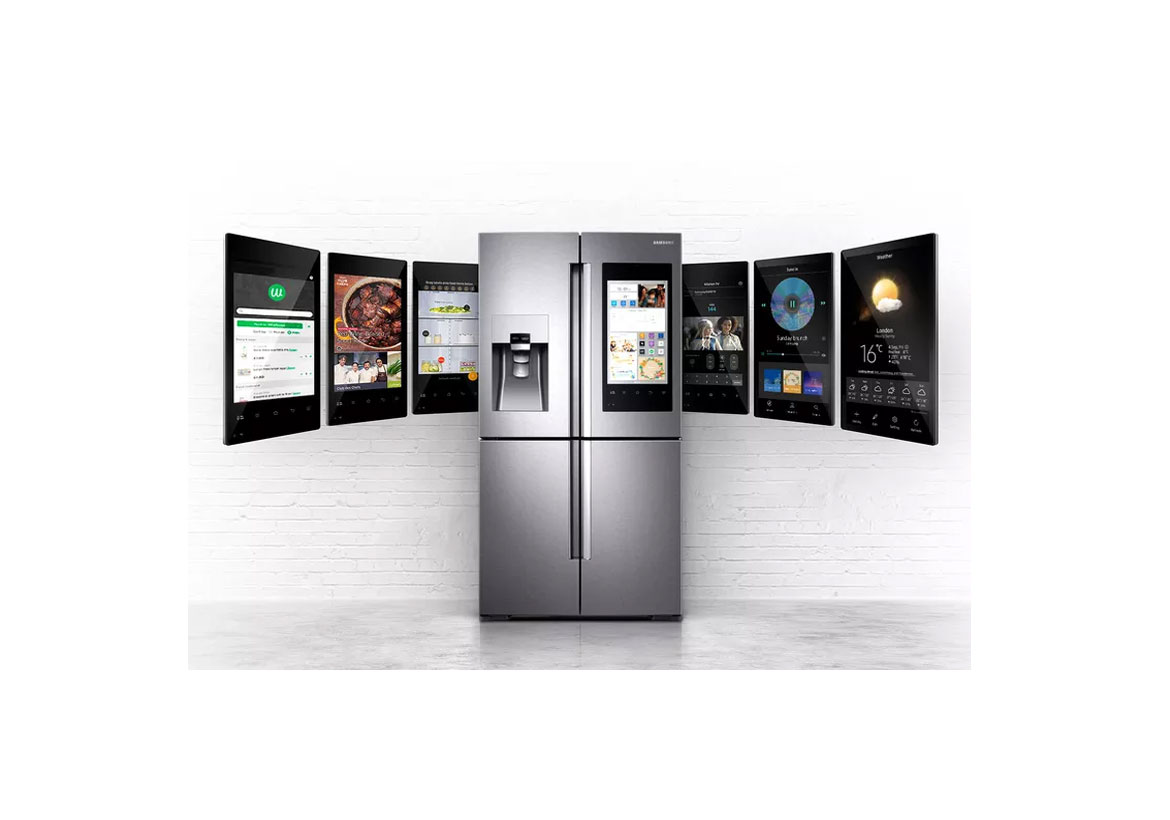 Today, you can integrate all your kitchen appliances through WiFi.
Speaking of being connected wirelessly, 2022 is revolutionizing the way you communicate wirelessly with your modern kitchen appliances. Many are being manufactured with an included feature, allowing you to control everything from the comfort of your smartphone.
This means that you'll be able to set the lighting of your kitchen, the temperature of your fridge, the temperature and timing of your ovens and stove tops, the timers on your microwave, and much more from the comfort of your own smartphone. 2022 makes it easier than ever to enjoy your kitchen, and this seamless marriage to technology is the perfect way to welcome in the new year.
Trend #7. A Word On the Multi-Cooker
Keep your kitchen organized with lots of shelves.
One of the biggest rising trends in kitchen activity for 2022 is the effort to adopt more healthy practices while eating. And it's not just the ingredients in the food, but the way the food is prepared that can make something healthy or not.
Multi-cookers are advanced new appliances that allow homeowners and food enthusiasts to prepare their meals in a variety of different ways. From the famous slow cooker to a variety of steam-based options, you can now enjoy your favorite meals without having to dip into the butter or the oil to heat up your cookware. Simply add your organic ingredients and fill the cooker with water, and you'll have a healthy, steam-prepared meal in no time!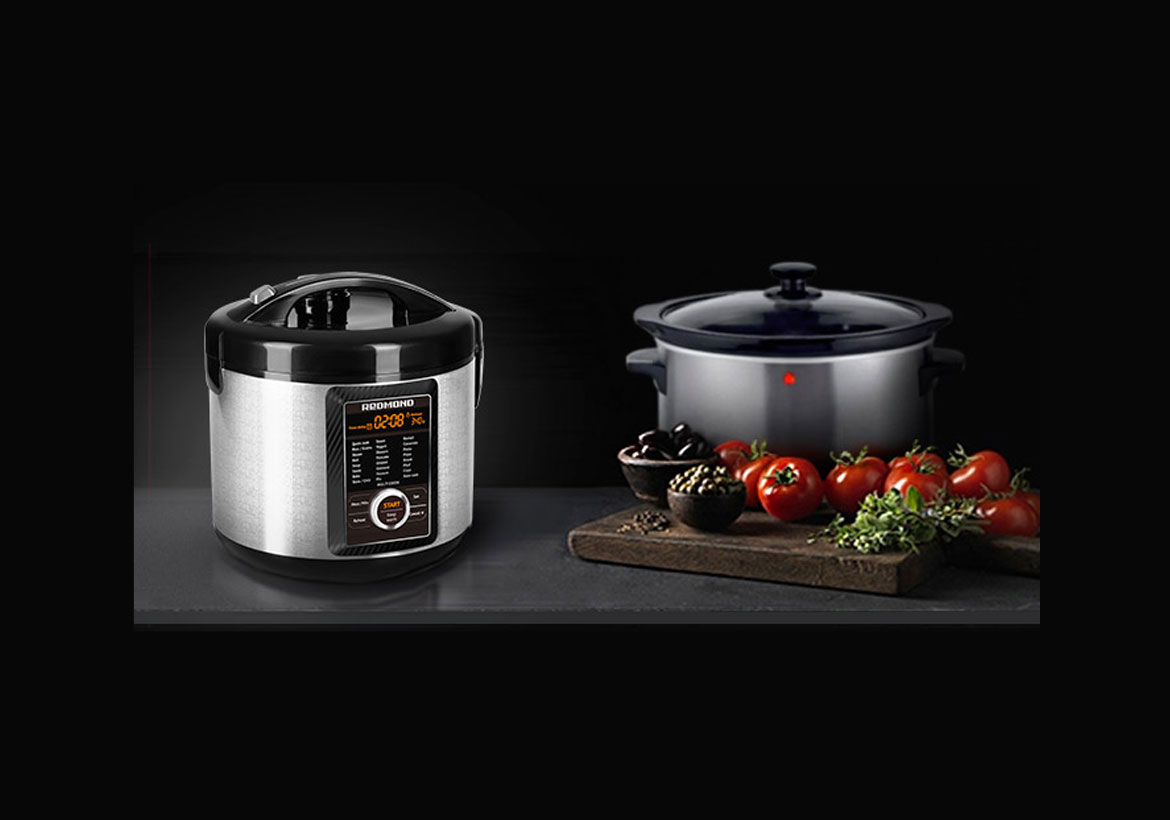 Trend #8. Built-In Vacuum Sealers For the Freshest Food Available
Everyone will feel envy with this built-in vacuum sealer.
Nothing is truly preserved in its healthiest form unless it is vacuum sealed. Before 2022, the average homeowner had to rely on expensive tech to vacuum seal their food, otherwise it was a luxury they had to do without.
Now, you can enjoy this health practice with new built-in vacuum sealers, which can be built into your cabinetry or appliance space. Some new brands allow you to seal to almost absolute zero, significantly slowing down the aging and degrading process. This helps you keep food fresh for longer while you enjoy keeping up with your healthy food trends.
Trend #9. Technology Is All Around Us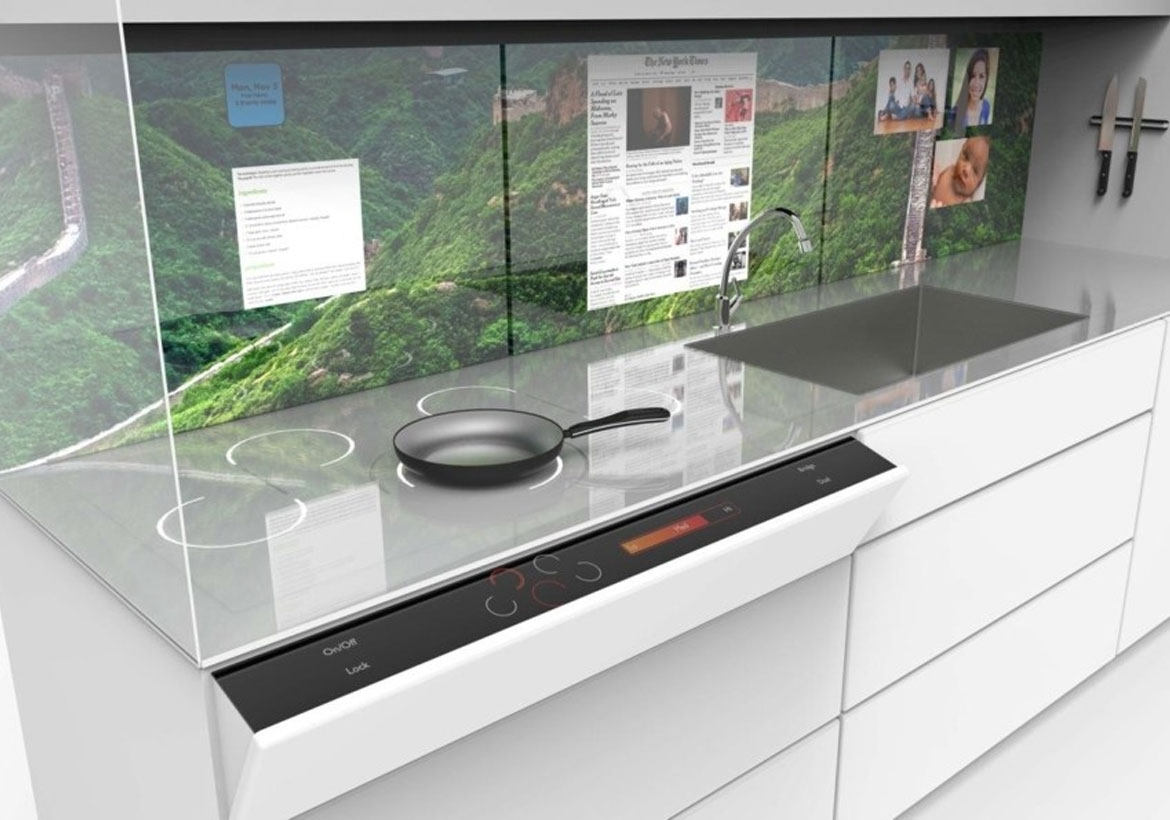 Do two things at a time with a digital backsplash.
The main theme for 2022 kitchen appliances is the continued push for incorporation of technology.
Look to Signature Kitchen Suite for an innovative, once limited, cooking technique called Sous Vide.  Signature Kitchen Suite has teamed with Crea & Cuisine Solutions to advance 'Sous Vide' cooking methods for the home chef with an industry first built-in Sous Vide range.  A technology once limited to professionals and boasted for restaurant quality results is now available to the mainstream.  Sous Vide has been the go to method of cooking in some of the world's best restaurants, since this slow-cooking precision temperature control technique is key to bringing food to the perfect doneness every time resulting in the true full flavors within steak, chicken, fish and much more.  Now available to you for the perfect dinner night.  
From LCD screens inside the fridge that can control temperature via Wi-Fi, to Bluetooth-enabled devices that give you all power at a distance from your smart phone, there are now more ways than ever to stay involved with your kitchen. It's easy to start a meal from afar without having to worry about staying close to the stovetop at all times.
Plus, you can enjoy a whole new trend of color and materials, too. The slate finish appliances are great for cooling down the look of your kitchen, while icy white is a thing to be inspired by for your fridge and stove. Granite and marble are on their way out, while sleek, handle-less appliances and color schemes are on their way in.
Trend #10. Hydration Centers
Speaking of healthy food trends, consider the water you drink or buying from the store.  That should be just as important to you. So that is why you might want to consider a built-in filtered water dispenser.  Ideal for busy family life or the entertainer. Conveniently located in many areas of the home, such as the kitchen, mudroom, living space, or why not the master bedroom?  This self serve design allows for delicious, filtered, refreshing water to be available to you without having to walk into another room each time. Plus, an automatic built-in bonus feature is that you will be saving all those plastic disposable bottles going to waste.  
Trend #11. Personalization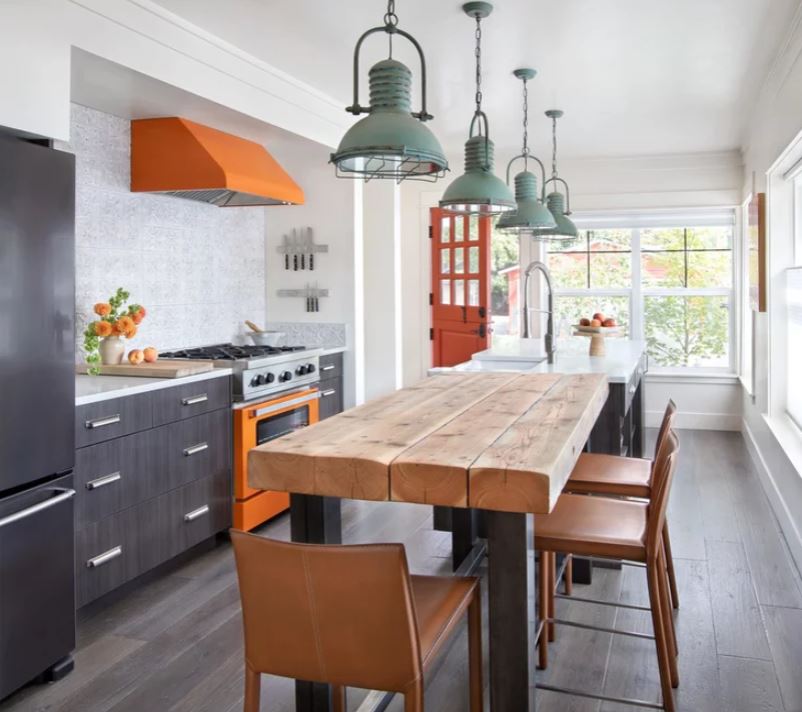 The orange color on the hood and range instantly captures attention.
No two kitchens should look alike, break free of the standard offerings and let your imagination soar. Find that special piece or pieces to personalize the space perfectly to reflect you. In the world of appliances this will allow you the freedom to look past the manufacturer's standard finish colors, trends and sizing to further express your inner imagination. Not finding the perfect shade of blue for the kitchen range? Then look to a custom color program offering endless options at your fingertips. Custom color appliances are a great investment, since you are getting the functionality of a high quality range with a personal touch uniquely your own. Maybe the range isn't where you want the punch of color to be, then look at mix & match stand mixers. You can have color, texture, design, and function all in one small appliance looking stately on your countertops. This would encourage anyone to volunteer to bring baked goods to the next event. Or what if you were able to configure your own cooking surface with a variety of specialized functioning modular units to suit your cooking style? Choosing from Teppan Yaki stainless steel cooking surface, grills, wok style burner, fryers, induction flat surfaces, and/or multiple gas burners just to name a few. The a la carte modular cooking systems will unlock your full cooking potential.
Keep Up With the Latest Trends & Styles Of the New Year!
From smartphones to smart refrigerators, there are more ways than ever to stay connected to your kitchen. 2022 will bring about a fresh new wave of tech-based trends, including a built-in vacuum sealer and the ability to control your stovetop without ever needing to turn a knob.
If you're excited about staying connected over Wi-Fi, you can look forward to several new trends that allow you to hook everything up and sync with your smartphone. Many of the large appliance manufacturers, like GE and Whirlpool, are making it easier than ever to keep everything hooked up so you can access it wirelessly. These devices are built not to make average Americans more lazy, but to add ease and efficiency to the overall kitchen cooking experience.
For many homeowners, the kitchen is the cornerstone of family, togetherness, communication, and function. It's also often one of the most popular spots to host guests. So, when it comes to new remodeling projects for the new year, you likely will choose the kitchen first. If you are looking for more inspiration or assistance with starting your remodeling project, you can check out our FREE guide, remodeling 101, for extra tips and strategies.
What trend are you looking forward to the most this year? Tell us in the comments below what 2022 means to you!
The post 11 Kitchen Appliance Trends That You Can't Miss In 2022 appeared first on Sebring Design Build.