• 1 • 2 • Bathrooms • BudgetIdeas • Makeovers • Moto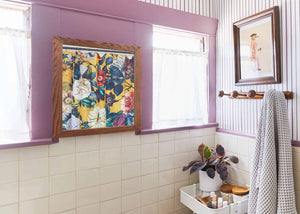 I am so ready to share with you my "teeny tiny rental bathroom refresh" reveal. It's been almost 3 months to the day since four of us on the EHD team – Jess, Ryann, Caitlin & myself – shared our rental bathroom woes with you and the design dreams we had for them. I technically completed the 2-month challenge that Jess set out for us since Sara shot my bathroom at the end of August and am so excited to share it today. I love (read: need) a deadline to get those items that are lower on my priority life...
---
• Bathrooms • Flooring • IKEAHack • Kitchens • Lighting
Here in New York, finding the perfect apartment is an almost futile quest. Unless you're one of the lucky few—we all know that one person who somehow happened upon a gem, with hardwood floors, an updated kitchen, tasteful light fixtures, and a working fireplace to boot—chances are you'll end up wanting to change at least one thing about your apartment. (I love the big windows and tall ceilings of my Manhattan rental, but I curse the brown laminate kitchen cabinets every time I walk by.) But we've learned that you don't have to just live with the cards you're dealt,...