• DeveloperTools • Reviews • TextEditor • Utility
s I've been writing code for nearly a decade, and throughout all of that time, I've never quite been satisfied with a code editor. Each one I've tried has annoyed me in various ways, and eventually, I find myself looking elsewhere. My code editor is the app I use more than any other. I spend hours in it nearly every day and often keep going deep into the night. The code editor is the main tool of my trade, and I want to be using the best one that I can. One of my main frustrations with pretty much all...
---
• Reviews
The people at Inkwell Ideas have been producing Sidequest Decks, decks that have an inspirational map on one side, with a sketched-out adventure outline on the back of the card. While these cards lean on particular genres, they don't have any specific game mechanics included in the outline. Inkwell Ideas has a Kickstarter coming up to fund additional Sidequest Decks, and to give people an idea of what is included, they sent me these decks to peruse. I didn't previously own any of the Inkwell Ideas Sidequest Decks, but I have picked up several of their Creature Decks and NPC...
---
To help you avoid those mishaps, we've compiled the best bike multitools on the market. Increasingly popular for both transportation and sport, bikes provide an incredible convenience for commuters and excellent workouts for cyclists. Whether you are biking toward a destination or simply enjoying the journey, you may not be paying as much attention to the thing getting you there. But like a car, your bike is an intricate machine, and maintenance is important. A Portable, Packable Toolbox: A Bike Multitool For both small adjustments for your riding comfort and large fixes to unforeseen issues, bike multitools put a toolbox...
---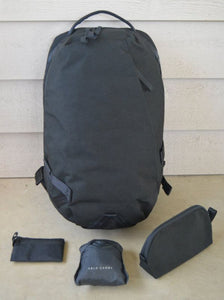 What is it? The Able Carry Daily Backpack 20L in X-Pac Deep Black is a day pack-sized backpack made from durable materials that is loaded with features including several internal and external pockets for organization. What's in the box? The Able Carry Daily Backpack 20L in X-Pac Deep Black arrived in a grey cloth drawstring pouch with a subdued Able Carry logo on the front.  I thought this was a classy touch and also helps protect the products contained within it. As shown above, Able Carry included the following products for review. Note that each are sold separately. Able Carry...
---
• BackcountryBackpack • Backpacks • Bags • Reviews • RoadTests
And I knew I had to get one on my shoulders sooner or later. And now, a year and a half later, here comes my F7 Kite review. Enjoy! Who It Suits Hardcore off-trail mountaineers, backcountry hikers and hunters. Outdoorsmen looking for a scalable multi-role pack which is as tough as it gets, with a harness suitable for really heavy loads… and with obvious military flair. Who It Doesn't If you praise extreme ultralight packs made of almost see-through fabrics, never go off-trail and believe only in the 'ounces is pounds, pounds is pain' mantra… Eberlestock might not be your...