• EDC • EverydayCarry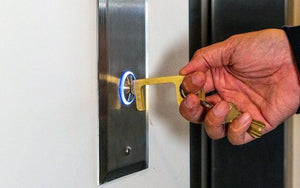 submitted by Everyday Carry Now more than ever it's important to avoid touching high-contact surfaces like door handles, elevator buttons, and payment terminals with your bare hands. That's because all it takes is accidentally touching your face to put you at risk of infection. And access to hand sanitizer or a hand washing station can be limited in these trying times. The team at StatGear knows this firsthand as they're based in New York City, an area hit especially hard by the coronavirus outbreak. That's why they're returning to Kickstarter with their latest creation, the Hygiene Hand. It's a clever...
---
• EDC • EverydayCarry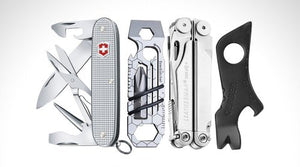 submitted by Jonathan Tayag When it comes to everyday carry, having the right tool for the job can determine your success. But unless you're a contractor, the idea of carrying an entire tool box everywhere is simply impractical. That's why so many people consider the multi-tool to be an essential part of any EDC. A good multi-tool gives you quick access to many useful tools in a streamlined, compact package you can fit in your pocket. There's a wide range of multi-tools out there, from traditional butterfly designs to unique one-piece tools, and they all help you accomplish more than...
---
• EDC • EverydayCarry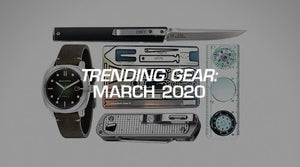 submitted by Mikey Bautista Every day, readers like you proudly share photos of their everyday carry on the site. Not only is looking through their pockets this way super interesting, but it's also a great way to find really cool gear you never even knew existed (yet somehow, suddenly need…). When you hover over an item you like and click on it in these photos, you're also letting other EDCers know you find that gear interesting. Each click gets recorded to create a data-driven ranking of the most popular gear, which you can find in our Gear section of the...
---
• EDC • EverydayCarry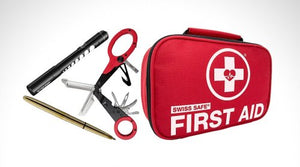 submitted by Jonathan Tayag In the best of times, integrating a first aid kit into your everyday carry lets you be prepared to deal with the minor cuts and scrapes that you or the people around you might encounter on a daily basis. In the worst of times, having a good kit of first aid essentials can mean the difference between life and death. This is especially true when you are dealing with a traumatic situation and you need to close a wound quickly and safely before things get worse. But carrying a huge cabinet of first aid implements like...
---
• EDC • EverydayCarry
submitted by Jonas Mueller Ystudio Ballpoint Pen Classic Starterstore's Aviator Wallet HandGrey KNOX Aviatorwallet.com Door Hook Desinfectant True Utility Bullet Stash The James Brand The Folsom Jojo Belt Clip Hey, it's Jonas, back again with another Everyday Carry setup. It is dedicated to the current situation and useful to stay safe while going outside currently. I do carry the brandnew Aviator Wallet Slide, a brassing pen from Ystudio, the Handgrey Knox for keys, the James Brand Folsom knife and a stash formed like a bullet for some cash. To prevent infections I carry a portable desinfectant as well as the...