• DeveloperTools • Reviews • TextEditor • Utility
s I've been writing code for nearly a decade, and throughout all of that time, I've never quite been satisfied with a code editor. Each one I've tried has annoyed me in various ways, and eventually, I find myself looking elsewhere. My code editor is the app I use more than any other. I spend hours in it nearly every day and often keep going deep into the night. The code editor is the main tool of my trade, and I want to be using the best one that I can. One of my main frustrations with pretty much all...
---
• Homeorganization • Smallspaces • Thehomeedit • THETips • Utility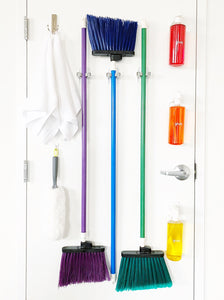 All opinions are our own. What's worse than having to take time out of your precious day to clean your entire house? Having to wade through a damp cave of cleaning supplies before you even get started. So, why work harder when you can work smarter? It's time to create a functional storage system that simplifies your cleaning routine and allows you to access your supplies without the fear of a broom falling on your head. Think beyond your cabinet shelves and take advantage of vertical space to organize up. Utilizing the back of a door is a perfect storage...