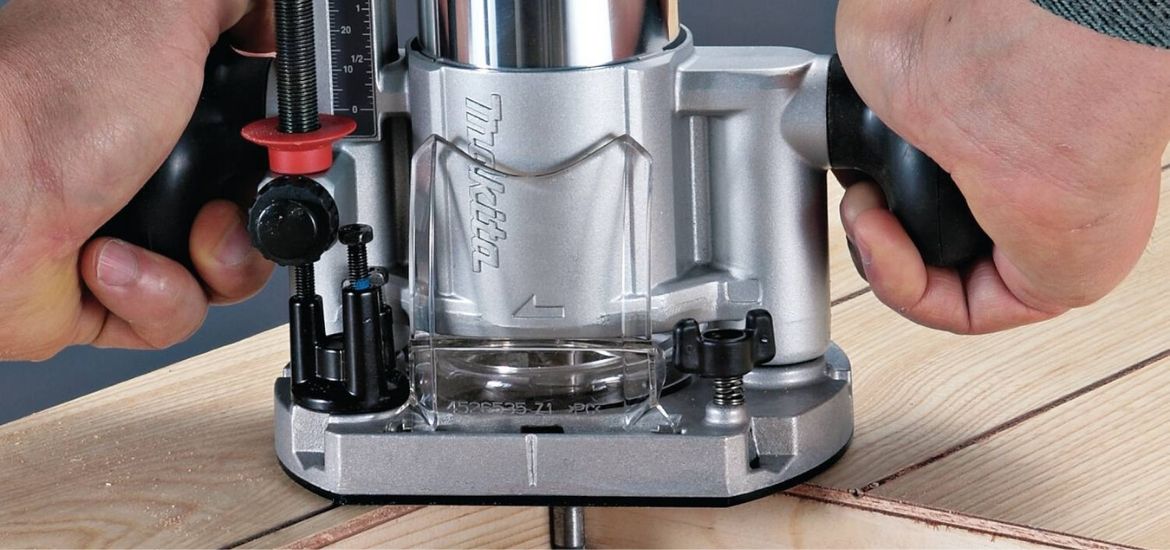 The sheer brute strength of a circular or table saw can cut even the toughest piece of hardwood in your workshop. But sometimes brute strength is not enough, and there are some things that these power saws just can't do. If you want to add some grooves, intricate edges, and other designs to a workpiece, then you definitely need a tool called a router.
Any woodworker worth his salt owns one or more wood routers. Their main role in the workshop is to trim and smooth the rough edges of a piece of wood, but they are also amazingly versatile. 
Routers can be used to create decorative and fancy moldings. These tools can be used to produce rabbets and dadoes, as well as carve simple and intricate patterns on a piece of wood.
All these are made possible by an assortment of bits attached to the routers collet. Some of the commonly used routers bits are straight, rabbeting, and flush trim bits. 
If you want to produce a simple bevel cut, then use a chamfer router bit. Cove, edge beading, ogee, and roundover bits are used to make beautiful and elegant decorative edges.
Intricate edges are produced by molding, rail and stile, and raised panel router bits. Some bits are used specifically for joinery, including finger join, lock miter, and dovetail router bits. Check out this page to see the grooves and edges produced by different types of router bits.
Pros:
This is a compact wood router that you can use with fixed and plunge bases (both bases are included in the kit). The plunge base allows you to easily create grooves, rebates, and other cuts without spending money on another router.

It comes with an adjustment ring for when you're using the fixed base. This allows you to control the depth up to 1/64″.

It is easy to swap out the fixed base and plunge base.

It has a couple of built-in LED light that lets you see the work surface.

It has a soft-starting and powerful 1.25 HP motor.
Cons:
The motors' quality is inconsistent. You might get something that works well for a long-time, or you might get a lemon.
Sebring Tip:
Routers have been around for many years, and the overall design has largely remained the same. But the DEWALT DWP611PK Fixed/Plunge Base Kit is one of those tools that have an innovative and versatile design. You don't have to choose between a fixed base and a plunge base router as this particular tool comes with both attachments.
It has an easy-to-reach on/off switch located on top of the machine. The rocker switch is dust-protected to prolong its life. It has a variable speed setting that allows you to control the tool better especially when using different bits. The variable speed dial, which can go up to 6, is located on top of the tool.
The attachments included in this DEWALT wood router allows you to customize the depth of the cuts. Plus, you'll get better control of the tool thanks to its overmolded rubber handles.
It is pricey, but this is a high-quality router with interchangeable bases and heavy-duty motor, so the price is justified.
Pros:
It has a nice and durable hard case that protects it from dust and the elements. It has a bag inside that keeps the router and its attachments organized.

This router comes with a plunge base that can be adjusted using the rack-and-pinion adjustment system.

Its speed ranges from 10,000 to 30,000 RPM. This allows you to control the machine easily, protect the motor, and prevent wood burning.

It includes two wrenches that can be used to install and uninstall the bits, plus a straight guide.
Cons:
The straight guide doesn't fit into its plunge base very well. You need to buy a better compatible straight guide so you can use this feature.
Sebring Tip:
The Makita RT0701CX7 Compact Router Kit is a good addition to your woodworking arsenal thanks to the quality and durability of the machine, as well as the various attachments you can use with it. This soft-start woodworking router comes with a plunge base that you can easily snap-on depending on your application.
The whole machine is compact and easy to handle. The fixed base, however, doesn't have handles at the sides, so holding the router on its head can make working a challenge. You can purchase an optional dust port for your fixed base attachment. This allows you to hook your machine to a shop vac and get rid of any resulting debris while working.
Depth adjustment is made easy thanks to its rack-and-pinion and cam-lock adjustment. Surprisingly, this is one of the most affordable wood routers in the list despite its quality, the number of attachments included, and nice hard case that can double as a toolbox.
Pros:
It has a large hard case that protects your tool from dust and impact.

It has two on and off switches — one on top and one on the side — making them more convenient and easier to reach.

It's quieter than other routers on the list.

The variable speed is located conveniently on top of the machine. It is also clearly marked with its specific RPM (10,000 to 23,000), giving you greater control of the tool.

It has a soft-start motor that gives you better control of the tool and protects it from long-term damage.
Cons:
It is hard to lock the machine in place sometimes when it is attached to the plunge base.
Sebring Tip:
First impression. This PORTER-CABLE 892 Router has a nice weight to it right out of the box. It is taller and beefier than many routers on the list, but it can be easily maneuvered to your desired position with the large rubber overmolded handles at the sides.
It has a powerful soft-starting 12 amp motor that can deliver as much as 23,000 RPM. It allows you to switch speeds depending on your application and to protect your workpiece from wood burns.
The convenient rack-and-pinion dial allows you to adjust the depth up to 1/128″. This unit includes a 1/4″ collet and a 1/2″ collet. This particular model includes a plunge base that adds to its versatility. You can also purchase one with a fixed base alone, but why stop at a fixed base when you can have the best of both worlds?
Pros:
The body of this router is made of durable and heavy-duty magnesium.

It houses a powerful and long-lasting soft-start 11 amp motor.

The large handles are covered in textured rubber overmold which ensures a non-slip grip.

It has two built-in LED lights that illuminate your work surface. 

Adjusting the router depth is easy thanks to its rack-and-pinion mechanism.
Cons:
It's a bit expensive for a fixed base router.
Sebring Tip:
The Ridgid R22002 Fixed Base Router may not be the most popular router on the list, but it surely delivers. It has a nice weight to it — not too light to be flimsy nor too heavy to be unwieldy. Its durable magnesium body houses a powerful soft-start motor that can take on even the toughest hardwoods with ease.
The unit comes with a detachable chip shield, as well as a dust port that you can hook to your shop vac. What really makes it stand out is the presence of two LED lights. These allow you to see your work surface so you'll know if you're on the right track or not.
The unit and its attachments are stored in a soft fabric box. That might be less than ideal for some users, but you probably won't mind that it doesn't come with a hard case if you're planning to use the router often and don't plan to put it back into storage. 
Pros:
It has a variable speed dial that allows you to go from 8,000 RPM to 25,000 RPM.

The fixed base allows you to mount it to a compatible router table with its 3-hole pattern.

The hardwood handles let you control the machine with ease.

It has a coarse depth adjustment lever, as well as a fine adjustment dial.

The collet can be adjusted easily with the 16 mm shaft wrench and collet nut wrench (included in the package).

This router comes with a clear chip shield.
Cons:
The Bosch 1617EVS Fixed Base Router is a little more expensive than other brands with similar features.

The on/off rocker switch is not dust-protected.
Sebring Tip:
Creating a masterpiece can be easy thanks to this Bosch 1617EVS Fixed-Base Router. It has a non-slip top where the variable speed dial and the rocker switch is located. It also has two round hardwood handles at the sides to ensure that operating and controlling the router is easier.
This router works with a number of Bosch router tables (as well as other router tables from other brands), but you need to make sure that they are compatible and that you only need to make a few modifications to install it.
Bosch has made depth adjustment easier on this machine. Simply release the lever at the back, push the coarse adjustment tab, and move the router up or down depending on your desired depth. You can also release the machine from the fixed base this way. You can use the micro-fine adjustment dial at the back for finer depth adjustments.
Pros:
It includes fixed and plunge router bases that you can easily install and uninstall. 

It comes with a durable hard plastic case to protect the router and its attachments from damage.

It includes a 1/4″ collet, 1/2″ collet, plus a collet centering guide. Multiple wrenches for collet adjustment are also included.

The router can be easily installed in a Porter Cable router table with the inserts/accessories (included in the package).

Easy and precise depth adjustment on a fixed base. Just turn the dial to your desired depth, and you're good to go.
Cons:
It can be hard to adjust the depth on the plunge base as it often gets stuck.
Sebring Tip:
Whether you're cutting grooves or chamfers on your latest project, this Metabo HPT KM12VC Router Kit can deliver. At first glance, you'll think that this is just another expensive machine. But you'll see later that it offers more value to your money thanks to the fixed and plunged bases included in the package. It also includes all the necessary attachments to keep your operation hassle-free, including a couple of collets, wrenches, and more.
The on and off switch is conveniently located on top of the machine. It has a powerful 11 amp motor that delivers 2 1/4 peak horsepower.
The handle has just the right size, so you can better control the machine no matter your hand size.
Pros:
It has a rear-grip, front, and top handles. Putting grooves or trimming a workpiece can be easy thanks to the tool's ergonomically designed handles.

The plunge base has a dust extraction port. Connect it to your shop vac to safely remove dust and debris.

The router comes with a swiveling chip deflector.

It only weighs a little more than 13 lbs.
Cons:
This is the most expensive wood router on the list. It's a good investment if you're a professional woodworker or builder, but not if you're a hobbyist.
Sebring Tip:
The Festool OF 1010 EQ F Plus Router is a professional woodworker's dream. It is compact and relatively lightweight, making it one of the most portable wood routers we have on the list. The weight of other wood routers can sometimes take its toll on your arms, especially if you're using it all day. Not when you have this Festool machine.
The machine delivers consistent and reliable performance. Cutting grooves, creating rounded edges, beveling a frame, and more all day can be a breeze with it. Plus, you can use it with several Festool attachments to make your job a lot easier.
This is a great product overall and one of my personal favorites, but it's not for everyone because of its prohibitive cost.
Wood Router Buying Guide
Plunge Base and Fixed Base Routers
Wood routers have two types of bases: a fixed base and a plunge base. Routers with fixed bases are locked in place. Unlike a plunge base router, the user cannot manually move the cutting bit up or down during operation.
When it comes to cutting grooves and edges, fixed base routers offer more power and precision. They are also easier to control, hence more ideal for beginners.
A plunge base router, on the other hand, is attached to a specially designed base. This base allows the router bit to "plunge" when the user manually exerts pressure on it. The cutting bit then returns to position when the pressure is removed.
This type of router allows you to manually adjust the depth and gives you greater control when cutting vertically. Plunge base routers are also ideal for starting a groove in the middle of your workpiece.
But plunge base routers are not as forgiving to beginners like fixed base routers are. They also tend to be more expensive than their fixed base counterparts.         
Woodworking Router Size
Wood routers are available in different sizes. The smallest of these tools are palm routers. These machines are small, portable, and ideal for smaller projects.
If you want a router that is still portable but a step higher when it comes to power and strength, then mid-sized or compact routers are ideal for you.
But if you're looking for the granddaddy of all wood routers, then check out full-sized routers. They are larger, heavier, and packs a lot of punch then taking on the heaviest tasks. These are ideal for professional woodworkers and builders, as well as for hobbyists who have regular projects and want a tool that will last for a long time.        
Soft Start
A router that is not equipped with a soft start will go up to its maximum speed the moment you push the rocker switch. The noise the router produces and its sudden movement can be startling for many users. Plus, the sudden surge in power can cause damage to your router's motor over time. Router motors equipped with soft start pause for a moment before gradually accelerating to the required speed. 
Variable Speed
Most routers available on the market right now have variable speed. This allows users to control the speed if they are using different bit sizes. Large bits, for example, work well and cut cleanly when the router is set at lower speeds. Smaller bits, on the other hand, work better when the router is set at higher speeds.
Ergonomic Design
Compact and full-sized routers can be difficult to handle and even dangerous if they are designed poorly. Look for a router with sizable and textured handles to prevent it from slipping from your grasp and causing damage to your workpiece and causing injury. Rest your hands regularly to avoid developing muscle tension or carpal tunnel syndrome. 
Having your home remodeled can be stressful if you don't know where to start. If you want some home remodeling ideas and inspiration, then check out our blog. You can also visit our website for our list of services, pricing guides, and other helpful tips for your home remodeling projects.
Conclusion:
Our choice for the best wood router is the DEWALT DWP611PK Fixed/Plunge Base Kit. Here are the things we love about this compact router.
First is its heavy-duty 1.25 HP motor that is perfect for its compact body. The motor is soft-starting, so you won't be startled by the sudden movement the moment you turn it on. The soft-start mechanism prevents wood burns, plus ensures the longevity of your tool. It has a variable speed setting that can go up to 27,000 RPM.
Switching the machine from fixed base to plunge base and vice versa is so easy thanks to the clamp at the back. The rocker switch, which is located on top of the tool, is covered with a clear overmold to prevent dust from getting into the motor and damaging it.
Tracking your progress and making sure that you're on the right track can be easy with the DEWALT compact wood router. It has built-in LED lights at each side that illuminates your workpiece.
The fixed base doesn't have a handle. But this is a compact tool after all, so it's not really necessary. Plus, the fixed base is dimpled for a non-slip grip.
This particular version is a combo kit — meaning you'll get both the fixed and the plunge base. Pretty expensive, but definitely worth the investment.
Other Great Articles to Read:
To view our Amazon Associates Disclaimer, please click here.
The post 7 Best Wood Routers [2020 Review] appeared first on Home Remodeling Contractors | Sebring Design Build.