There are few better (and tastier) ways to cool off in the summer heat than with a scoop of sorbet. Turns out, the frozen dessert will do more than just satisfy your sweet tooth – sorbet's playful palette of pastel shades delivers serious design inspo too. Vibrant sorbet hues like soft yellows, corals, lavenders, blues, pinks, and mango-oranges add a punch of color and liveliness to interior spaces, so you can channel the fun, feel-good vibes of summer in any room of the house. Whether you go big in the form of a sorbet accent wall or area rug, or go for smaller home accents and decor, there's no shortage of ways to bring a touch of summer sorbet shades to your home. Read on for some of our favorites! For more stylish sorbet decor, visit the Design Milk Shop.
The punchy pomegranate shade of this planter-tealight holder hybrid aces the sorbet shade range and brings a pop of color to your houseplants. Handcrafted in House Raccoon's Belgium studio, the Mila Planter's architectural ridges are inspired by the look of roman pillars and made modern through its playful color and petite size (which fits most standard small plant pots with ease!). Another bonus: House Raccoon plants a tree for every item sold!
$50
Shop Now >>
For summer sorbet vibes in your bathroom, look to this Orient Shower Curtain by Quiet Town. Starring a color blocked design of bright turquoise and soft, muted peach, this modern shower curtain captures a dreamsicle-like color palette that's unmistakably sorbet. The durable and weighty cotton canvas offers superior construction and high-end finishes that are perfect from every angle. Click here for tips on how to style it in your bathroom!
$148
Shop Now >>
Designed by Siebring & Zoetmulder for Puik Design, the pastel blue shade of these ceramic espresso cups instantly brightens your tabletop (and your morning caffeine fix). The Monday Cups' unique, multi-leveled base adds a geometric touch, while the matte ceramic glaze creates a fun, tactile contrast against the cup's glossy interior finish. For drip coffee fans, check out Puik's matching Ceramic Mug!
$38
Shop Now >>
This trio of curvy desk accessories designed by Design Milk favorite, Alex Proba, brings the playful spirit of sorbet shades to your workspace. Made of a stylish stoneware material, each piece of this organization set celebrates the colors of summer – a lemon-y pastel yellow, a grape-like purple, and peachy orange – for an instant mood boost while you work! Use them to store pens, pencils, and other desk essentials or keep them on your vanity or side table for beauty products and other must-haves.
$60
Shop Now >>
There are plenty of reasons to love Open Spaces' Entryway Rack (you can read about them here), but one key reason is their range of soft modern colors. The Lavender Entryway Rack is a limited-edition shade that speaks to our sorbet summer dreams, adding brightness and whimsy to any space you put it in. Whether you use it to store shoes, as a side table, or to artfully showcase your most loved decor items, this modern and playful storage shelf will bring color and personality to any room in the house.
$184
Shop Now >>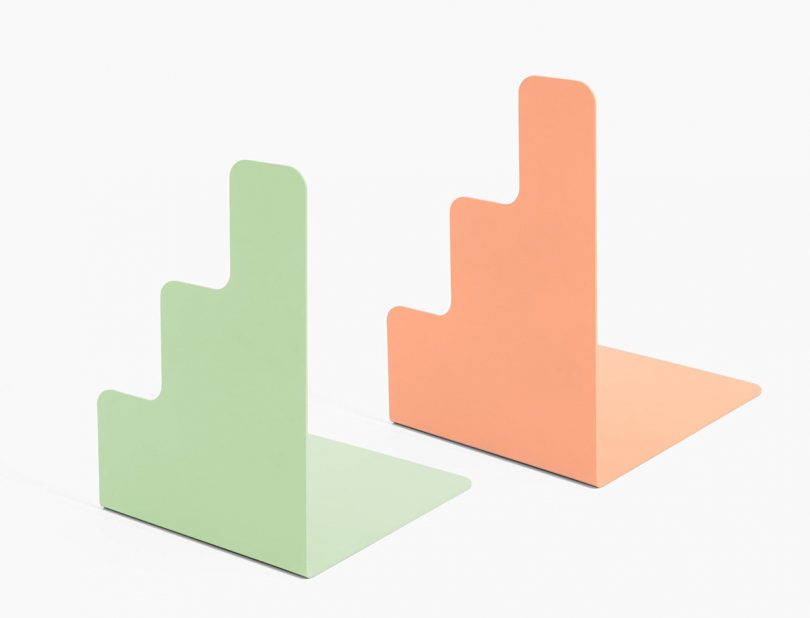 This hand-painted metal bookend brings a burst of coral to your bookshelf. The staircase design makes for a modern, geometric element that beautifully complements the silhouette of your favorite books, perfectly blending form and function! Add several to your shelves for a monochrome summer sorbet moment or mix and match with Poketo's seafoam green color to amp up the energy and color.
$32
Shop Now >>
We love the soft, sorbet yellow shade of this merino wool throw. Handmade by Studio Variously's team of expert artisans, the plush weave and duo-colored yarn in this modern blanket brings cheerful color and luxe comfort to your couch, accent chair, or bed spread. Finished off with a neat, polished fringe, the Dandelion Throw adds a pop of sunshine and texture to any spot in the house.
$269
Shop Now >>
Designed in collaboration with fashion designer Cynthia Rowley, this Beach Towel turns a summer sorbet color palette into a dreamy modern gradient. Made with Slowtide's signature sustainably sourced cotton, the Sea Ombre Beach Towel is everything you want a beach towel to be – soft, absorbent, and quick drying. The large surface area is perfect for sprawling out on at the beach or park, and looks great draped over outdoor furniture too!
$55
Shop Now >>
Merkled Studio's best-selling Shook Shelf combines the utility of a shelf and wall hook in one sleek, storage solution. Designed to be used both in indoor and outdoor spaces, the Shook's powder-coated aluminum material is durably designed to withstand the elements and everyday use – addressing a multitude of functions across the home. What's more, the crisp, mint-green color is as refreshing as a scoop of your favorite sorbet!
$101
Shop Now >>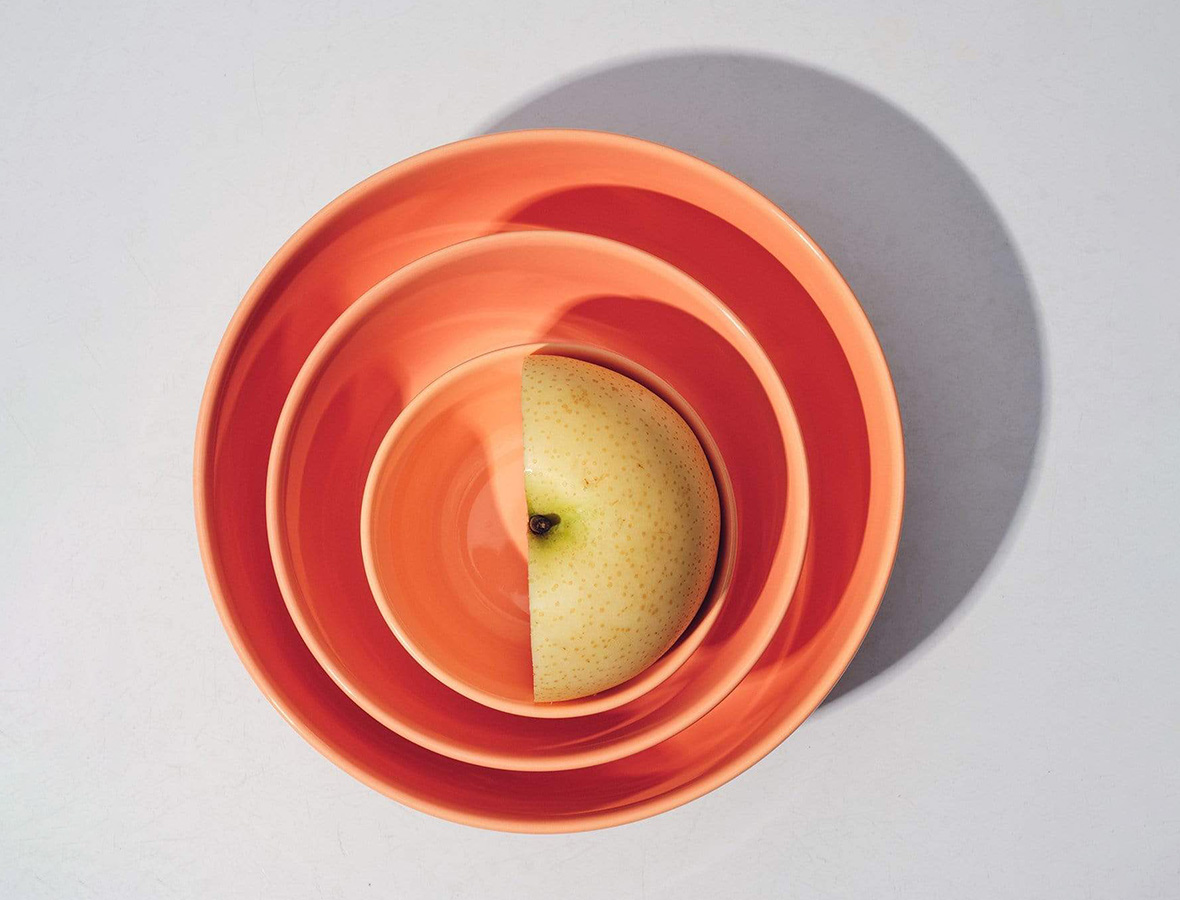 Dress your table in summer sorbet hues with the help of this large bowl by Fors Studio. Made of a polished and sleek bone china and hand glazed in a bold coral hue, the Large Bowl is thoughtfully designed with deep walls to accommodate generous servings of pasta, salad, stews, you name it and even doubles as a small serving dish for two. The best part? It's dishwasher, freezer, oven, and microwave safe, making it an everyday dining staple.
$36
Shop Now >>
Shopping any of our summer sorbet favorites? Share your haul and tag us @designmilk to be reposted on our Instagram!