I get asked a lot about which garage storage system I use in my home. People are surprised when I say that I use both Rubbermaid FastTrack and Gladiator GearTrack and GearWall.
The next question is whether they're compatible with each other. Spoliers…they're not.
But almost immediately after that is why I have both. If you can't share accessories then that doesn't seem to make sense.
The bottom line is that both the Gladiator GearWall and Rubbermaid FastTrack are great wall storage systems. However, I use them in different ways and even different rooms.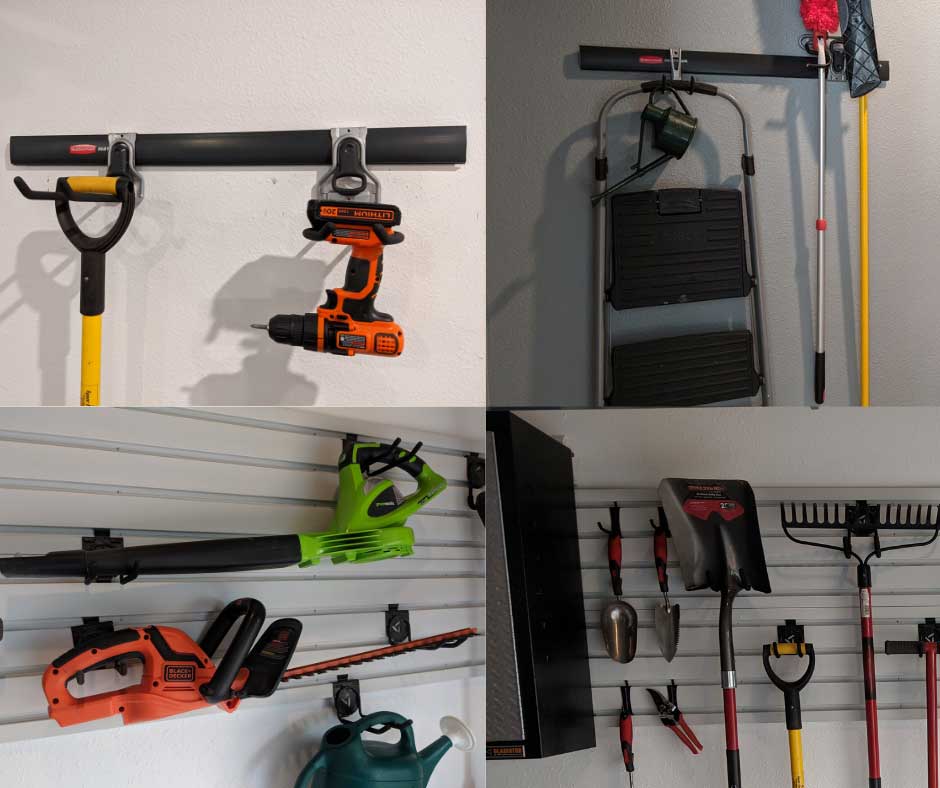 So I thought it would be good to compare Gladiator GearTrack vs. Rubbermaid FastTrack. I'll explain all of their similarities and a few of their differences. Finally, I'm going to say what I think their individual strengths are and how you should use them in your home.
This is designed to be a quick 'cheat sheet' if you're comparing the two systems. I'll leave links to my two detailed reviews (full of pictures of my installations) at the end of the article so you can dig a little deeper.
Gladiator GearTrack vs Rubbermaid FastTrack: Quick Comparison
Both the Gladiator GearTrack and Rubbermaid FastTrack systems have a lot of similarities to each other. Both are based off a single rail track that allows their proprietary metal hooks to snap on to the track.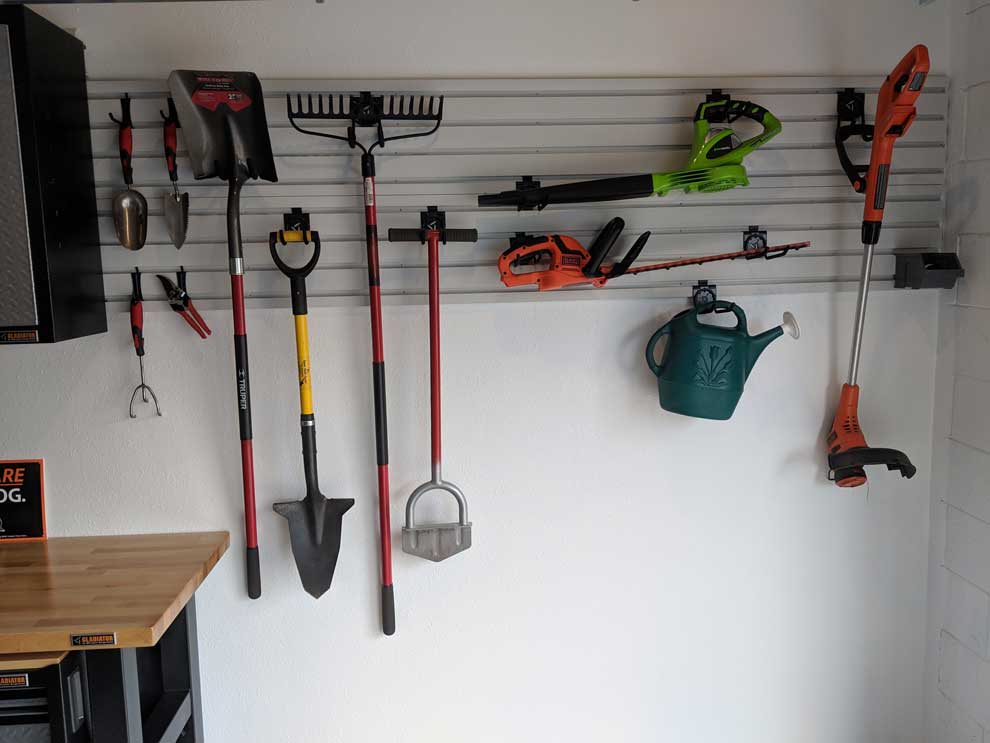 What I've found is that the Gladiator GearTrack and GearWall systems are a little more 'industrial' looking. The Rubbermaid FastTrack, with it's decorative plastic cover, is a little more 'polished' looking.
So which is right for you? Unless you need some special purpose hook that is only available from one of them, both will be great options for your garage.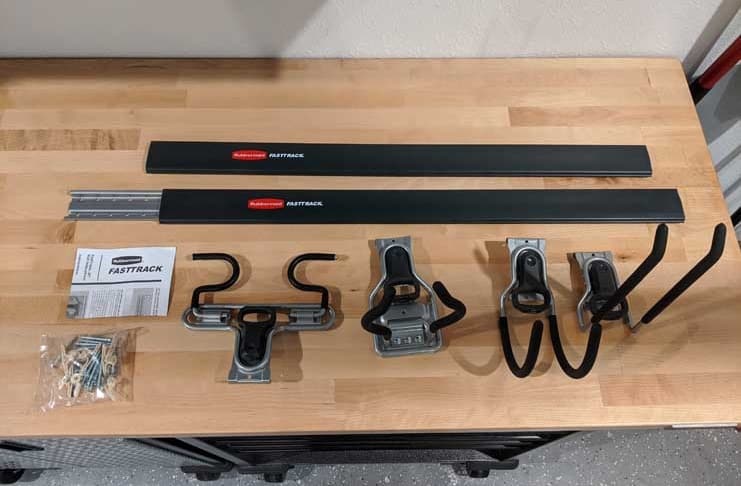 Quality
Both the Rubbermaid FastTrack and Gladiator GearTrack are extremely high quality, but I have to give the edge here to Rubbermaid.
The Gladiator GearTrack rail is built of heavy plastic. It's extremely sturdy and I've never had one break on me, even under heavy load.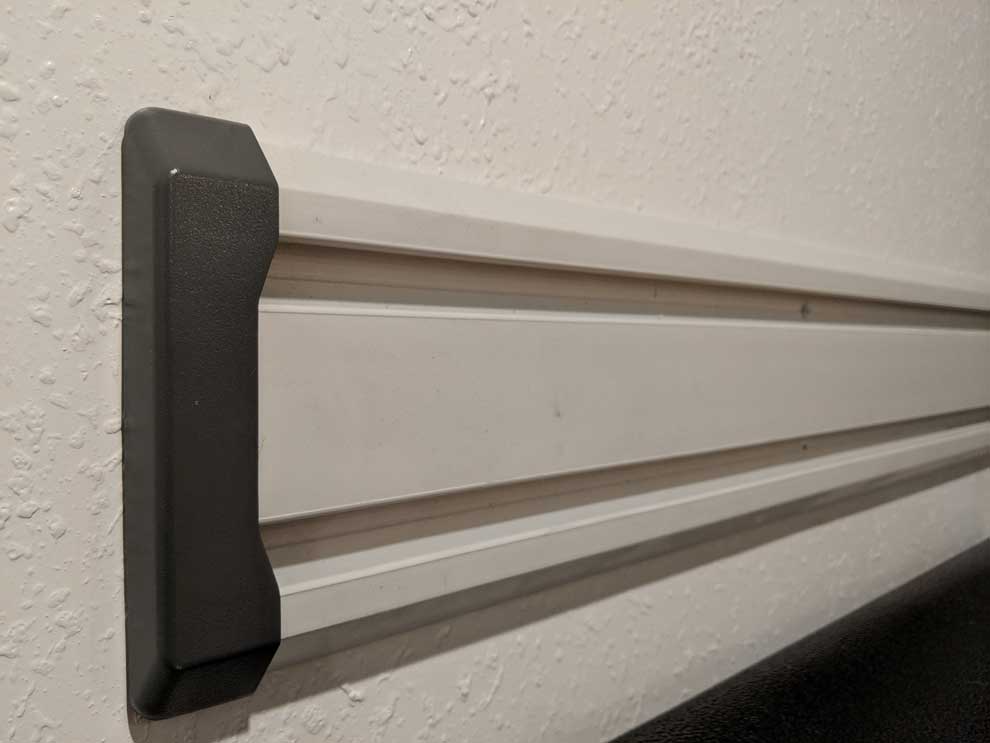 But it's really not a contest. The FastTrack is a thick steel rail as it's base, compared to the one-piece plastic design of the GearTrack channel. This allows for a much higher weight capacity.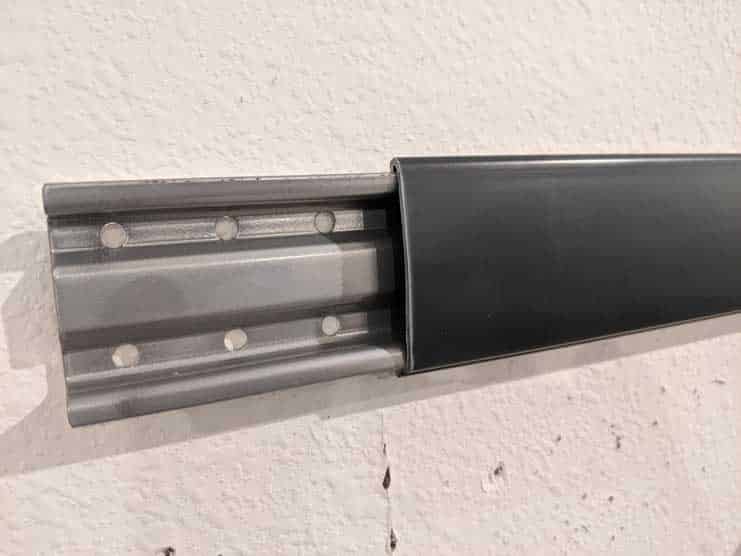 Gladiator GearTrack vs Rubbermaid FastTrack: Warranty
Gladiator wins this round. The GearTrack channels have a limited lifetime warranty, compared to only a 1-year warranty for Rubbermaid.
There are, of course, exceptions to those warranties. Both warranties won't cover product failures due to incorrect installation.
Here's the text of each warranty so you can compare them:
Rubbermaid Warranty
Rubbermaid warrants to the original owner that this product is free from defects in material and workmanship for a period of one year from the date of the original purchase. If this product is defective when used as intended under normal household conditions within the specified period, Rubbermaid will replace the product, send a replacement part or issue a refund (at our option) when the consumer provides a proof of purchase (either a bill of sale, receipted invoice, or other proof that the product is within the warranty period), along with a full description of the defect
Gladiator Warranty
For the life of the product, when the GearWall Accessories are used and maintained according to instructions attached to or furnished
with the product, Gladiator® GarageWorks will pay for repair or replacement of the GearWall Accessories due to defective materials or
workmanship.
Starter Kits
Starter kits are one of the best ways to…well…get started with wall storage systems. Not only do they combine the track and an assortment of hooks, but you can sometimes only get certain accessories or track lengths in one of the kits.
If you're trying to compare Gladiator GearTrack vs Rubbermaid FastTrack, picking up one or two of the less expensive starter kits may be the way to go.
Gladiator GearTrack Starter Kits
Gladiator has no fewer than nine starter kits, so there are a wide variety of different configurations to get you started. I'll go into each in a little detail here.
GearTrack Pack
The basic GearTrack Pack is the one you're going to find most often in your local big-box home improvement store. It offers a nice mix of the more popular hooks, but you'll usually find yourself gravitating to some hooks over others.
2 Four foot GearTrack channels
4 Endcaps
16 Color Matched Screws
1 Utility Hook
1 Scoop Hook
1 Tool Hook
1 Twin Hook
2 J Hooks
2 L Hooks
Rack GearTrack Pack
The Rack GearTrack Pack has the smallest section of GearTrack available in any starter kit. It's only 24″ long because it's designed to be able to mount directly on the side of any shelving units you have.

1 24″ GearTrack channel
2 Endcaps
2 Hanging Brackets
1 Scoop Hook
1 Twin Hook
1 L Hook
2 Color Matched Screws
Entryway GearTrack Pack
The Entryway GearTrack Pack is one of my favorites and one of the only places where you can get GearTrack cut in a 3′ length.
It's wide enough to mount one of the RTA Cabinets, but also perfect for storing brooms, dustpans, or anything you want to quickly grab before heading out.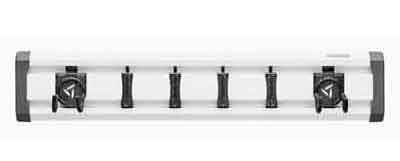 1 32″ GearTrack channel
2 Endcaps
6 Color Matched Screws
2 Scoop Hooks
4 J Hooks
Multipurpose GearTrack Pack
The Multipurpose GearTrack Pack is probably where I'd recommend most people start to organize their garage. The five Scoop Hooks are perfect for storing shovels and other garden tools, or even many power tools and accessories.

1 42″ GearTrack channel
2 Endcaps
6 Color Matched Screws
5 Scoop Hooks
Sports GearTrack Pack
The Sports GearTrack Pack and the Sports Caddy GearTrack Pack below are very similar. The major difference being the size of the mesh basket.
The Sports GearTrack Pack has a smaller, 24″ mesh basket and three different hooks. Go with this one if you want to store small sports equipment (baseball or tennis ball size).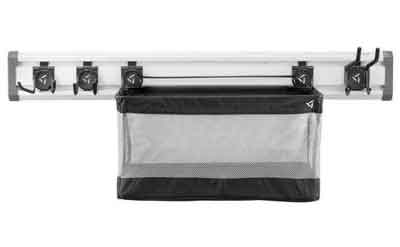 1 Four foot GearTrack channel
2 Endcaps
8 Color Matched Screws
1 Tool Hook
1 Wide Hook
1 Scoop Hook
1 24″ Mesh Basket
Sports Caddy GearTrack Pack
By contrast, the Sports Caddy GearTrack Pack includes a larger Ball Caddy which is perfect for storing basketballs, footballs and other larger sports gear.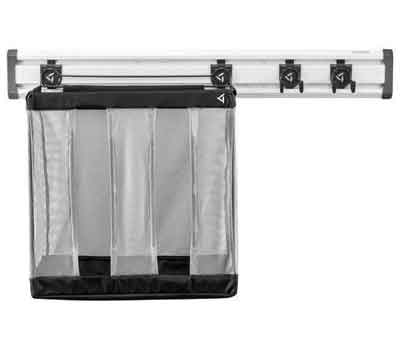 1 Four foot GearTrack channel
2 Endcaps
8 Color Matched Screws
1 Ball Caddy
2 Scoop Hooks
Gardening GearTrack Pack
In addition to the shorter, 32″ GearTrack channel, the Gardening GearTrack Pack includes a multi-pocket removable bag for gardening that's exclusive to this starter kit.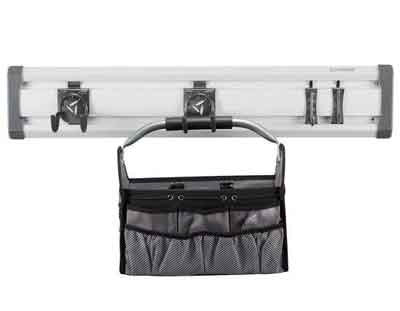 1 32″ GearTrack Channel
2 Endcaps
6 Color Matched Screws
2 Scoop Hooks
2 J Hooks
1 Project Bag
Lawn Care GearTrack Pack
Even if you're not planning on storing your garden tools on it, the Lawn Care GearTrack Pack might be worth a look. It's the only starter kit that offers the Big Hook and Deep Hooks. They're great for storing extension cords, hoses and other bulky items.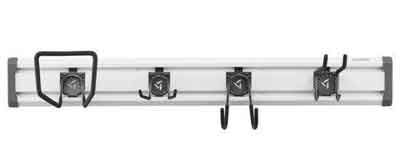 1 Four foot GearTrack channel
2 Endcaps
8 Color Matched Screws
1 Big Hook
1 Deep Hook
1 Wide Hook
1 Tool Hook
Bike GearTrack Pack
The Bike GearTrack Pack lets you store two bicycles, one on each type of Gladiator's bike hooks. There are also two J-hooks for storing helmets or other gear.

1 Four foot GearTrack channel
2 Endcaps
8 Color Matched Screws
1 Vertical Bike Hook
2 J Hooks
1 Gladiator Claw Advanced Bike Storage Hook
Rubbermaid FastTrack Starter Kits
Rubbermaid has four starter kits that range from a 5-piece kit all the way to a 15-piece kit. Occasionally you'll find special kits brought out around the holidays for specific retail chains.
One of the big advantages of the Rubbermaid FastTrack starter kits is that they come in shorter rail lengths. While you can cut one of the steel rails, you'd need a table saw to do it. A starter kit offers an easy shortcut to that.
5-Piece FastTrack Starter Kit
The 5-piece and 6-piece starter kits are almost identical except for a slight change in which hooks are included.
The 5-piece kit includes the Multi-Purpose hook which is great for holding stepladders or multiple shovels or rakes on the same hook.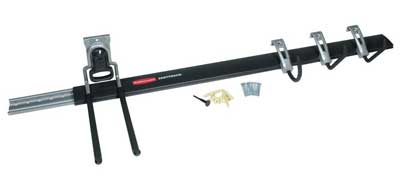 1 32″ FastTrack rail
Installation Hardware
1 Multi-Purpose Hook
1 One-Handle Hook
2 Scoop Hooks
6-Piece FastTrack Starter Kit
By contrast, the 6-piece starter kit swaps out the Multi-Purpose hook and includes the Utility Hook and an additional One Handle Hook. The Utility Hook is great for holding larger tools like lawn edgers or hedge trimmers.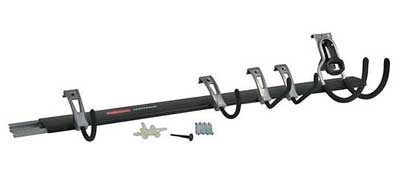 1 32″ FastTrack rail
Installation Hardware
1 Utility Hook
2 One-Handle Hooks
2 Scoop Hooks
15-Piece FastTrack Starter Kit
Unlike all of the other starter kits, the 15-Piece Starter Kit includes full length, four foot FastTrack rails.
I don't necessarily recommend this starter kit if you're just getting into what the FastTrack system can do. It comes with only three types of hooks: the Multi-Purpose, Utility and Cooler Hooks. You give up a little flexibility, but if you know these are the types of hooks you're going to use anyway, this may be a great option to pick them up at a bit of a discount.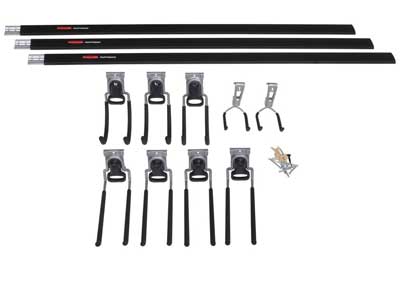 3 Four foot FastTrack rails
Installation Hardware
4 Multi-Purpose Hooks
2 Cooler Hooks
3 Utility Hooks
Tool Hanging Kit
The Tool Hanging Kit is my favorite of all the Rubbermaid FastTrack starter kits. It comes with two 32″ rails and it's the only one to come with a Power Tool Hook.

2 32″ FastTrack rails
Installation Hardware
1 Power Tool Holder
1 Utility Hook
1 Multi-Purpose Hook
1 Two-Handle Hook
Conclusion
When I first started comparing the Gladiator GearTrack Vs Rubbermaid FastTrack, I was immediately drawn to the Gladiator system. It seemed to be a perfect fit for my garage and, so far, it's been amazing.
But I've grown to love the Rubbermaid FastTrack system as well in my laundry room. It's a more refined, upscale-looking storage system that doesn't look out of place inside.
I think that's the best thing about owning both systems. I can see exactly what their strengths and weaknesses are and make sure they're in the right locations.
For more on Rubbermaid FastTrack, check out my review here. Many of the images are from when I was testing it in my garage, and it's been updated with images from my permanent installation in my laundry room as well.
To find out more on the Gladiator GearTrack and GearWall system, you can check out my detailed review here. It's a long-term review, written after I'd been using the system for over two years.
No matter which you choose, both the FastTrack and GearTrack are great wall storage systems. You can't go wrong either way.
The post Gladiator GearTrack Vs Rubbermaid FastTrack: Which Is Better? appeared first on Garage Transformed.