If you're thinking of buying an EV, you'll need a place to charge at home. Consumer Reports has you covered with some top choices. By Jeff S. Bartlett
With Gabe Shenhar and Keith Barry
As electric vehicles gain popularity, Consumer Reports decided to test several popular wall chargers that EV buyers might consider when buying a car.
We also asked a focus group of EV owners about what they need and like in a home charger, known in the industry as electric vehicle supply equipment (EVSE).
We evaluated hardwired (permanently installed) and plug-in types, ranging in price from $300 to $700. The eight we list below performed similarly, but we learned about which features matter and which ones you might want to skip—or at least not buy as an extra. We list four staff favorites, too.
Owners of pure-electric cars may find it helpful to have a wall charger installed to get charging done in a few hours instead of overnight or over days. It's possible to recharge your EV or plug-in hybrid by simply using the supplied cable that came with the car and a nearby 120-volt outlet, the typical outlet in your house or garage. For most drivers, trickling electricity overnight may be adequate for addressing the range needs of a typical commute. Plug-in hybrids, with their limited battery capacity and ability to run on gasoline, probably don't warrant the investment in a wall charger. But for drivers who regularly use their EVs as they would a gas car, a wall charger is practically a must and a worthwhile investment.
The national average installation cost is between $518 and $1,273, according to HomeAdvisor, but could rise to thousands of dollars if you need your wiring upgraded or if you have a charger installed far from your main electrical panel. There are state and federal tax credits that can help you pay for this cost, and some utility companies will also give you a rebate. CR members can use CR's EV Incentive Finder to see how much money they can save based on where they live.
CR's Take
All of the EVSEs we evaluated did the job and are weatherproof, meaning they can be installed inside a garage or outside. We favor the plug-in type because of the portability; these chargers are easy to take with you when you move or even when you're on vacation, should you rent a home. Make sure you order the right charger for the plug you have: A four-prong outlet requires what's called a NEMA 14-50 plug, while a three-prong outlet requires a NEMA 6-50 plug. 
We found that a compact design and an easy-to-manage cable that's long enough can help optimize space and maximize flexibility. First figure out where you want to install your charger. This can also determine how much the installation costs.
The ideal cable can reach to the car's charge port whether its location on the car is front or rear, left or right. We found that a long, 25-foot cable is handy. (Keep in mind that different EVs have different charging port locations, and what's convenient for one car might not work on the next.) A design that nicely integrates a hook for the unused cable portion is also convenient.
An app that communicates with you is handy, too, although most EVs allow you to view charging status and get notifications through the car manufacturers' app. Even though these "smart" chargers tend to cost more up front, many utility companies offer significant rebates on some WiFi-connected models. In Connecticut, where CR's Auto Test Center is located, a JuiceBox 40-amp smart charger costs less than $200 after rebates.
Finally, don't be swayed by low-priced chargers that might charge less quickly. If your home's electrical system can handle it, we recommend at least a 32-amp charger. The higher the amperage, the faster the charge—but you also need to check what kind of a charge your vehicle can accept. For instance, a Hyundai Ioniq 5 has an 11 kW on-board charger, so it can benefit from charging on a 45-amp circuit. A Toyota bz4x only has a 6.6 kW on-board charger, so it won't benefit from charging on a higher amperage than 30. Several newer EVs are capable of charging at 60 to 80 amps. For applications above 48 amps, it's recommended that the EVSE is hardwired.
EV Home Wall Chargers We Evaluated
The units we evaluated can be bought online and cost between $300 and $800 before any tax credits.
To help guide our evaluation, we asked electric-car owners through a focus group and a survey about their home-charging concerns. Most participants were interested in convenience and usability in a charger, factoring in such things as cable management, ease of plugging/unplugging the connector, and whether or not charging resumes automatically after a power outage. With their feedback in mind, we installed each of these EVSEs to temporary walls at the Consumer Reports Auto Center and used them to charge our growing fleet of electric and plug-in hybrid test cars.
Staff Favorites
Our picks are the JuiceBox 40, ChargePoint Home Flex, Blink HQ 150, and Grizzl-e Classic.
JuiceBox 40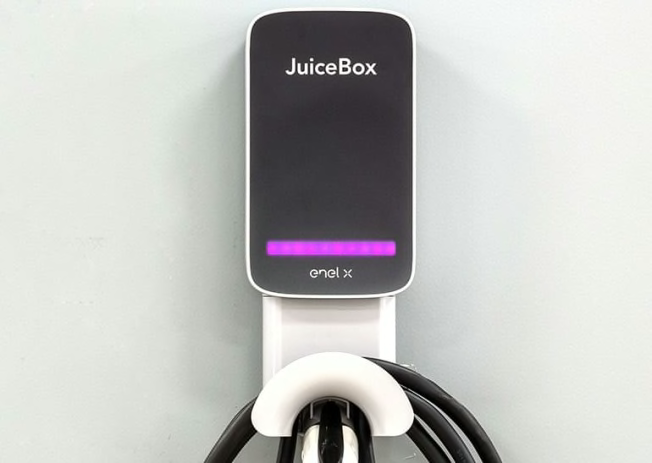 Photo: John Powers/Consumer Reports
Price: $599-$699
Cord length: 25 Feet
Resume charging: Yes

Where to buy: Costco ($599), Home Depot ($649), Amazon ($699), Best Buy ($699)
The midpriced JuiceBox 40 checks all the important boxes, making it an easy, versatile choice. This is a smart charger, with a dedicated app and WiFi connectivity, that can be scheduled to charge at off-peak times. It comes with a long, 25-foot cable, adding flexibility to the mounting location. Plus, it can charge up to 40 amps, thereby reducing charge times. That means about 30 miles of range per hour as opposed to 20 miles per hour of charging on 32 amps. Installation is simple for this plug-in charger, and the power cord (from the outlet to the unit) is long, making it easy to find a suitable mounting location. Because of its WiFi capability, many utility companies offer significant rebates that reduce its purchase price by hundreds of dollars. In addition, if your electricity provider offers discounted "off-peak" rates, you can save money by setting your car to charge when power is cheapest. You may also be eligible for further discounts if you voluntarily agree to let your power company slow down charging when the larger electrical grid is experiencing high demand.
ChargePoint Home Flex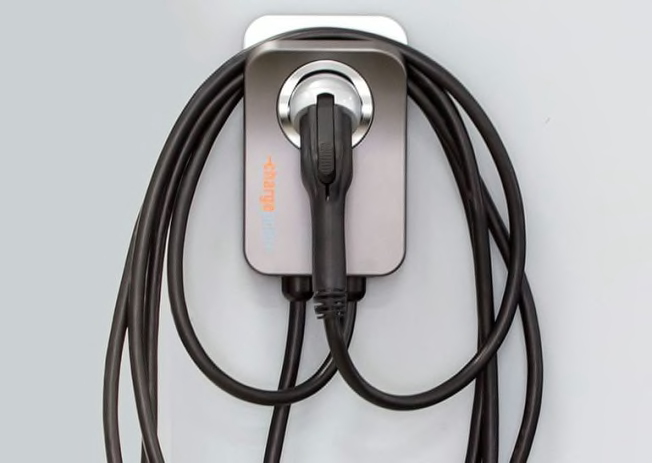 Photo: John Powers/Consumer Reports
Price: $749
Cord length: 23 Feet
Resume charging: Yes

Where to buy: Amazon ($749), ChargePoint ($749)
The ChargePoint brand is well-known for its public charging units, but the compact Home Flex is the residential model. We liked the Home Flex's compact and sleek design, quality craftsmanship, and attention to detail. Hooking and unhooking the coupler feels smooth and precise, and the holster is illuminated. The current can be ramped up to an impressive 50 amps, which can seriously speed up charging depending on your car and your wiring. Like the JuiceBox, it connects to a WiFi network and can pair with a smartphone, and is eligible for significant rebates from many utility companies. The Home Flex has an intuitive app that allows you to adjust the amps and delay charging until rates are lowest, among other things. The Home Flex resumes charging after a power outage, with a slight delay for safety reasons.
Blink HQ 150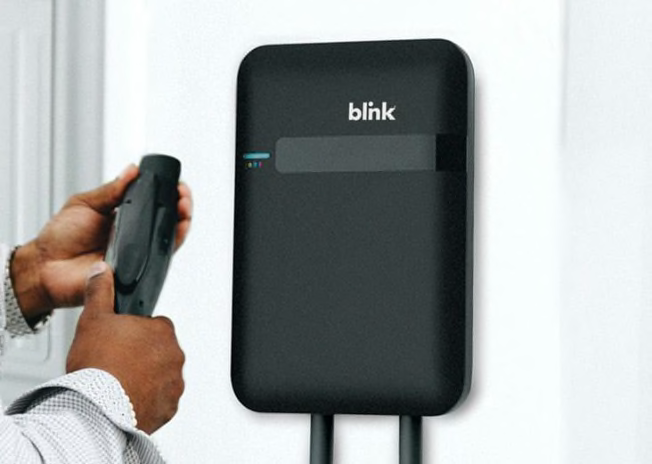 Photo: Blink
Price: $399-$549
Cord length: 25 Feet
Resume charging: Yes

Where to buy: Best Buy ($399), Blink ($499), Lowe's ($549)
This solid, value-priced 32-amp charger is easy to install and use. It has a handy hook for its 25-foot cable. This Blink has the ability to delay the start of charging in a direct, intuitive way by simply pressing a button on the control panel. It resumes charging automatically after a power outage. It charges at 32 amps and adds about 25 miles of range per hour. (Note: We tested the older Blink HQ 100. The 150 is quicker, smaller, and has a longer cord. There's also a pricier, smart Blink HQ 200.)
Grizzl-E Classic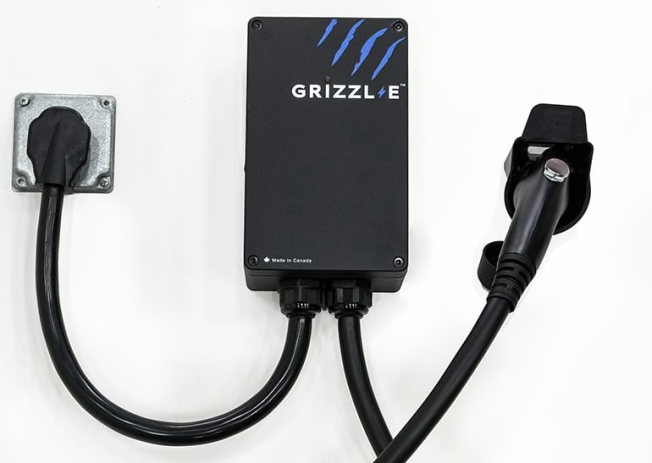 Photo: John Powers/Consumer Reports
Price: $349-$395
Cord length: 24 Feet
Resume charging: Yes

Where to buy: Grizzl-E ($349), Amazon ($395)
The Grizzl-E Classic is a basic 40-amp charger with no smart features, a rugged design, a hook to hang the charging plug from, and a 24-foot cord that's a foot shorter than some of its competitors. The case is a bit wider than some of the other models we tested, as well. According to the company, it's built to work in more extreme outdoor environments. As such, it is rated for lower and higher temperatures. It resumes charging automatically after a power outage. Smart versions are available, as are chargers with dual cords for two vehicles.
Other Chargers CR Evaluated
Presented in alphabetical order.
ClipperCreek HCS-40/HCS-40P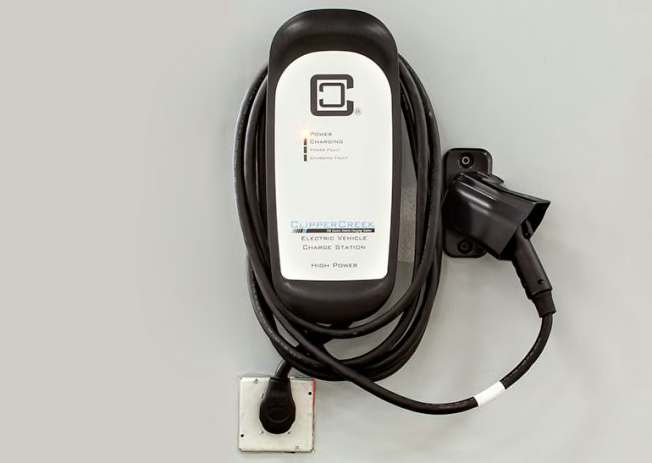 Photo: John Powers/Consumer Reports
Price: $622-$699
Cord length: 25 Feet
Resume charging: Yes

Where to buy: Amazon ($622-$699), Clipper Creek ($622-$699)
ClipperCreek has been in the EVSE business from the start of the electric-car revolution. They now offer a variety of similar units that differ in how they're hooked up and how many amps they use. The 32-amp HSC-40 needs to be hardwired; the HCS-40P simply plugs into a 240-volt outlet. (Note that the HCS-40P's power supply cord is short.) The HCS-50 and HCS-50P are 40-amp versions of the same chargers. These sturdy, weatherproof units are larger than most other EVSEs, and they have a long, 25-foot charge cable. There's no app associated with them and no ability to delay charging. As long as your electrician agrees, we recommend going for the higher-amperage model because it only costs a little more, but it will require hard wiring to get the full speed benefit. Versions with two cords that split a charge between two vehicles are also available.
Evo Charge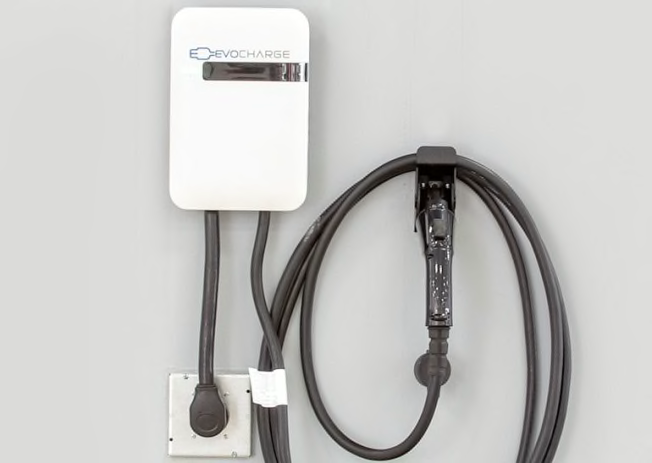 Photo: John Powers/Consumer Reports
Price: $570-$699
Cord length: 18 feet to 25 feet
Resume charging: Yes

Where to buy: Amazon ($567-$699)
The chief appeal of the Evo Charge is its compact size, which can be an advantage with tight installation spots. It's slim on features and has a couple of shortcomings, namely a short, 18-foot charge cable and an odd holster for the coupler. This rotates upward and requires an awkward angle to dock the coupler when unplugging the vehicle, and it seems fragile. The standard Evo has no associated app nor the ability to delay charging. WiFi connectivity, a 40-amp version, and a 25-foot cord are optional.
Tesla Wall Connector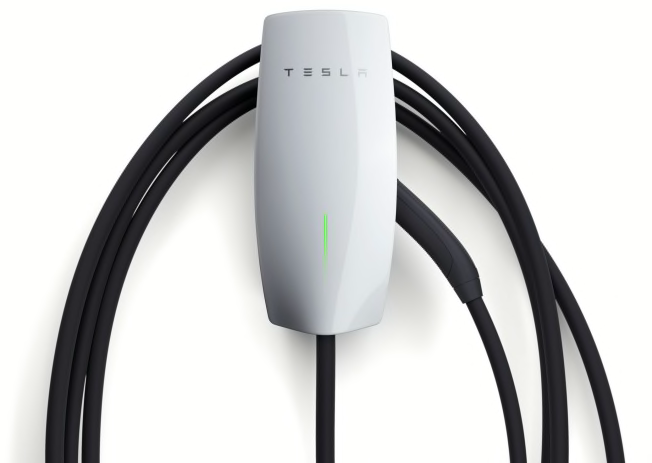 Photo: Tesla
Price: $425 (Tesla only) or $550 (J1772)
Cord length: 24 Feet
Resume charging: Yes

Where to buy: Best Buy ($425-$550), Tesla
Tesla manufactures two Wall Connectors that can be installed on a 48-amp circuit and pump out 44 miles of range per hour. The $425 model has a special plug that's unique to Tesla vehicles and cannot charge other kinds of EVs. As its name suggests, the $550 J1772 Wall Connector has a standard J1772 plug that fits most other EVs, and requires an adapter (included with all Tesla vehicles) to charge a Tesla. There's no drawback to using that adapter, so we recommend purchasing the J1772 model. That way, you'll be able to charge non-Tesla vehicles, too.
Tesla Mobile Charger (Gen 2)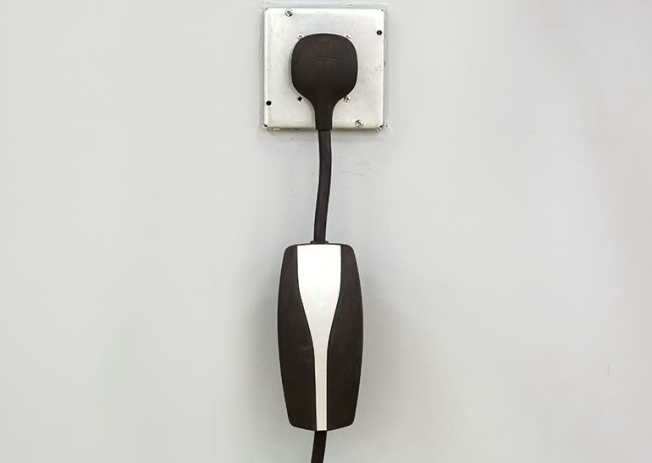 Photo: John Powers/Consumer Reports
Price: $230
Cord length: 20 Feet
Resume charging: Yes

Where to buy: Tesla ($230)
Tesla cars no longer come with a Mobile Charger to enable them to recharge from any 120-volt or 240-volt outlet. You can buy a portable unit with an interchangeable plug that's compatible with a 240-volt NEMA 6-50 or NEMA 14-50 outlet. The Mobile Charger is limited to a maximum of 32 amps. It comes with just a 20-foot cable, and there's no hook to hang the charge cable. There's an adapter available for $200 that allows Tesla chargers to connect to cars from other brands.
How to Choose the Right Home Wall Charger for Your EV
When shopping for an EVSE, consider the following:
Cable length: The length of the charge cable has an impact on where you can mount the EVSE and how easy it is to reach the charge port on the car. Remember that your next EV may have a charging port on a different location on the car, and you'll want to be able to reach it.
Cable management: It's handy to have a hook to wrap the unused portion of the cable around. Otherwise, if the cable is scattered, it adds clutter in the garage, collects dust, and might cause someone to trip over it. The ability to place the holster for the connector away from the unit might add flexibility in a tight single-car garage.
Size: A wide wall charger or a thick one that sticks out far from the wall may encroach on space or your flexibility in placing it in the garage. For instance, a narrow unit might fit between two garage doors and pose a minimal space intrusion.
Ease of plugging/unplugging: We like to see a high-quality, substantial coupler that lets you smoothly and effortlessly plug and unplug in and out of the car's port. A solid and secure holster is an advantage, and it gives you confidence that the coupler will stay secure.
Smart or dumb charging: Some EVSEs have a smartphone app that communicates with the unit over WiFi or through Bluetooth. With an app, you can monitor the charging and view various stats. This feature isn't essential because most EVs have their own app that communicates with the car. However, smart chargers may be eligible for significant rebates that make them cheaper to purchase than a dumb charger.
Ability to delay charging: You may benefit from cheaper off-peak electricity costs, depending on your utility company. In such cases, being able to easily delay charging can save real money. Some cars, like those from Tesla, allow you to control the charging time from within the car or via an app.
Resuming charging automatically after a power outage: If you live in an area that has frequent power outages, it's nice to know that charging will resume once the power is back on. That's better than being surprised when your EV isn't sufficiently charged when you're ready to drive.
Weatherproof: If you don't have a garage, look for an EVSE that can stand up to inclement weather. (Manufacturers of most of EVSEs claim that they're weatherproof.) You may see a manufacturer say that their charger has a NEMA rating, which is a standard set by the National Electrical Manufacturers Association that defines how resistant a product is to environmental hazards. Most EVSEs have a NEMA 3 rating, which means they are resistant to nearly all ambient temperatures, and the rain, sleet, and snow that the average U.S. consumer would face. The Grizzl-E has a NEMA 4 rating, which means it is even more watertight.
UL Listed: It's wise to pick an EVSE that's Underwriters Laboratories (UL) or ETL (Edison Testing Laboratories) listed, which indicates it complies with safety standards established by nationally recognized testing labs. Every charger featured here has such a safety rating, indicated with a seal.
Hardwired or a plug-in type: The early EVSEs were mostly hardwired, meaning they were permanently installed. Current offerings are mostly plug-in units, with either three-prong NEMA 6-50 connectors or four-prong NEMA 14-50 connectors, although many can be ordered with a hardwired option. You may still need to have a professional electrician run a 240-volt line and install an appropriate outlet in your garage or outdoor location. In addition, a plug-in charger may not be able to run at as high an amperage as a hardwired model, so it may charge a little bit slower. If you want to future-proof your home, the hardwired option may be a good idea, since we expect newer EVs will be able to charge even faster. Still, we prefer plug-in models because of their portability and easier installation.
Consumer Reports is an independent, nonprofit organization that works side by side with consumers to create a fairer, safer, and healthier world. CR does not endorse products or services, and does not accept advertising. Copyright © 2023, Consumer Reports, Inc.