Despite the lack of representation in history textbooks until relatively recently, Filipinos have been a part of the fabric of America for a very long time. The earliest documented presence of immigrants from the Philippines in North America is as far back as 1587. Since then, they have been involved with the Philippine-American War, World War II, and the United Farm Workers movement. Filipinos were also instrumental in developing the land that would become California -- including Hollywood.
However, despite being the third highest group of Asians represented in America today (which adds up to about 4.2 million people), Filipinos are among the least represented people in Hollywood. Performers like Lea Salonga, Dante Basco, and Ernie Reyes Jr. were holding it down in the '90s thanks to their memorable roles in "Aladdin," "Hook," and "Teenage Mutant Ninja Turtles II: The Secret of the Ooze." Veteran actor Lou Diamond Phillips, who has only appeared onscreen as Filipino three times (including the upcoming "Easter Sunday" from comedian Jo Koy), has made a career out of playing Hispanic characters in films like "La Bamba" and "Stand and Deliver."
Luckily, things are starting to change as Filipino Americans are getting more and more time in the spotlight thanks to "High School Musical" leading ladies Vanessa Hudgens and Olivia Rodrigo, The CW's musical comedy "Crazy Ex-Girlfriend," Ned Leeds and his Lola in "Spider-Man: No Way Home," and basically everything Eugene Cordero does these days. But long before Fil-Ams became associated with Rufio or the singing voice of Princess Jasmine and Mulan, Hollywood's first Filipino movie star actually began paving the way back in the silent era of cinema.
Once On This Island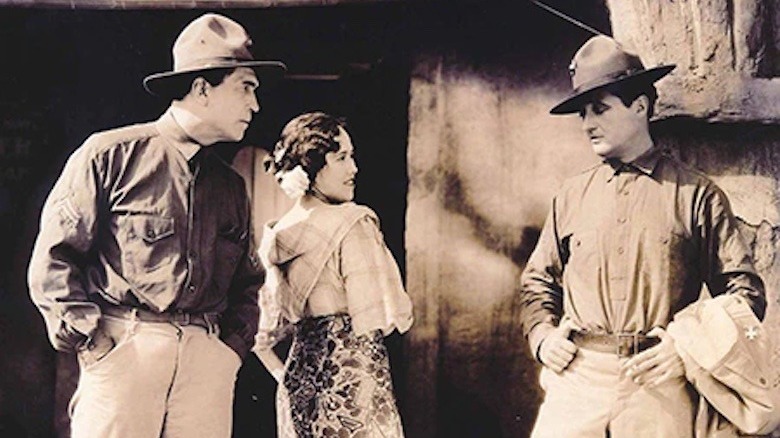 While it can be difficult to accurately research performers from the days of silent films, writer Wilfredo Pascual found Elena Jurado while looking through the microfilm section of a San Francisco library in 2008. Upon this discovery, Pascual tracked down every manuscript, ancestral record, and newspaper he could find to learn more about this woman who traveled to America in search of a better life. In 2019, Filipino media company ABS-CBN compiled Pascual's extensive research in a feature for subsidiary ANCX, introducing the modern world to the actor that traveled from the Philippines to eventually become Hollywood's first Filipino movie star.
Born on May 19, 1901 in Cebu, Elena Jurado Jacobs was the daughter of U.S. Army Sergeant Mark Jacobs and Sibonga native Placida Jurado. Her parents met when Sergeant Jacobs was stationed in Sibonga to install and repair telephone poles as part of Company H, 19th Infantry. But since the couple never married (likely due to the fact that Jacobs already had a wife back home), he eventually left Elena and Placida to go back to America. 
After growing up at Camp Jossman military base in Guimaras and attending school in Manila, Elena Jurado married Ira O. Jones when she was 13 years old. Her mother had to give written consent to this marriage because Jones, a volunteer U.S. Army medic and post office clerk that also had a wife and kid back home, was 20 years Jurado's senior. When she turned 18 in 1919, Elena and Ira headed to California in search of work. Initially, they looked to literally strike gold by working at a mining camp in the Sierras. Though Jones was able to get work as an electrician, the couple were forced to move to San Francisco a year later due to a lack of opportunities from the camp becoming largely abandoned. Once in the Bay Area, Jurado studied wire transfer technology to pursue a career as a radio operator. Although, a newspaper ad for a film shoot in San Mateo changed the trajectory of her life.
A Star Is Born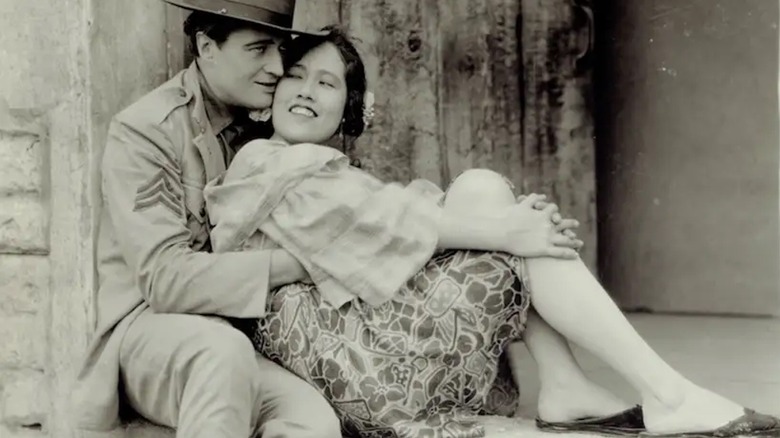 According to the ad, producer Max Graf was looking for an "Arabian type" to dance in a cafe scene for a movie called "White Hands." Jurado went to the set to fill out an application, but after talking to producers and returning multiple days to see if she got the role, she didn't feel very confident that her first foray into acting would work out. That all changed when she met the film's leading actor, Hobart Bosworth. After seeing her screen test, he insisted that she be given a role. Ultimately, her appearance in the 1922 film was uncredited, but people in the industry took notice.
Following the release of "White Hands," Jurado signed with the Motion Picture Utility Corporation and set up two projects that were meant to be shot in the Philippines. Titled "Sunshine and Shadow" and "Wings of Love," she would write and star in these movies to highlight life on the Pacific island during American occupation. The extra-turned-headliner returned to her homeland after being dubbed "the first Filipino movie star" by the Washington Post, accompanied by her husband and the first unit of a company that was set to film exterior shots for the films. Unfortunately, when the second unit never showed up, Jurado was forced to shoulder the cost of production on her own. Apparently, the Motion Picture Utility Corporation couldn't attract enough investors to fund these rather ambitious productions. Jurado ended up suing the San Francisco-based company for $2261, but records show that her case was dismissed.
Upon her return to America, she didn't let that experience hinder her. Jurado would move to Hollywood to continue her acting career and appear in such movies as Raoul Walsh's "What Price Glory" and Robert "Bobby" Ray's "Twenty Legs Under the Sea." She also worked for Hollywood legends when she landed roles in Howard Hawks' "A Girl in Every Port" and Cecil B. DeMille's "The Ten Commandments." It's believed that her filmography contained a multitude of other silent films in addition to these, but since many silent films have been lost to time, it's impossible to confirm her complete works. However, her last known appearance onscreen was "The Wedding March" directed by Erich von Stroheim, where she played an escort in a Viennese brothel.
The Filipino Princess Of Film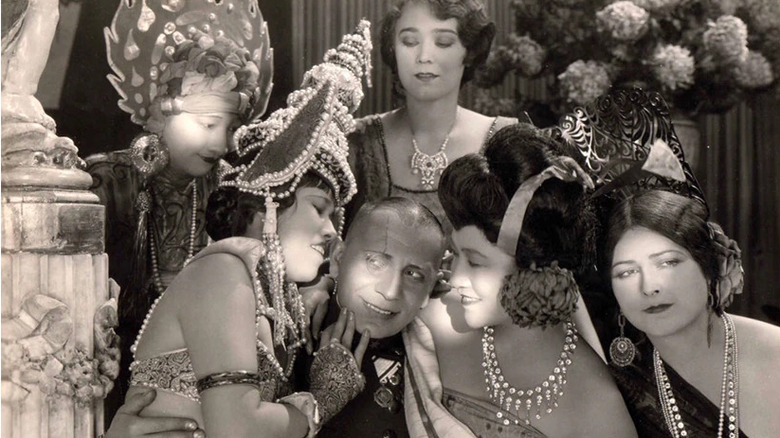 According to Pascual's findings, Jurado became a kindergarten teacher after her career onscreen had wrapped up. She also divorced Ira Jones and married Andrew James Wingate, with whom she had a son. After a second divorce, Elena J. Wingate would pass away in a Los Angeles nursing home on May 19, 1974, her 73rd birthday.
While she isn't a household name with a memorable career, Jurado was a pioneer in the film industry. Not only was she a trailblazer for Filipinos and other Asian performers in Hollywood, she was also an advocate for women of all races to get opportunities in a male dominated business. She said as much while speaking to Venerando Gonzales of the Philippine Independent News during the peak of her career in the 1920s:
"Personally, I have nothing to be proud of. The fact that I am the first Filipina to enter the moving picture profession simply demonstrates that the Filipino women, like their sisters of the Caucasian race, will rise up from obscurity to limelight if they are given opportunity. I believe more freedom of education for our women will largely contribute to the realization of their claim for a higher level of social position."
It wouldn't be until decades later that Filipino Americans like the new Hawkeye Hailee Steinfeld, Emmy and Golden Globe winner Darren Criss, "Star Trek: Picard" star Isa Briones, Manny Jacinto of "The Good Place," and "Birds of Prey" breakout Ella Jay Basco were able to succeed where their predecessors had failed. These performers and more got the green light on projects that would put Filipinos and the Philippines in the spotlight. We're not just talking about roles like nurses or engineers here either. Thanks to the current crop of proud Filipinos in entertainment, the culture is able to be elevated beyond outdated stereotypes. They have proven to be just as much a part of American culture as any other patch on the eclectic quilt that is this country. And that's due to the brave steps that were first taken by people like Elena Jurado.
Read this next: The Best Movies Of 2021
The post Meet Hollywood's First Ever Filipino Movie Star appeared first on /Film.