For those of us who go romping around the forests and fields during all times of the year, we understand how valuable a good knife and game processing kit can be. When we harvest a game animal like a whitetail deer or turkey, it is important to process, clean, and eventually eat/use as much as possible; this makes us good stewards of the animals we pursue and hunt. So, a bundled up processing kit should be a necessity for all hunters an huntresses. That is why it is good news to hear that TRUE has come out with a new one in the Swift Edge Hunt Processing Kit containing 4 different blades, a sheath, and nylon storage wrap.
Knife & Tool Coverage on AllOutdoor
This NEW Swift Edge Hunt Processing Kit from TRUE has an MSRP of $69.99 which is very reasonable considering all of the pieces that come along with it. You get a gut hook (for opening up a whitetail deer), a fillet knife (for cleaning all manner of fish), a saw (for processing/cutting through difficult cartilage and other materials) plus a large butcher blade to separate cuts of meat. The full details for this kit can be read below as presented by TRUE:
Blades: 4" Gut Hook | 6" Fillet | 8" Saw | 8" Butcher
Compatible with: 7.5″ & 9.5″ Fillet Blades
High Carbon Stainless Steel (5Cr13), Titanium Nitride Coating (Saw Only: 65Mn, Titanium Nitride)
Thermoplastic Rubber (TPR) Handle
Lanyard/Carabiner Compatible
Molded Sheath & Nylon Storage Wrap included

The Hunt Processing Kit features our patented SWIFT EDGE Two-Step Blade Replacement System, a rugged TPR handle, four easily replaceable blades (4" Gut Hook, 6" Fillet, 8" Saw, & 8" Butcher), a molded sheath with an integrated clip and sharpening rod, and a durable Nylon storage wrap for convenient carry.
Whether you are stacking crappies on the top side of some hardwater this winter or chasing cold-weather varmints like fox and coyote, this Swift Edge Hunt Processing Kit could provide a lot of immediate utility before the weather turns to more pleasant forecasts in the spring. As always, let us know all of your thoughts in the Comments below, and if this is something you would entertain purchasing. We always appreciate your feedback.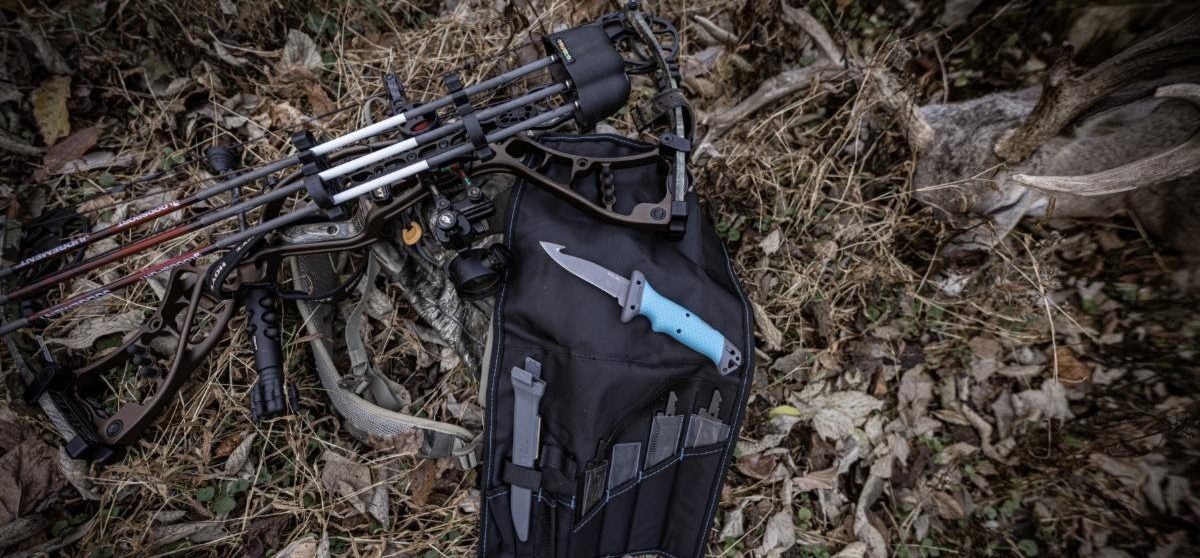 The post NEW Swift Edge Hunt Processing Kit w/ 4 Blades, Sheath & Storage Wrap appeared first on AllOutdoor.com.