Tie bars and tie clips are some of the many style accouterments that began from necessity. (Tie clips are tie bars that have a clipping mechanism to secure them to the shirt and tie). Ties swinging about below you as you were working could become dangerous, particularly in factory settings where they might get caught in machinery. Eventually, the utility was less necessary and the style became the fun part, but it should be kept in mind that these mens accessories are intended to keep your tie in place, so if wearing a vest as well, then the tie bar becomes unnecessary. Combining a tie bar with a vest is a bit like wearing both a belt and suspenders; it will highlight to any suiting purist that youre new here.
The placement of the tie bar is also necessary to take into account. Many style experts recommend wearing a tie bar between the third and fourth buttons of your dress shirt (counting from the top, of course), but this guidance is not based on any hard and fast rule. That being said, theres definitely a range that is appropriate. For your standard two-button suit, the button will hit about 1-2 inches below the bottom of your solar plexus, and the tie bar should be situated about 3 inches above that point. For masterclass-level formal wear styling, you can use the tie clip to keep your tie ever so slightly elevated off your chest, which can result in a visually pleasing look. Even if you keep it flat, be sure to give it a little room to play such that the tie clip doesnt pull the knot away from your neck, leaving a very sloppy looking space in between the tie knot and top button.
Also, keep in mind that the size of the tie bar must match the size of your tie. Tie bars look best with skinny ties through to more medium widths, but they really should be left behind for wider, Tom Ford-style neckwear. With that in mind, you should also stick with only a four-in-hand knot when wearing a tie bar, and, frankly, you should only use that knot anyway.
The best tie clips can be a fun way to add a little something extra to your look, but we believe they look best when theyre kept nice and simple, as you see in the options below. Unfortunately, there are a lot of cheap and tacky tie clips available today, but the best tie bars add a simple touch of refinement to your outfit without drawing the eye. The fact that youre wearing a tie clip at all is more than enough by itself, without adding anything too over the top (no sports team logos, please). At the end of the day, you want to look fashionable and put together, not draw attention to yourself unnecessarily.
So if you want to add an elegant accent to your formal wear, order one of our favorite tie bars below.
1. J Crew Brushed Tie Clip
BEST OVERALL
When dipping your toes into tie clips, try out this matte brushed silver-tone clip from J Crew. It will go with anything you can throw at it. No matter the color of your tie or suit, this tie clip will suit it perfectly. The brushed silver appearance is handsome and elegant. Try it out with a knit tie for a little texture in your look.
Courtesy of J Crew
2. Gucci Sterling Silver Interlocking Tie Bar
BEST FOR NIGHT LIFE
If you want to flex with your tie bar, theres nothing better than some Gucci. When wearing a tie to a nightlife event, this is a great option for a subtle pop from the famed Italian Fashion house.
Courtesy of Gucci
3. Brooks Brothers Gold Tie Bar
BEST FOR CASUAL WEEKEND WEAR
When going to a family party, or if you want a tweedy, almost professorial look, this option from Brooks Brothers will look great paired with a classic gold watch with a brown alligator strap. This is a simple, no frills tie bar, exactly as it should be.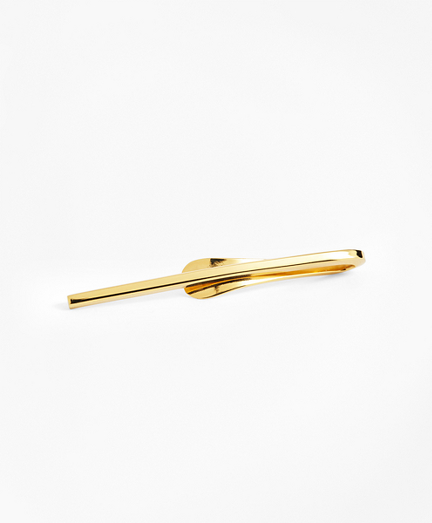 Courtesy of Brooks Brothers
4. Tiffanys Classic Tie Bar
BEST CLASSIC
Occasionally, you need a little treat for yourself, and this Tiffanys classic with its simple design is a great way to take care of number one. This 2-inch sterling silver tie bar lends a classic look to an otherwise simple accent. Silver can be paired with a wide range of colors, but this tie bar will look especially sharp paired with dark blue and charcoal-colored suits.
5. Hook & Albert Etched Tie Clip
BEST ITALIAN GENTLEMAN STYLE
Try this tie clip with a double-breasted jacket and a flamboyant pocket square and really lean into the whole look. The rose gold color may not match perfectly with every tie in your closet, but this tie clip is a sharp addition to your formal wear.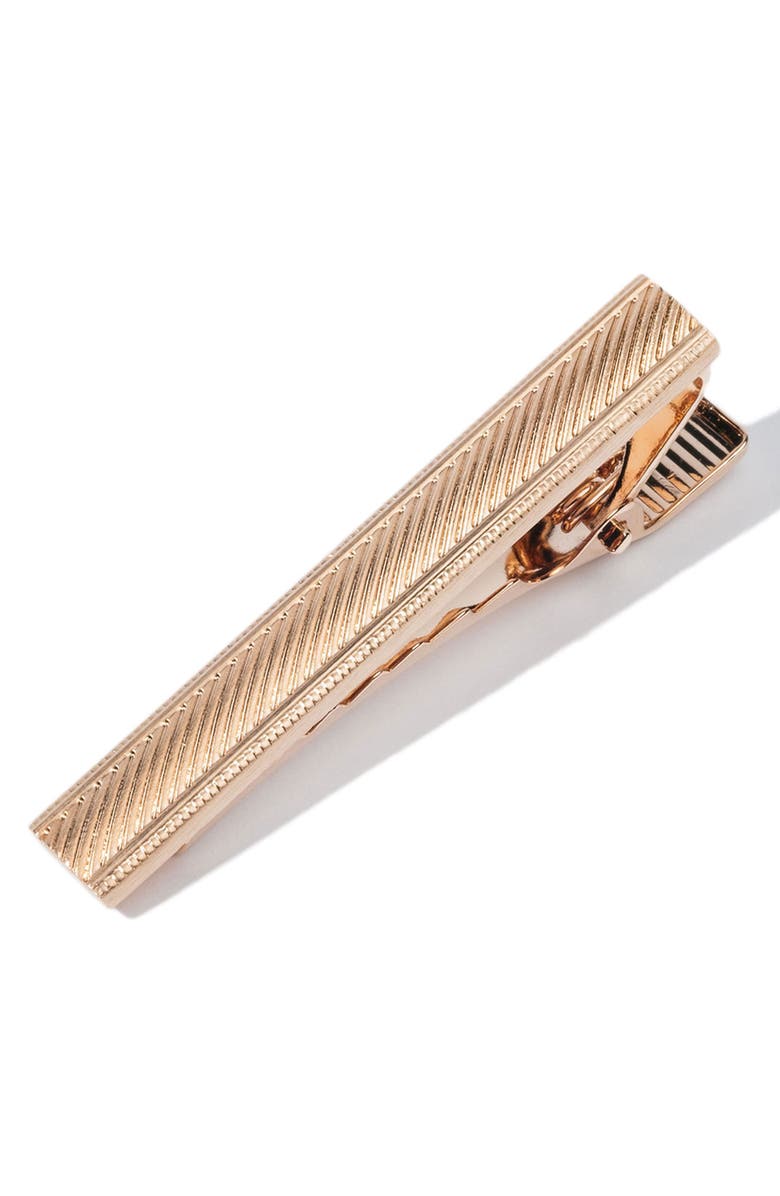 Courtesy of Nordstrom