Prefab cabins offer convenient options for outdoor enthusiasts, thrill-seekers, and all the rest of us to escape our busy lives from time to time and enjoy the vast beauty the world has to offer. They are inexpensive, easy to build, and have flexible choices for everyone's budget.
Further, these are the perfect product for building in remote sites because many prefab options don't require the same extensive foundation preparation and utility hookups of custom cabins.
What Are Prefab Cabins?
Prefab cabins are made in kit form or modular form and can be modified to suit a variety of needs. They are affordable and have many design styles for every taste from rustic to modern. People use these cabins for everything from beach huts and yoga studios to a vacation spot in the woods.  
Prefab Cabins vs Modular Cabins
Prefabricated Cabins are a large category of which modular cabins are one type. Prefabricated means that different components of these cabins are made in another location and then sent to the destination in flat packs or modules. There are several types of prefab cabins.
Modular Cabins – Builders construct these cabins in modules, think building blocks, and then bring them to a location to be assembled. These modular pieces arrive at the building site with interior and exterior finishes present. There are modular cabin options that are turn-key ready meaning that they are finished upon completion of the installation.
Prefab Cabin Kits or Pre-cut Cabin – When you purchase this option, you buy pre-cut pieces along with the plans to assemble the cabin. However, be sure to verify which pieces come with the kit and which you will need to purchase elsewhere as every kit is different. 
Panelized Cabins – Manufacturers bring panelized cabins with completed walls or panels and then assemble them on site. 
Pros and Cons of a Prefab Cabin
As the name suggests, designers make prefab cabins according to a careful pattern that has been reproduced many times. Therefore, you know what you are getting, unlike the unknown mishaps of on-site construction. 
Most prefab companies know their audience and tend to use environmentally-friendly products that are more sustainable. Also, prefab cabins cost around 15%-20% less than custom builds. The designers build these cabins for energy efficiency, and they work well in off-grid locations.
However, nothing is perfect. Prefab cabins tend to be smaller than custom-built cabins and are not as customizable. You need to consider the building site you choose as there might be concerns for delivery for panelized cabins that require large truck transportation. Also, depending on the site for your cabin, there could be potential issues and extra expenses if you want to hook up power and water. 
Prefab Cabin Design Inspiration
Now that we have gone over all the basics about these wonderful cabins, we wanted to show you the amazing cabin options that you can consider.
The Tiny Cabins of the Colorado Outward Bound School
The architects designed these tiny homes on this site for the Colorado Outward Bound School as micro dormitories. They constructed every single unit to embrace the landscape in a unique way as they are directed toward the forest rather than each other. All the cabins have a front porch, but the negative space in between the cabins is an area for the community.
The assemblage of these cabins involved connecting the elements of the structure, the box, and the frame. The large windows bring in ample natural light. 
The designers used birch plywood to finish the interior of the cabin and make it feel more integral to the landscape. Likewise, the exterior is clad in steel with vertical beams to minimize the visual impact of the cabins. Thus, the cabins blend well into the forest. The designers completed this project in just a few months' time.
Rolling Tiny Homes in Mazama
The project was idealized as a place with dwellings for family and friends with low environmental impact. The result was a group of rolling tiny houses designed by Olson Kundig. These rolling units lift the structures off the ground to allow the natural environment to reassert itself underneath the structure.
The architect oriented each cabin towards a view of the mountains and away from other cabins. Therefore, the cabins are united in form but maintain internal privacy. Notice the small dining room/living room as well as a private bedroom.
A Portable Small Cabin for Two
Ábaton Arquitectura developed this modern prefab house. The prefab cabin design can accommodate two people and can be transported and placed almost anywhere. 
The cabin is simple and sturdy and features vaulted ceilings under the gable roof. This makes the interior space feel more open. To this end, there are huge lookout windows on the front side of the cabin. 
The builders organized the interior into three different areas. The space includes a kitchen and living room zone, one bathroom, and a double bedroom. The architects used sustainable and non-toxic materials throughout the interior design. The main material used throughout the cabin is wood that comes from regulated forests.
Modular Homes by Cocoon9
Many architects and designers have become interested in small-scale living and offer inspiring solutions and ideas with this in mind. For example, Cocoon9 specializes in designing and manufacturing prefab luxury houses. The smallest structure they produce measures 160 square feet. However, they are still equipped with high style and inclusive function.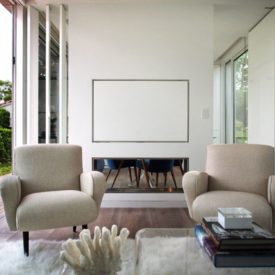 There are three types of floor plans to choose from, one with a separate bedroom and two with open layouts. They feature lovely panoramic windows and other features like interior finishes of bamboo and white lacquer. There is even extra bedroom potential with a built-in Murphy Bed. Use them as a garden shed, home office, forest cabin, a prefab guest house, prefab pool house, or studio apartments. 
A45 Modular Cabin Homes
The A45 cabin, designed by BIG, stands out from similar projects because of its unusual geometric design. From one side it looks just like an A-frame house but that is an illusion. The structure has a square base and a minimal footprint of 183 sq ft.
The home is a modular cabin and is constructed off-site and then assembled. It has Douglas Fir floors and pine interior walls that give it a warm and cozy vibe.
Small Prefab Cabins by Alchemy
Located in Sonoma Valley, California, this pair of contemporary structures were a project by Alchemy Architects. The project consists of two separate structures. They have open plans with a living area and dining area, a bathroom, and a bedroom.
The large windows were very important to the owners to maintain their connection to nature. To this end, the house also features a covered porch for dining outside in all weather.
Prefab Tiny Cabins for Writers
The idea behind this project was simple. Author and designer Cornelia Funke needed a private space where she could go to find inspiration.  She went to New Frontier Tiny Homes for help designing a quiet getaway cottage. 
The cabin has a modern and simple design with rustic accents and comes equipped with a desk, storage space for books on the walls, a library ladder, and a small kitchen with an upper loft bedroom above.
Small Cabin in Brazil
This cabin, designed by MAPA in 2015, is located in Catuçaba, Brazil. The region is remote so a prefab option is the best choice for the site. Surrounded by dense vegetation and lovely views, this cabin was transported as several modules and assembled on-site using cranes.
This house can have a one or two-bedroom layout based on the size of the family.
A Retreat in Uruguay
This is a modular retreat in Maldonado, Uruguay, located in a picturesque olive grove. The architects, MAPA, placed the home on top of two old stone walls with additional structural support. The architects wanted the home to fit into the landscape in an authentic way. 
This group prefabricated the structure 200 km away from its site. With this in mind, it is easy to imagine that anyone can live off-the-grid in comfort.
The E.D.G.E.
E.D.G.E. stands for Experimental Dwelling for a Greener Environment. Revelations Architects developed this project. Their goal is to produce high-quality dwellings that are minimal in footprint and style.
Therefore, this group constructed this small minimalist structure using a box on each end that holds the mechanical elements joined by the middle living area with floor-to-ceiling windows.
Into the Wild
The Ark Shelter group created the "Into the Wild" structure to do just that; allow you to escape into the natural environment. To this end, this tiny home has large floor-to-ceiling windows on every side to keep the focus on nature rather than the inside. There is even a window on the ceiling so that you can sleep under the stars. This is the perfect prefab off-grid cabin. 
Zook Cabins
Many modular homes are modern in style; however, the Zook cabins are an exception to this trend. These are Amish prefab cabins. This is not a cabin kit but modular log cabins. Therefore, the walls are constructed in the warehouse. Then, they are brought and assembled on the site. This is a family-run company that guarantees its product.
Tini Prefab Office
Spanish architects, Delavegacanolasso, built the Tini cabin as a solution to expensive city real estate and wanted to take advantage of the rural property that is less expensive. Therefore, they designed these simple prefab units to enable people to build homes in these out-of-the-way places.
While the Tini cabin works well for an office, multiple units connected together also work well as a home.  These have galvanized steel frames, interior paneling of poplar OSB, and insulation from a thick layer of recycled cotton.
Cabin Sauna
Bring a bit of Scandinavia to your neck of the woods with a cabin like this self-built sauna from Small Architecture Workshop. This design is beautiful in its simplicity.
The sauna's exterior has wooden cladding. The designers used an ancient Japanese technique called Yakisugi and burnt the exterior wood in order to begin oxidation and make it more resistant to the weather and parasites. In the end, this technique also allows the cabin to blend into the surrounding area to preserve the serene and quiet space.
All-Weather Mountain Cabin
Many prefab cabin homes are sturdy, but this is one of the best that we have seen. The architect group  Snøhetta designed this all-weather mountain cabin. 
The design style of this cabin harkens back to the historic Norwegian mountain shelter, the gapahuk. In addition to its historic style, it has an angled roof that is adaptable to many kinds of weather. It has a large master bedroom, two single bedrooms, and one bathroom.
Prefab A-Frame Kit
This prefab dwelling from Den is a prefab tiny house kit. This kit comes with everything necessary to create a small cabin that can sleep two in either a king or queen-size bed or two singles. The architecture of this simple cabin is striking and the finishes are attractive. This is perfect for people who love to be in nature but don't like to sleep outdoors.
Considerations Before Buying a Prefab Cabin
Before your enthusiasm compels you to click "Buy" on that prefab cabin you've been eyeing, there are a few issues you must consider before you make your purchase.
The Style of the Cabin
These homes come in so many design options that it can be difficult to choose. There are rustic cabin options like a prefab log cabin, modern prefab cabins, and minimalist Scandi cabin kits.  Choose a cabin that you are going to love many years down the road.
Size of the Cabin
The size of your cabin depends on how you are going to use this structure. Will it be a guest house, a tiny house Airbnb, or perhaps you are looking for a full-size house for your family's dream home? Chances are, you will need more square footage if it is your dream home rather than a small cabin.
Prefab house options come in many different sizes, though one bedroom or two bedrooms is the norm and three bedrooms to four bedrooms is the exception.
Transportation Basics 
Plan ahead regarding transportation because depending on where you want to put the prefab home, the cost of having it shipped can vary. Of course, transporting a prefab home to a location in the suburbs is going to cost far less than if you want your prefab cabin off-grid.
Location Concerns
Before investing in your new tiny home or one of the prefab log cabins, make sure that the place you are putting it has the correct zoning and space so that you can start building when you desire. Further, even if you choose an option with a composting toilet and other energy-efficient systems, you might still need some power and water capability. Therefore, consider the site with regard to available utilities. 
Manufacturing
The creation of these cozy cabins has become a booming business. Therefore, it is important to evaluate all the options to get the best prefab cabins for sale. Manufacturers vary in the types of material they use. Many use sustainable materials but some do not. If this is important to you, look at the list of materials and evaluate.
Look for a manufacturer that is responsive to your inquiries and provides an adequate warranty for their work. Also, read reviews and connect with others online or in-person who have gone through the process before you. In the end, there is no greater teacher than experience.
Costs
Costs vary for these prefab homes. It depends on the size you choose, the type of materials in the package, the location, and the utilities needed. For example, the base price for System 00, one of the smallest models from Backcountry Hut Company, is $55, 495 CAD. This System is 100 square feet. Their largest model, System 02 with 845 square feet, is $214,000 CAD.
Make sure you understand what is included in the kit when you purchase it as some include the exterior structure and some prices include all the indoor finishes as well. Last, you need to factor in the additional costs of the site for your cabin, the surveys needed to prepare the site, and the utility costs to complete your living space.
Frequently Asked Questions (FAQ)
FAQ
How much does a prefab house cost?
Prefab cabins prices have a wide range. There are some prefab cabins for sale for as low as $27,000 USD, and there are others that range as high as several hundred thousand. The price is most dependent on the size, the materials used to finish the cabins, and how much the model includes.
Do prefab houses have a bathroom?
Some prefab cabins have bathroom capabilities. However, you also need to have the option for water hookups. Also, there are also waterless options like composting toilets.
How large can a prefab cabin be?
Most prefab cabins have a small footprint, some as small as 100 square feet. However, there are larger options like log cabin modular homes that are as large as a traditional home.
How long does it take to build a prefab cabin?
According to the Backcountry Hut Company, one of their small cabins, the System 00 can be constructed in one week with four to five people. A log cabin kit might take as much as three months to complete.
Is prefab cheaper than building?
Yes, in general, prefab cabins are less expensive than custom cabins. However, this depends on the size of each cabin as well as the finishes used. 
Is it a good idea to buy a prefab house?
Prefabs are great for people who want flexibility, modern design, and less expensive cabin choices. However, if you want a large cabin with all the mod cons, a custom build might be a better option for you. 
Are prefab houses strong?
This depends on the type of cabin you choose. Certain cabins are smaller and have a great chance of being affected by adverse weather. However, some cabins like the modular log homes are resistant to bad weather. 
How long do prefab homes last?
If prefab homes are installed and cared for in the right way, they can last as long as traditional homes. 
Are prefab houses worth it?
Prefab homes offer good value for the money. Because they are built in a modular fashion, they are less expensive than traditional homes. Also, they are fabricated in warehouses in climate-controlled environments that ensure unwarped and damaged components. 
Do prefabricated homes lose value?
Traditional real estate gains value over the years and the same is true of prefab homes. They increase in value just like their traditional counterparts. 
Conclusion
In recent years, there has been an explosion of interest in prefab cabins all around the world. After all, they are beautiful, less expensive than on-site custom builds, and less harmful to the environment.
In addition, the design styles are getting better and better. While this option isn't for everyone, these prefab options make more options possible for more people. What's not to love about that!
The post Prefab Cabins: Form and Function at Their Best appeared first on Home Decorating Trends - Homedit.