Steelhead Outdoors, a Minnesota made safe company with a clever approach to firearm storage, is at it again with yet another unique accessory item to get more utility out of your firearm safe. The Steelhead Outdoors Bow Keeper is their latest complimentary tool allow for you to safely and very accessibly hang your bow on the side of your gun safe – whether it is a Steelhead Outdoors gun safe or a different brand.
Steelhead Outdoors Coverage on AllOutdoor
The Steelhead Outdoors Bow Keeper is a rather simple accessory, but no one else seems to produce one and simplistic a design always supersedes over-engineered ones in our book. Currently, the Steelhead Outdoors Bow Keeper retails for $35 and is applicable for free shipping as well. A more extensive explanation as to what the Bow Keeper is all about can be read below as presented by Steelhead Outdoors:
The Steelhead Outdoors Bow Keeper allows you to keep your bow ready to go, right next to your other hunting gear. It attaches magnetically to the upper corner of your gun safe. Featuring a steel powder coated bracket with a rubber protection edge on the metal hook, it can hold a maximum of 30 lbs. With one elongated hook that can hang on most cams and bow limbs, it does a perfect job keeping your bow ready for action. It also works with any other accessories you'd like to hang on the edge of your gun safe, like range bags, packs, or anything else you'd like to keep organized.
The Steelhead Outdoors Bow Keeper is an innovatively designed yet simple accessory for your gun safe to hang your bow within reach. It cannot be stated better than that. While many of us have gun safes for our firearms, many of us are archers too and lack proper storage. This is definitely a step in the right direction. As always, let us know all of your thoughts in the Comments below! We always appreciate your feedback.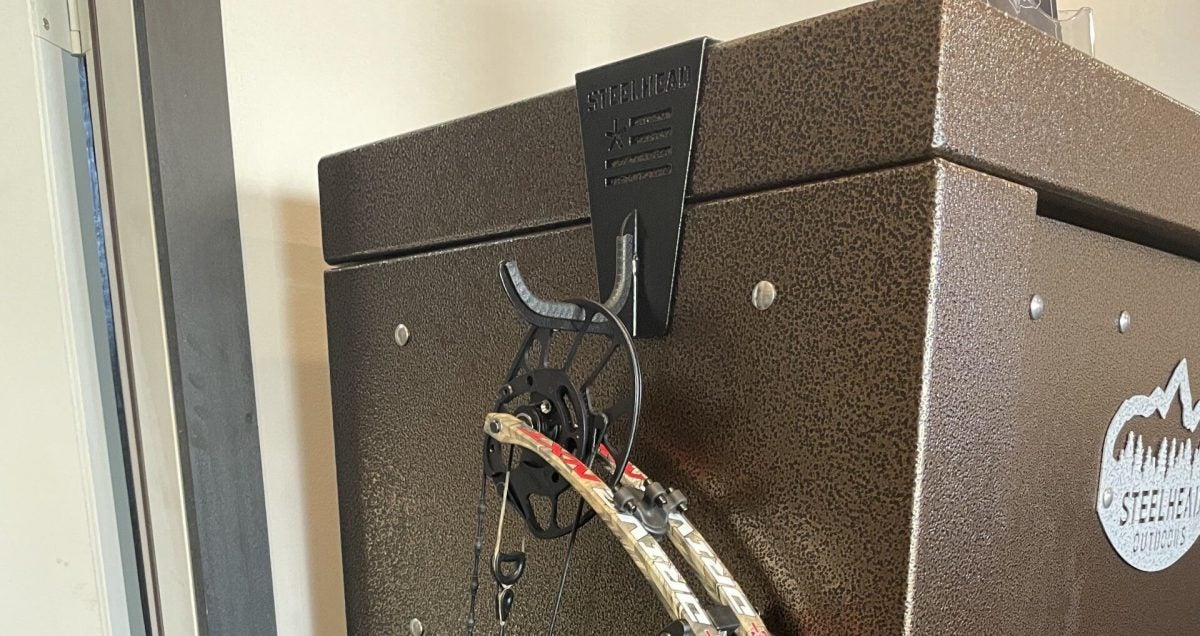 The post Steelhead Outdoors Bow Keeper Debut – Convenient, Exterior Storage appeared first on AllOutdoor.com.