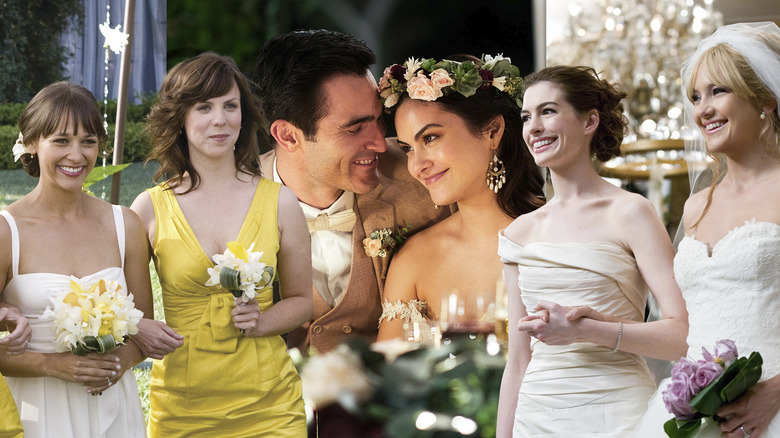 Church bells are ringing, the choir's singing, and your true love is walking down the aisle. One of the happiest — but most stressful — days of every couple's lives has been great fodder for filmmakers for decades. Whether they're watching Audrey Hepburn's charm and beauty threaten William Holden's nuptials, Andi MacDowell and Hugh Grant attend multiple weddings (and one funeral), or Andy Samberg relive the same ceremony over and over again, viewers young and old alike love to laugh and cry at wedding movies.
These movies' success comes down to flexibility; there are countless narrative possibilities associated with a momentous occasion like a wedding. While we watch a couple commit to until-death-do-us-part, the screen can radiate immense love and joy, or immediate dread and regret. Laughter can fill a banquet hall just as easily as the sound of a jilted lover's tears. So, dust off that tuxedo and puff up that bridesmaid dress, because here are our picks for the 20 best wedding movies.
27 Dresses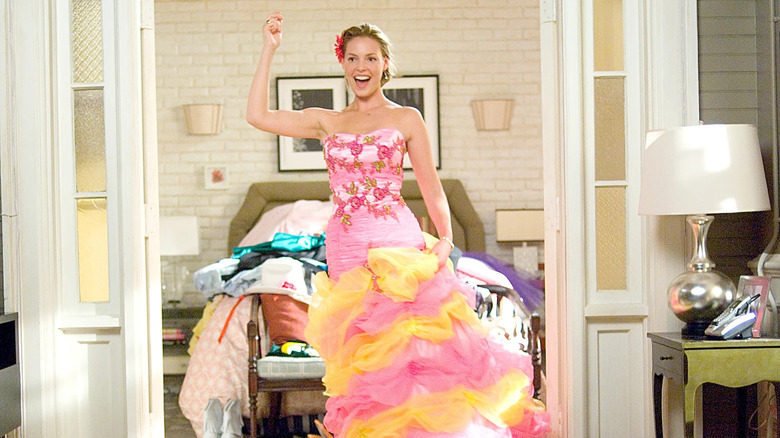 I'll be honest: Objectively speaking, Anne Fletcher's "27 Dresses" isn't a great film. However, it perfectly represents a significant era of rom-coms, for both better and for worse. The film stars Katherine Heigl as 27-time bridesmaid (hence the title) Jane Nichols, who meets Kevin Doyle (the forever underrated and under-used James Marsden), a journalist who comes across Jane's day planner and endeavors to return it to her. As Kevin begins using Jane to write an article (unbeknownst to her) about her forever-a-bridesmaid status, the two slowly fall in love.
"27 Dresses" is as predictable as it is schmaltzy. The film follows all of the clichéd rom-com tropes, even if they're executed with a slight eye roll. The reason that "27 Dresses" makes this list, then? Because of its undying commitment to the formula, the film perfectly embodies an early '00s wedding movie: corny dialog, the most convenient of circumstances, Katherine Heigl, and New York City. It may not be the most memorable film on this list, but it sure is a perfect snapshot in time of an era defined by Big Rom-Com.
Bride Wars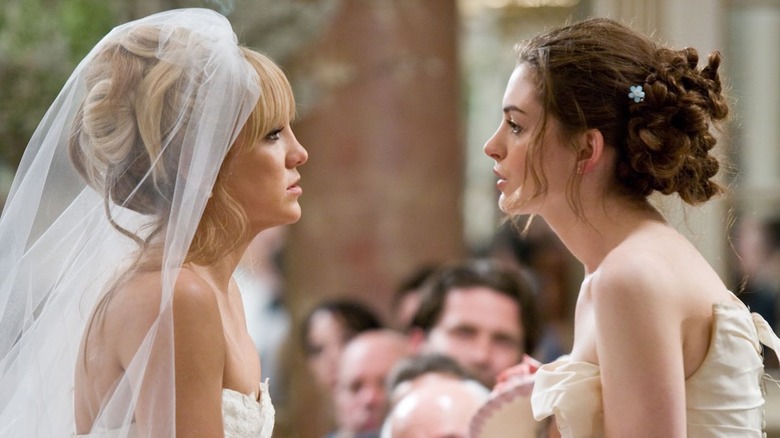 Another film that could only be made during the '00s! "Bride Wars" stars Kate Hudson and Anne Hathaway, who show us the lowest lows of female friendships and a woman's seemingly singular obsession over having the "perfect" wedding. As Olivia Lerner and Emma Allan, Hudson and Hathaway play two life-long best friends who become engaged a day apart and, because of an error, schedule their weddings for the same day at New York City's famed Plaza Hotel. Before long, Liv and Emma declare nuptial war on one another.
"Bride Wars" wasn't received well when it was released in 200, and it hasn't aged any better in the last decade-plus. Personally, though, while I wouldn't put "Bride Wars" on my all-time best-of list, I respect it for unashamedly depicting the nonsensical chaos that arises from such an auspicious event. While the film naturally plays everything to an extreme, "Bride Wars" has a (however misguided) pulse on how weddings have evolved from loving celebrations to days of superficial one-upmanship.
The Wedding Planner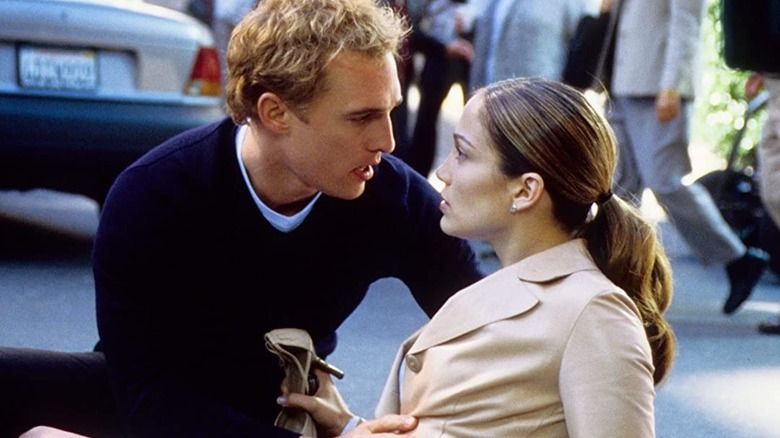 I could insert an obvious joke about Jennifer Lopez and weddings here, but her dominance in the early 2000s was so impressive that I'd hate to diminish her success. Rather, let's celebrate one of Lopez's great achievements, a feat that very few entertainers have accomplished. The same week that "The Wedding Planner" opened at number one at the domestic box office, her sophomore album, "J.Lo," debuted at number one on the Billboard 200. And while "The Wedding Planner" may not have a place in the pantheon of great cinema, it's an enjoyable film, thanks in large part to Lopez's chemistry with Matthew McConaughey.
As far as meet-cutes go, "The Wedding Planner" has one of the more dramatic ones, with Steve (McConaughey) saving the titular wedding planner, Mary (Lopez), from a runaway dumpster when her high heel becomes caught in a manhole cover. However, the budding romance between the two is cut short when Mary learns that Steve is one-half of her newest client couple. At its heart, "The Wedding Planner" is a simple story about star-crossed lovers whose timing is just a bit off. It has some wonderful wedding scenes, too, including the fantastical opening sequence that sees Mary use a utility belt like a wedding day first-aid kit.
The Proposal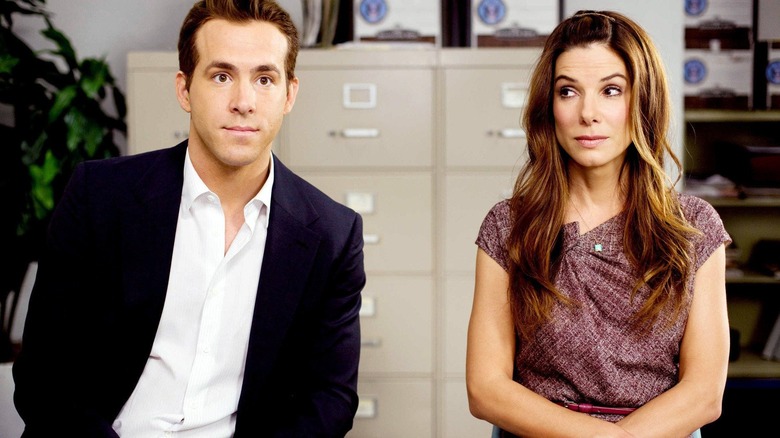 "The Proposal" puts a spin on the traditional "green card bride" trope. Sandra Bullock's Margaret Tate, a high-powered Canadian working at a New York publishing company, faces deportation and forces her assistant Andrew Paxton (the ever-quippy Ryan Reynolds) to marry her. Sensing that their marriage is a fraud, the immigration agent assigned to Margaret tells them that they will be interviewed separately, and will need to provide matching answers to prove their marriage is the real deal. (I can only assume that all U.S. immigration issues are resolved via "The Newlywed Game.")
As Margaret and Andrew get to know each other better in order to evade permanent deportation and imprisonment, they inevitably fall in love. "The Proposal" doesn't stretch the formula much, if at all, but the chemistry between Bullock and Reynolds is palpable. While that's not surprising given both actors' inherent charm, their pairing is as goofy and lovable as you'd expect. Admittedly, the script doesn't give them much to work with, but it's a testament to Reynolds and Bullock's comedic chops that they're able to create entertaining moments and anchor the film even when it's a bit rudderless.
I Love You, Man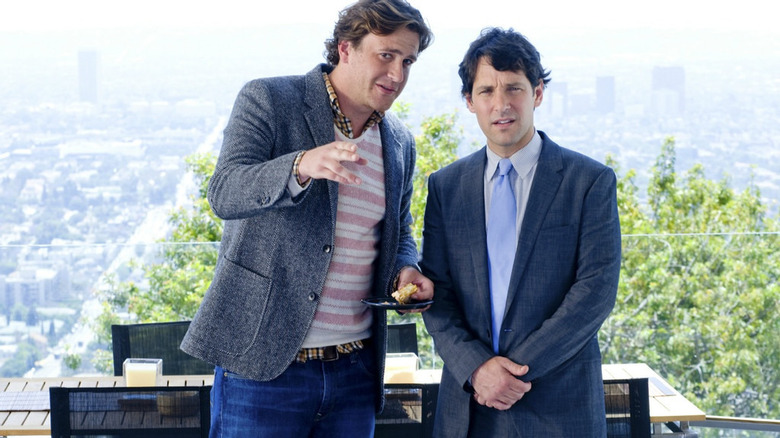 From a rudderless movie to a Rudd-full one. "I Love You, Man" is a bromantic comedy about how Paul Rudd and Jason Segel find friendship amidst the emotional roller coaster that is wedding planning. After proposing to his girlfriend, Zooey Rice (Rashida Jones), Peter Klaven (Rudd) realizes that he lacks male friends, leaving him without a clear candidate for best man. After a chance meeting with Sydney Fife (Segel) at an open house, where they bond over the Canadian band Rush, the two become fast friends, although Zooey is suspicious of Sydney's intentions.
Building off their previous collaborations in "Knocked Up" and "Forgetting Sarah Marshall," Rudd and Segel make for a hilarious odd couple, flipping their straight guy-goofball dynamic from the latter movie. The camaraderie between the two actors is magnetic; Rudd in particular delivers a heartfelt performance that balances his natural comedic sensibilities with the charming leading man qualities we've loved since "Clueless." The wedding aspect of "I Love You, Man" takes a backseat for much of the film to make way for Rudd and Segel's musings, but Jones' steady performance as the bride-to-be rounds out the movie well and, thankfully, never veers into wet blanket territory.
Crazy Rich Asians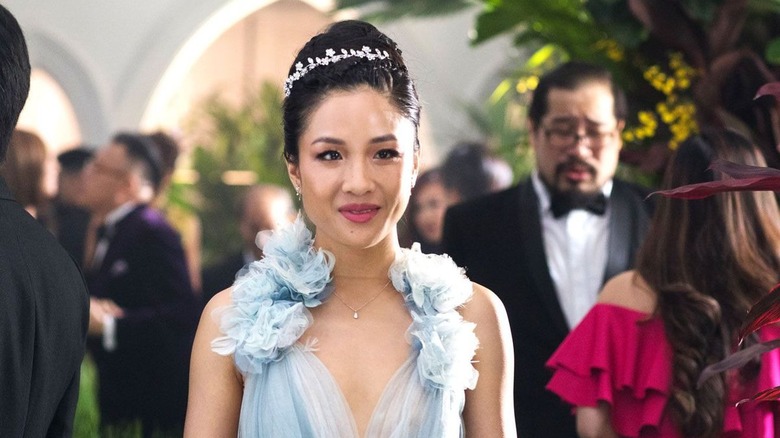 In addition to being a cultural moment for Asian-American cinema and a big reason why Academy Award winner Ke Huy Quan returned to acting, "Crazy Rich Asians" includes one of the most breathtaking wedding scenes in recent memory. When Rachel Chu (Constance Wu) travels to Singapore for her boyfriend Nick's (Henry Golding) best friend's wedding, she faces both culture shock and an intimidating family, led by the matriarch Eleanor (Michelle Yeoh). However, perhaps the most surprising discovery of her trip is that Nick comes from an extremely wealthy family.
As such, Nick's social circle runs on the affluent side, resulting in one of the most over-the-top, yet somehow elegant, wedding ceremonies ever put to film. As Kina Grannis sings Elvis Presley's timeless "Can't Help Falling In Love," three adorable children begin the procession, serving as the flower girls and page boy. As the lyrics "Like a river flows..." sound out, a stream of water slowly fills the aisle, lined with lush foliage. The bride makes her way towards her betrothed, and the guests gently wave ornamental fireflies, enveloping her in a twilight-like glow. Considering that the happy couple aren't even the film's main characters, the amount of detail put into this scene is extraordinary.
Sabrina (1954)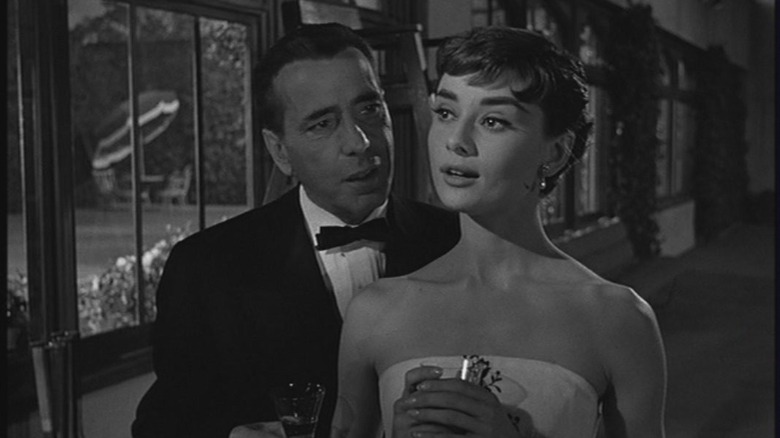 Although the 1995 remake of "Sabrina" starring Harrison Ford is a solid adaptation, I'm going with the 1954 classic led by all-stars Audrey Hepburn, Humphrey Bogart, and William Holden. Even today, the love triangle between Sabrina and the Larrabee brothers is one of Golden Age Hollywood's finest. 
The daughter of the Larrabee's chauffeur, Sabrina (Hepburn), is a young girl who's infatuated with the family's resident playboy, David (Holden). Although she's initially dismissed as a child, after Sabrina returns from a two-year stay in Paris, she catches both David's eye and that of his brother, Linus (Bogart), who immediately recognizes how Sabrina's presence may complicate David's impending nuptials (and the associated business deal). As Linus attempts to keep the two apart, he and Sabrina fall for each other in spite of their best efforts to hide their feelings.
It's notable that Bogie appears in "Sabrina" as a romantic lead. While he was best known for gruff and hardened characters, Bogart plays against type here as a suave and charming businessman. And while "Sabrina" proved to be an enduring film, Bogart notoriously disliked making the movie — and he ensured that Hepburn and Holden shared in his misery.
The Wedding Singer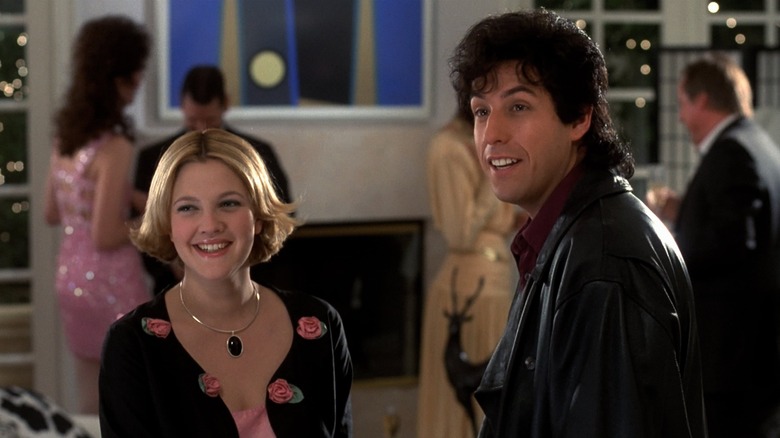 Count me as one of those '90s kids who wasn't that into Adam Sandler. His humor wasn't my cup of tea, and preteen me just didn't see the appeal. Leave it to Drew Barrymore to bring out a side of Sandler we hadn't seen yet, one that I found far less grating. "The Wedding Singer" did away with Sandler's usual daft screen persona and replaced it with the more mature, softer, and romantic Robbie Hart, a New Jersey-based wedding singer.
After being jilted at the altar, Robbie combats his growing depression — and his feelings for his engaged friend Julia (Barrymore) — by only pursuing superficial relationships with women. After realizing that discontentment comes along with these hookups, Robbie throws caution to the wind and declares his love to Julia. "The Wedding Singer" set Sander on a new path, one that would ultimately result in the sort of critical acclaim and awards season consideration that seemed out of reach at the beginning of his career. As Robbie, Sandler revealed a range and vulnerability that he continued to finesse in Paul Thomas Anderson's "Punch-Drunk Love" and later projects.
Royal Wedding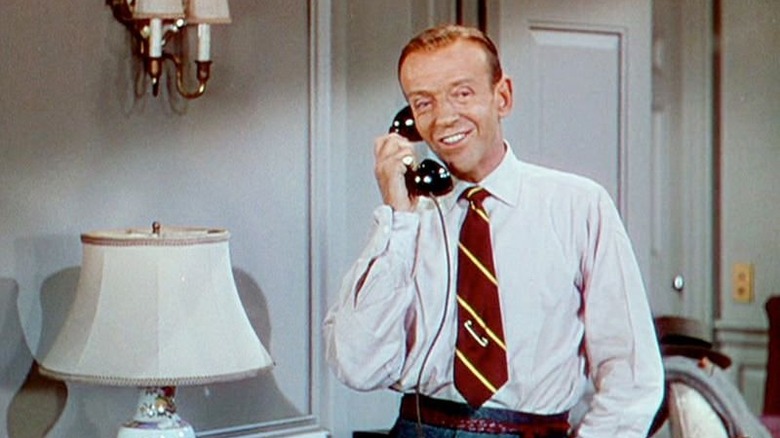 Taking inspiration from Queen (then Princess) Elizabeth's wedding to Philip Mountbatten, "Royal Wedding" sees a brother and sister performing team fall in love in 1947 London, England — he with a fellow dancer, and she with an impoverished nobleman. Set during the lead up to the royal wedding, the two blossoming romances encounter unique challenges, but the characters remain emboldened by their unmistakable love for one another.
With Fred Astaire and Jane Powell as the brother and sister, "Royal Wedding" soars with a sense of whimsy and a light-hearted humor that befits the film's resounding song and dance numbers. Notably, "Royal Wedding" features one of Astaire's greatest dance solos. It comes during "You're All the World to Me," when he famously displays his newfound love by dancing on the walls and ceiling. A combination of director Stanley Donen's prowess behind the camera and Astaire's effortless skills, the sequence is an astonishing showcase for the famed dancer's abilities and creativity.
Wedding Crashers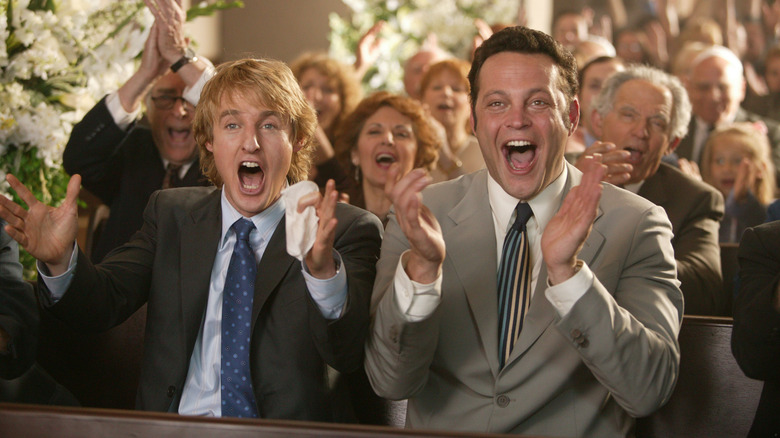 No list of wedding movies is complete without a visit from John (Owen Wilson) and Jeremy (Vince Vaughn). A film that has only grown in popularity since its 2005 release, "Wedding Crashers" is an R-rated comedy led by the two aforementioned funny men, with a terrific supporting cast that includes Rachel McAdams, Isla Fisher, Bradley Cooper, Jane Seymour, and the always remarkable Christopher Walken.
John and Jeremy are divorce mediators who moonlight as professional wedding crashers in order to hook up with women. McAdams and Fisher play the sisters-of-the-bride who John and Jeremy set their sights on, only to end up with more than they bargained for as the two develop genuine feelings. The film is filled with the type of debauchery you normally associate with a raunchy comedy, but it's balanced with some truly heartfelt moments. Vaughn delivers a great performance, bringing heart and soul to an otherwise bawdy film. As is typical of comedies from this time, some of the jokes haven't aged well, but the bromantic sentiments continue to entertain.
Bridesmaids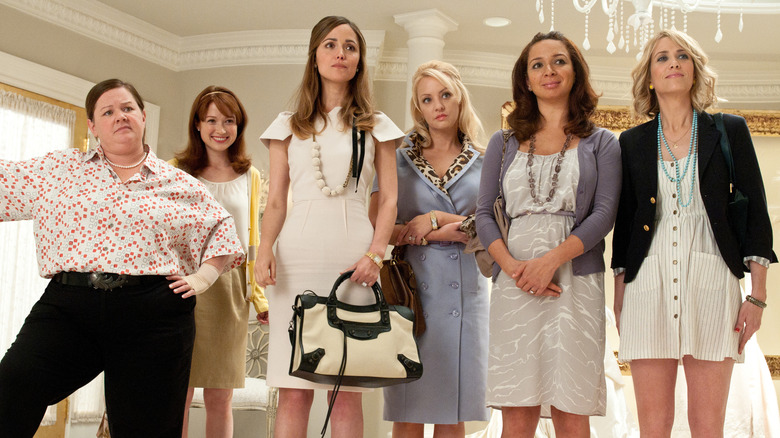 One of the best comedies of the '10s, "Bridesmaids" put to bed the dated notion that ladies can't be as hilariously lewd and perverse as their male counterparts. Directed by Paul Feig and written by Kristen Wiig and Annie Mumolo, "Bridesmaids" tells the story of best friends Annie (Wiig) and bride-to-be Lillian (Maya Rudolph). As Lillian's special day approaches, she enlists Annie as her maid of honor. However, Annie's financial situation makes it difficult for her to keep up with her expensive duties.
To frustrate matters more, Annie becomes jealous of one of Lillian's bridesmaids, Helen (Rose Byrne), who has a close bond with Lillian and both the means and ability to plan the wedding and bridal shower to Lillian's satisfaction. The events leading up to the wedding, not to mention the event itself, fill "Bridesmaids" with eye-watering laughter, as do the supporting performances by Melissa McCarthy, Wendi McLendon-Covey, and Ellie Kemper. Who could possibly forget Rudolph relieving herself in the middle of the street in a big poofy wedding gown?
Palm Springs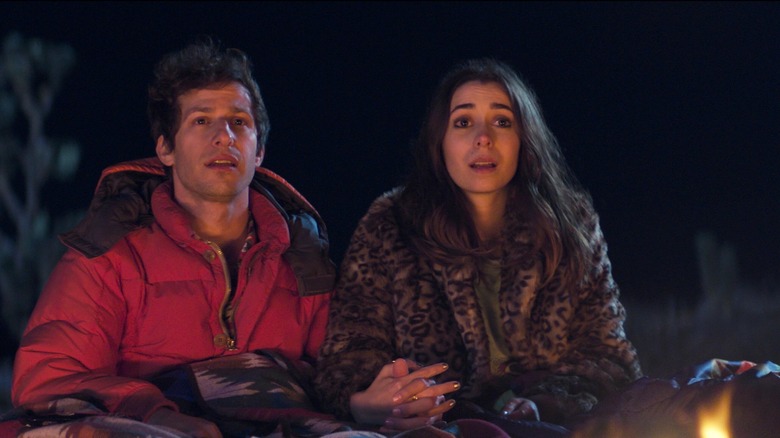 Just when you thought time loops couldn't get any better, director Max Barbakow and writer Andy Siara give us a fresh take. Andy Samberg and Cristin Milioti play Nyles and Sarah, respectively, two guests who get caught in a time loop while attending a wedding. "Palm Springs" follows the duo's attempts to make the best of a bad situation and their eventual efforts to escape the cycle.
Samberg has continued to impress since his "Saturday Night Live" days. He's a comedic actor with a good dramatic range, lending his boyish and earnest looks to touching performances. "Palm Springs" explores the existential dread that comes with perpetually living the same day, as Nyles and Sarah have very different responses to their shared predicament. The film has plenty of humor, too, especially with the introduction of J.K. Simmons' character, who Nyles accidentally brought into the loop and who takes every opportunity to murder him by way of thanks. But even with Roy's psychopathic bent, a heartfelt moment grounds the film, making it a well-rounded comedy with a heart of gold.
Father Of The Bride (1991)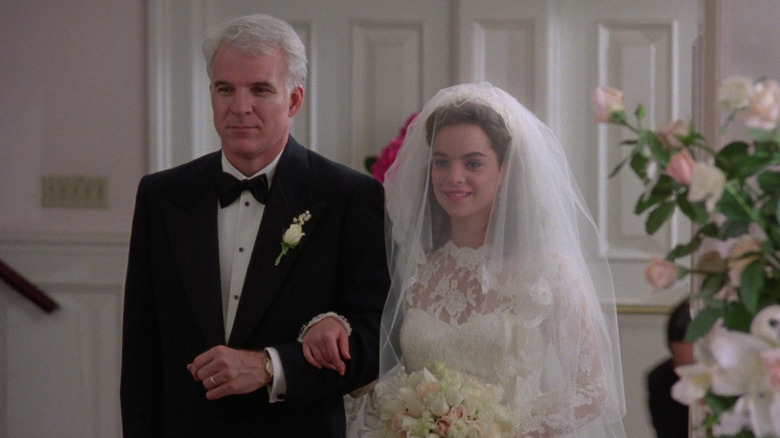 Unlike "Sabrina," where I chose the 1954 original, for "Father of the Bride" I'm going with the 1991 remake. While Spencer Tracy, Joan Bennett, and Elizabeth Taylor dazzle in the 1950 film, it's Steve Martin, Diane Keaton, and Kimberly Williams who won my heart as a kid (not to mention Martin Short's hilarious turn as the wedding coordinator, Franck). The film follows George Banks (Martin) as he navigates the turmoil of his daughter Annie's (Williams) upcoming wedding to Bryan (George Newbern), a man she has only known for a few months. While he's ultimately happy for his daughter, George begins to act in an increasingly erratic manner as the expenses and the sadness of "losing" his baby daughter start to pile up.
"Father of the Bride" is a feel-good movie that delivers laughs and plenty of nostalgia. Fathers of daughters should relate to George's conflicting emotions, wives everywhere can identify with Nina's (Keaton) steady nature, and Annie's choice to wear wedding sneakers in lieu of heels is a fashion statement for all the sporty girls in the audience. Fun for the whole family, "Father of the Bride" inspires others to this day.
The Best Man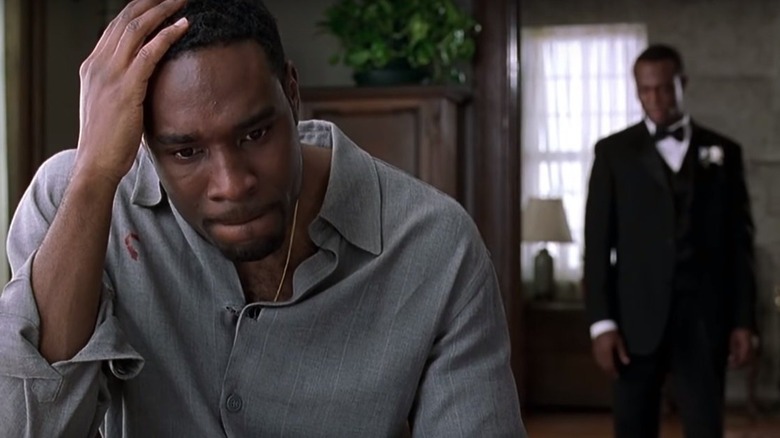 As far as dramatic wedding films go, "The Best Man" is right up there with the best of them. When Harper's (Taye Diggs) friends read his debut novel — which is based on them — his best friend Lance (Morris Chestnut) discovers that Harper and Lance's soon-to-be wife had a one-night stand in college. That's already enough drama to go around, but it's compounded by the fact that the discovery is made at Lance's bachelor party, the night before his wedding. Throw in a tense confrontation during which Lance almost throws Harper off a balcony, and we've got a show.
Where "The Best Man" excels, though, isn't in its drama, but rather its humor and heartfelt displays of love. Chestnut and Diggs both offer solid turns along with breakout performances from Regina Hall and Terrence Howard. Really, the film's entire ensemble delivers a tightly-knit and layered story that delves into fidelity and friendship and their complexities. The movie also happens to have an incredible soundtrack that includes the vastly underrated song "The Best Man I Can Be" by Ginuwine, RL, Tyrese, and Case.
The Philadelphia Story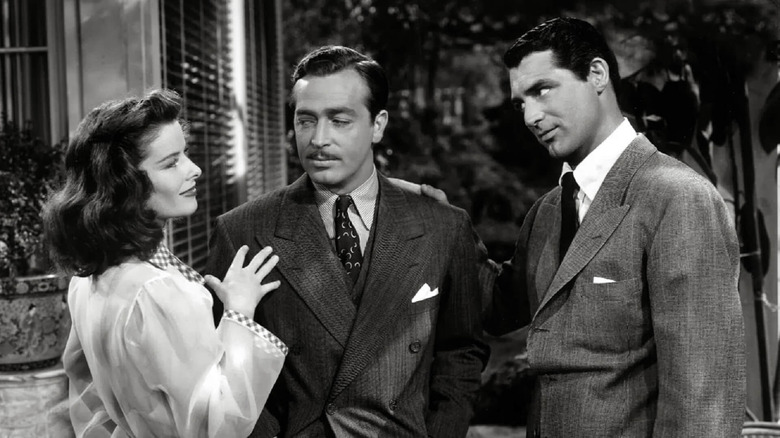 Directed by George Cukor and with a cast composed of heavyweights like Cary Grant, Katharine Hepburn, and Jimmy Stewart, "The Philadelphia Story" is a classic romantic comedy, not just of its era but of the entire genre. Hepburn plays Tracy, a woman torn between her fiancé (John Howard), her ex-husband (Grant), and the reporter (Stewart, with the performance for which he won his only Academy Award) assigned to cover her upcoming wedding.
While the film is well acted, written, directed, and produced, the real story is the one behind "The Philadelphia Story." In 1940, Hepburn had developed a reputation as "box office poison," with her last few pictures failing to sell tickets. After Hepburn performed "The Philadelphia Story" on Broadway, her then-partner, Howard Hughes, purchased the film rights; in turn, she sold those to MGM on condition she be cast in the lead role. Hepburn took an active role in the film's development, which paid dividends. "The Philadelphia Story" was a critical and box office hit and the turning point in Hepburn's career, helping cement her legacy in Hollywood history.
The Graduate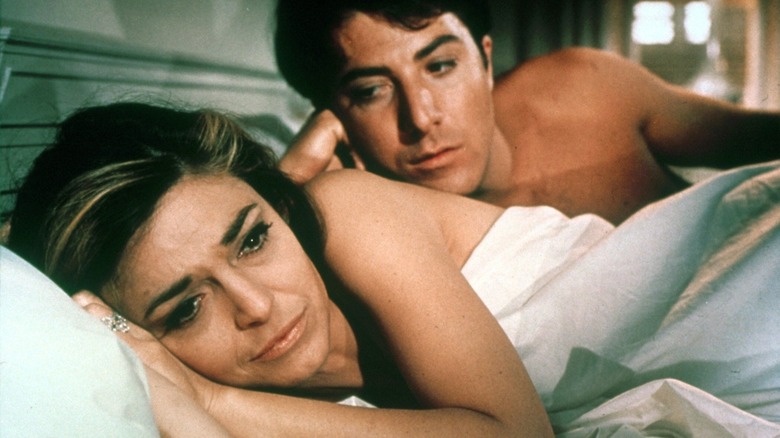 "The Graduate" was Dustin Hoffman's breakout film, earned him his first Academy Award nomination, and kicked off his legendary career. Hoffman stars in the film as Benjamin Braddock, a recent college graduate who begins a tryst Mrs. Robinson (the undeniable Anne Bancroft), he wife of his father's law partner. A love triangle soon develops as Mrs. Robinson's daughter, Elaine (Katharine Ross), becomes involved with Benjamin, unaware of his affair with her mother. The complicated and torrid love affairs come to a head at Elaine's wedding, and the film concludes with one of cinema's most memorable final shots.
Part of the enduring appeal of "The Graduate" is how the film has aged. Initially a movie that spotlighted youthful indiscretion and the wide-eyed possibilities of life post-college, Mrs. Robinson has been examined through a feminist lens in the years since the movie's release, lending more sympathy to her plight. "The Graduate" continues to be a solid piece of filmmaking with excellent performances that defies generations — a true American classic.
My Big Fat Greek Wedding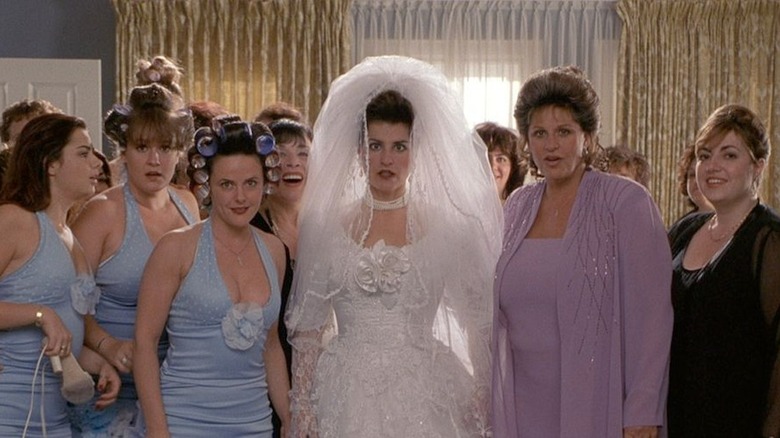 What began as a one-woman show became its own franchise, bringing in over $360 million at the worldwide box office against a $5 million budget and spawning multiple sequels and a TV show. "My Big Fat Greek Wedding" is both a remarkable story about Nia Vardalos' perseverance and her dedication to remaining authentic to her and her family's story, as well as a feel-good film that stole the hearts of viewers around the globe.
Vardalos' script strikes the perfect balance between specificity and universality in how it tells the story of Toula (Vardalos) and Ian (John Corbett). It's a tale of two (seemingly) opposing forces — Ian is from a conservative Anglo family that's small in size and low in decibels, while Toula's Greek family isn't shy about offering up unsolicited advice, potential suitors, and, of course, Windex. "My Big Fat Greek Wedding" gave every little Greek girl who was forced to give up her Saturday morning for Greek school their due in one of the most heartwarming films of the 2000s. Yia mas!
Four Weddings And A Funeral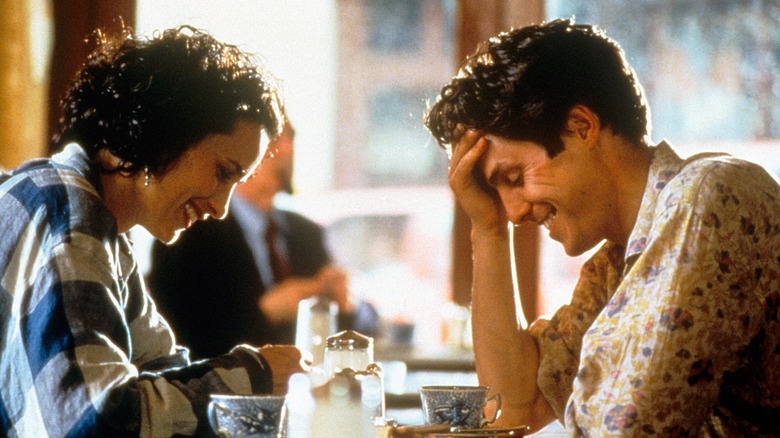 A classic of British cinema and the first collaboration between Richard Curtis and Hugh Grant, "Four Weddings and a Funeral" is an ensemble film following a group of friends over the course of just over a year as they attend wedding after wedding and, unfortunately, one funeral. Hearts are broken, friendships are challenged, and love is found throughout the film, which has all the hallmarks of Curtis' magic on full display.
There's a lot to love about "Four Weddings and a Funeral." It's irresistibly charming and humorous in the most British way possible. What has endured for almost 30 years, though, is Grant's floppy, awkward, and entirely endearing performance, which would carry his success through the decades. His chemistry with Andi MacDowell is a casting director's dream, and their banter flows like balletic choreography — in fact, the entire cast comes together like lightning in a bottle. Considered one of the very best rom-coms, British films, and '90s movies, "Four Weddings and a Funeral" earns its reputation on every re-watch.
The Princess Bride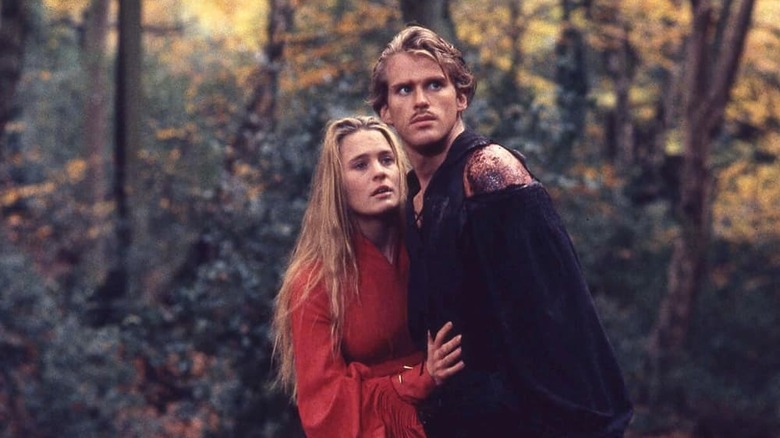 Few movies have captured imaginations across multiple generations like "The Princess Bride." Written by William Goldman and directed by Rob Reiner, the film's mix of camp and the fantastical creates a fresh and intelligent take on the typical fairy tale. While saving Buttercup (Robin Wright) from a forced marriage to Prince Humperdinck (Chris Sarandon), farmhand-turned-swashbuckling-savior Westley (Cary Elwes) encounters a variety of comical obstacles and whimsical characters. A classic comedy, romance, and fantasy film all rolled up in one, "The Princess Bride" has developed a devoted following and remains one of the most quotable movies in cinematic history.
A few years ago, there were rumors that a remake of "The Princess Bride" was being considered by Hollywood. Amidst a flurry of dissent across social media, Elwes responded simply on Twitter: "There's a shortage of perfect movies in this world. It would be a pity to damage this one." As you wish, Mr. Elwes. (Hopefully, anyways.)
My Best Friend's Wedding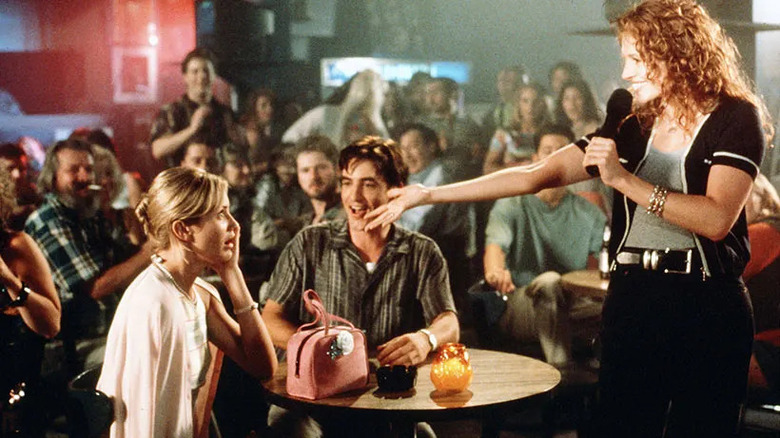 Often imitated, never duplicated, "My Best Friend's Wedding" didn't originate the idea of an envious ex trying to ruin a wedding, but it certainly refined it. As Julianne, Julia Roberts uses her irrepressible charm to win back her former lover Michael (Dermot Mulroney) as he prepares to marry Kimmy (an infectiously delightful Cameron Diaz). It's a relatively simple concept, but the chemistry among the ensemble (which also includes the ever-so-suave Rupert Everett) elevates what could have been another pedestrian rom-com.
"My Best Friend's Wedding" gives us the best a wedding-oriented rom-com has to offer – ironically, without showing an actual wedding. From the opening musical number to the joyous singalong of "Say a Little Prayer," P.J. Hogan's '90s classic isn't short on memorable moments. The film also beautifully shows off Chicago, taking us on a trip to Comiskey Park (as it was then known) and through the city's romantic canals. It would've been easy for the film to turn into a superficial catfight between Julianne and Kimmy. Instead, thanks to Ronald Bass' solid script, "My Best Friend's Wedding" is a joyous, funny, and sentimental movie that celebrates why we love love.
Read this next: The 14 Greatest '80s Romantic Comedies Ranked
The post The 20 Best Wedding Movies, Ranked appeared first on /Film.