From packable sleeping pads to ultracomfortable air beds, we tested and found the best camping mattresses and sleeping pads to fit every adventure and budget.
Car camping offers a lot of benefits. Not only do you get to enjoy being outside, but you also don't have to be as concerned with limiting weight or gear. In terms of a sleeping pad, this means you can get something more comfortable. From an ultracushioned double sleeping pad to our top pick for budget savings, these are the best car camping mattresses and pads.
As avid campers ourselves, we've spent hundreds of nights sleeping outside. From backpacking in the Desolation Wilderness to overlanding in Apalachicola to camping out across the Rocky Mountains, we've logged a lot of hours testing camping pads.
Our primary considerations while testing were weight, packed size, comfort, warmth, and ease of use. Secondarily, we looked at durability and value.
And while there isn't a single camping pad that will suit everyone out there, we've broken them up into categories to help you find the right camp pad for you.
Scroll through to see all of our recommended buys or jump to the category you're looking for:
The Best Camping Mattresses & Sleeping Pads
When you first lie down on this pad ($229), you realize what you've been missing. There's room to spread out, all the warmth you could need, and tons of foam padding. The vertical sidewalls enhance the sleeping space by 20%, which means you can roll around without falling off.
The dual valves make inflation easier. And we like the way it completely opens up for a faster deflation. It will take a couple of times rolling it up tightly to fit in the carrying bag, but it is possible.
On top of comfort and warmth, what really made this pad stand out is the long-term durability. We've used it for more than 200 nights, and it's still going strong.
It's withstood a rowdy, jumping toddler, laying directly on gravel ground, and constant adult sleeping. Through it all, it's maintained perfect inflation and comfort.
At $229, it falls in between the Camp Dreamer and NEMO Roamer in price, matches them in comfort, and beats them in warmth and longevity. So, you'll have to decide which factor is most important to you. If you go with the MondoKing 3D, rest easy knowing you'll be ultracozy all night long.
Available in large and XXL sizes.
Weight: 5 lbs. 8 oz.
R-value: 7
Thickness: 4″
Pros
Cons
Not as easy to inflate initially as other comparable pads
Check Price at REICheck Price at Backcountry

This pad has a lot to offer. It's priced under $100 (even the large version) and provides 3 inches of self-inflating comfort. We've only been testing it for a few months now, but overall we're impressed.
Although it's not quite as plush as a thicker pad like the MondoKing, it's incredibly comfortable. Even the side sleepers among us like it.
The 4.3 R-value means you'll stay warm and could even use this camp mattress year-round (paired with the right sleeping bag). This mat is thicker and more comfortable than the previous models, and the upgrade is noticeable.
It also scored top marks for durability. The 75-denier outer fabric is soft to the touch but built to hold up to hard use. We've used this pad directly on the ground and in tents without a ground cloth, and it shows no signs of wear.
We also appreciate Sea to Summit's flip-over valve system. It creates a one-way flow for inflation, and then you can pull it completely out for quick deflation. At nearly 3 pounds, this pad is better suited to car camping, but you could conceivably use it for short backpacking stints if needed.
And if you have an Aeros Camp Pillow, you'll appreciate the "Pillow Lock" system. It's really just a bit of hook and loop on the pad and pillow, but it does help keep your pillow in place.
The Camp Plus SI is available in regular and large versions.
Weight: 2 lbs. 11 oz.
R-value: 4.3
Thickness: 3″
Pros
Comfortable
Reversible valves make inflating and deflating simple
Cons
Check Price at REICheck Price at Backcountry
This is an incredible value. A quality pad for less than 40 bucks is a darn good deal. Now, that said, this isn't the most luxurious pad. It's only 1.5 inches thick. We never had any instances of feeling the ground beneath us, but it's certainly more minimalist than other pads and mattresses on this list.
If you're looking to maximize comfort, go with a plusher mat. But if you're looking for a well-made, solid sleeping pad that won't empty your wallet, this is it.
The Mistral inflated and deflated easily. There's nothing fancy to it, but it works. And the insulation kept us warm even when temps dipped into the 20s (with a good sleeping bag, of course). This pad is only available in a regular length, so if you're extra tall, it may not be the best choice.
It weighs a reasonable 2 pounds 12 ounces and packs down relatively small. We've used it for short hike-in camping but wouldn't recommend it for backpacking, as it takes up considerable room in your pack.
Anyone dipping their toes into camping or looking for a great deal will appreciate this sleeping mat.
Weight: 2 lbs. 12 oz.
R-value: 4.7
Thickness: 1.5″
Pros
Cons
Less comfortable than other mattresses
Check Price at REICheck Price at Sportsman's

When comfort is your main concern, the MegaMat ($349) is your answer. What it lacks in packed size and price, it more than makes up for in size and comfort.
The open-cell polyurethane foam insulates and cushions. And while some double sleeping pads perpetually send one partner popping when the other moves, the MegaMat Duo is stable and quiet.
As with all self-inflating pads, expect to top it off. But instead of having to blow into it, you can use the included mini pump. It also includes a repair kit should you ever get a tear (although we've found it impressively durable).
One of our favorite things about this pad is how level it is. Some camping mattresses pop up in the middle when filled, but thanks to 3D construction, this bad boy stays flat even when fully inflated and being slept on.
At 77.6 inches tall and 52 inches wide, it's large enough to snugly fit two adults or spaciously sleep one. For reference, a double-size fitted sheet fits it great.
The durable sidewalls provide support, and as our tester noted, "The vertical sidewalls increase the usable sleeping surface. This small addition compared to other sleeping pads is instantly noticeable. The walls help keep you dry in really bad weather.
"During one stretch, Mother Nature pounded us with rain for 3 days straight. The bottoms of the tents were soaked. The height and larger surface kept me dry and warm even over wet ground."
Durable, comfortable, and stable: This is the ultimate double sleeping pad.
Weight: 9 lbs. 14 oz.
R-value: 9.5
Thickness: 3.9″
Pros
Supremely comfortable
Durable
Cons
Expensive
Large packed size
Heavy
Check Price at REICheck Price at Amazon
This queen-size sleep system ($299) is camp luxury at its finest. The set includes a 6-inch-thick air mattress, a quilted mattress cover, sheets, a comforter, and a large pump. And it all packs into a large duffel-style bag.
Inflation was quick and easy with the included floor pump. You could probably use some sort of battery-powered pump, but we found the hand pump worked well. And it was nice not to worry about plugging in a pump.
The quilted mattress cover gives a nice "real bed" feel to the setup and increases the warmth rating. We also appreciated how both the sheet and comforter wrap around the bottom of the mattress. This keeps toes toasty and prevents lost blankets in the night.
This setup is rated to 40 degrees F, but depending on how warm you sleep; most will prefer it only down to about 50 degrees. After that, you'll want an extra camp blanket for added insulation.
Overall, this setup is comfortable, easy to use, and durable. It doesn't pack down small, but if comfort is what you're after, the REI Kingdom delivers.
Weight: 15 lbs. 9 oz.
R-value: 3.6
Thickness: 6″
Pros
Sleep system includes integrated sheets and blanket
Comfortable
Easy to inflate
Cons
This two-person airbed ($60) from Sierra Designs is a quality camp mattress at an affordable price. It's not as plush as the thicker REI Kingdom, but we still found it quite comfortable. It's sized to fit standard queen-size sheets and comfortably sleeps two.
The included battery-operated pump does a surprisingly good job inflating the mattress, as long as you're patient. This air bed has proven durable over several months of use, even withstanding being placed directly on the ground.
It's not as insulated as some other pads on the list, but for the price, this can't be beat.
Weight: 5 lbs. 6 oz.
R-value: Unavailable
Thickness: 7″
Pros
Cons
Not insulated
Not as plush as larger air mattresses
Best of the Rest
This self-inflating sleep mat ($100-119) gets high marks for durability and reliability. Year after year, night after night, it keeps inflating and providing plenty of warmth and cushion.
With an R-value of 6.8, it will keep even cold sleepers warm all summer long. And for most, it's even enough insulation for winter camping. In addition to warmth, the open-cell foam provides a boost of comfort.
To inflate, simply unroll, open the valves, sit back, and relax. The foam will expand, and the pad will partially inflate. From here, you can top it off with a few breaths to reach your desired firmness.
For the easiest inflation, we recommend fully inflating your pad before your first camping trip. This will allow it to expand and prepare it for self-inflation.
Deflating the pad goes quickly thanks to the high-flow valves, but it can take a couple of tries to get it rolled up tightly enough for packing. The polyester upper has a soft and comfortable fabric feel.
We happily laid directly on the sleeping pad and appreciated its furniture quality. And with a 150-denier bottom, we didn't worry about sticks or rocks when lying down. This pad is plenty strong.
At more than 3 pounds, it's best used for car camping or short hikes into camp.
And while there are thicker pads on this list, we found the Camp Bed to be a top pick thanks to its affordable price, ability to last through years of heavy use, comfort, and soft hand.
Weight: 3 lbs. 10 oz.
R-Value: 6.8
Thickness: 2.5″
Pros
Nearly indestructible
Good value
Warm
Easy to use
Cons
Not as thick as other car camping mattresses
Anyone who's ever called their car home will appreciate the NEMO Roamer ($249). This is the ultimate adventure-mobile mattress. It's thick, it's warm, and it's seriously comfortable. With 4 inches of open-cell foam, you can sleep soundly wherever home happens to be.
As with most self-inflating pads, you'll need to top it off for maximum comfort. But the micro-adjust valve makes it easy to add a bit of air without worry about losing any. And we liked how the one-way valves make quick work of deflating the pad fully when it's time to pack up camp.
Traditional air mattresses are thin and likely to pop. But with the foam construction and a 75-denier polyester bottom, this pad is truly built to withstand camping outside. And the toggles on the side allow you to connect two Roamers to create a queen-size mattress.
While it's not ultralight by any means, for the added comfort it offers, this packs down fairly small (about the size of a winter sleeping bag, or 9 x 13 inches).
We put this to hard use and after more than 150 nights of use, it stopped holding air as well. The valves developed a slow leak that left us needing to top it off every night.
Weight: 3 lbs. 15 oz.
Temp rating: -30 degrees F
Thickness: 4″
Pros
Comfortable
Durable
Connects to another Roamer pad to create a queen-size mattress
Cons
Check Price at REICheck Price at Backcountry
Do you like a good memory foam mattress? Then, let me introduce you to Camp Dreamer X ($179). Four inches of air and engineered foam provide plenty of cushioning for a good night's sleep. And with an R-value of 5.5, it will keep you warm on chilly summer nights.
The horizontal core foam is designed to pack up easily and (as you can see in the above image) gives a bit of baffling to the mattress. We learned the hard way one night that these foam baffles make for a lumpy, uncomfortable bed if not fully inflated. But when topped off, it will rival any hotel bed.
We aren't sold on the utility of the pillow that doubles as a pad pump, but we love the reversible high-flow valves. If you want something that rivals the comfort of the Exped MegaMat but clocks in a few dollars less, this is the pad for you.
Weight: 6 lbs. 6 oz.
R-value: 6.6
Thickness: 4″
Pros
Comfortable
Reversible valves make inflating and deflating simple
Cons
Large packed size
Not as warm as the MondoKing 3D
Let's start with the obvious — this pad is heavy. Like 26 pounds heavy.
That said, if you're creating a van life oasis or building out your truck bed, the weight isn't an issue. And the incredible comfort is worth it. We've heard many rave reviews that it's "better than my expensive mattress at home."
Essentially two pads in one, the HEST Sleep System ($399) includes an inflatable base and foam mattress. The base is easy to inflate thanks to the large pump. We like that it can be inflated to high pressure for maximum comfort.
And with a combined 7 inches of padding, you don't have to worry about pebbles keeping you up at night. It's also incredibly warm. With an R-value of 11.8, it's the warmest camp mattress on this list.
It packs up well into the included duffle bag and is overall well-designed. At $399, it's a big investment. But if comfort is your top concern, the price and weight may not matter.
If you're looking for a double camp pad, check out our review of the Hest Dually.
Weight: 26 lbs.
R-value: 11.8
Thickness: 7″
Pros
Cons
Check Price at REICheck Price at Hest
Similar to the Classic REI Camp Bed, this pad ($70) offers up reliable, durable, no-frills comfort. The 1.75-inch thickness is enough to keep you plenty padded, but it's not nearly as comfortable as other mattresses on this list.
With extra foam placed in the torso (known as Body Mapping), we found it kept us plenty warm in 34-degree lows. Inflation and deflation are easy with the color-coded valves. And the stretch-top surface is pleasantly soft.
It's touted as a camping/backpacking crossover, but honestly, it seems too bulky for backpacking. Weight notwithstanding, it just takes up too much room in your pack. But for car camping or shorter hiking campsites, it's a reasonable choice.
All in all, this is a solid mid-price option. It's not incredibly light, cushy, expensive, or cheap. It pretty much falls in the middle for everything. A real jack of all trades and master of none.
Weight: 2 lbs. 11 oz.
R-value: 5.1
Thickness: 1.75″
Pros
Cons
Not as thick/comfortable as some camping pads
This is a comfortable sleeping pad ($119), but we wanted more from it for the price. Let's start with the good.
At 4.75 inches thick, it provides plenty of cushioning and even keeps side sleepers off the ground all night long. The stuff sack doubles as an inflation bag, and it really worked. It's a sturdy and basic air mattress.
But for the price, we wish there was more foam insulation. This would make it not only warmer but also more comfortable. Kelty makes some great gear, but for the price, we'd rather sleep on the REI Camp Bed or spend $60 more for the Camp Dreamer XL.
Weight: 4 lbs. 10 oz.
R-value: Unavailable
Thickness: 4.75″
Pros
Stuff sack works great as an inflation bag
Thick
Cons
Not as warm or comfortable as other camping mattresses
Check Price at BackcountryCheck Price at Amazon
For the casual camper, it's hard to beat $37 for a camping sleeping pad and pillow. This number from Coleman isn't the fanciest on the list. But, if you only plan to sleep outside a few nights each year or want to test the camping waters without breaking the bank, this is a solid option.
Expect to have to add a few breaths to the pad to top it off. And you'll need to blow up the attached pillow to your desired firmness.
At a little over 3 pounds, it's not outrageously heavy or bulky for car camping. And at 76 inches long, it's a good option for tall people.
Although the quality of the pad itself is acceptable, the attached straps are strangely fragile and prone to breaking off at the rivet. If you don't particularly care about using the straps, this is a good budget pick.
Weight: 3 lbs. 4 oz.
R-value: Unavailable
Thickness: 2.5″
Pros
Affordable
Good for tall campers
Cons
Long-term durability concerns
Less comfortable than other mattresses
Buyer's Guide: How to Choose a Sleeping Pad
Before reading our buyer's guide, take a few moments to think about how you plan to camp and sleep.
Will you be driving up to a camp spot, hiking a mile or so in, or heading out on a weeklong backpacking trip? Do you sleep on your back, side, or stomach? Is extra cushioning important, or do you care more about saving on weight?
Understanding your sleep preferences will help determine the best pad. Read on for the most important factors in choosing a camping pad.
Weight & Packed Size
If you're mainly car camping, you can maximize comfort by going with a more padded, inflatable option like the NEMO Roamer or a deluxe air mattress like the REI Kingdom Sleep System. The trade-off is these don't pack down as small and are too heavy for backpacking.
If you plan to hike into the backcountry, a backpacking pad that packs down small and weighs less is ideal. Just how small and light you want to go is up to you. The Therm-a-Rest NeoAir Uberlite packs down to the size of a soda can and weighs just 8.8 ounces.
A pad like the NEMO Cosmo 3D weighs in at 2 pounds but offers extra thickness and cushioning for side sleepers.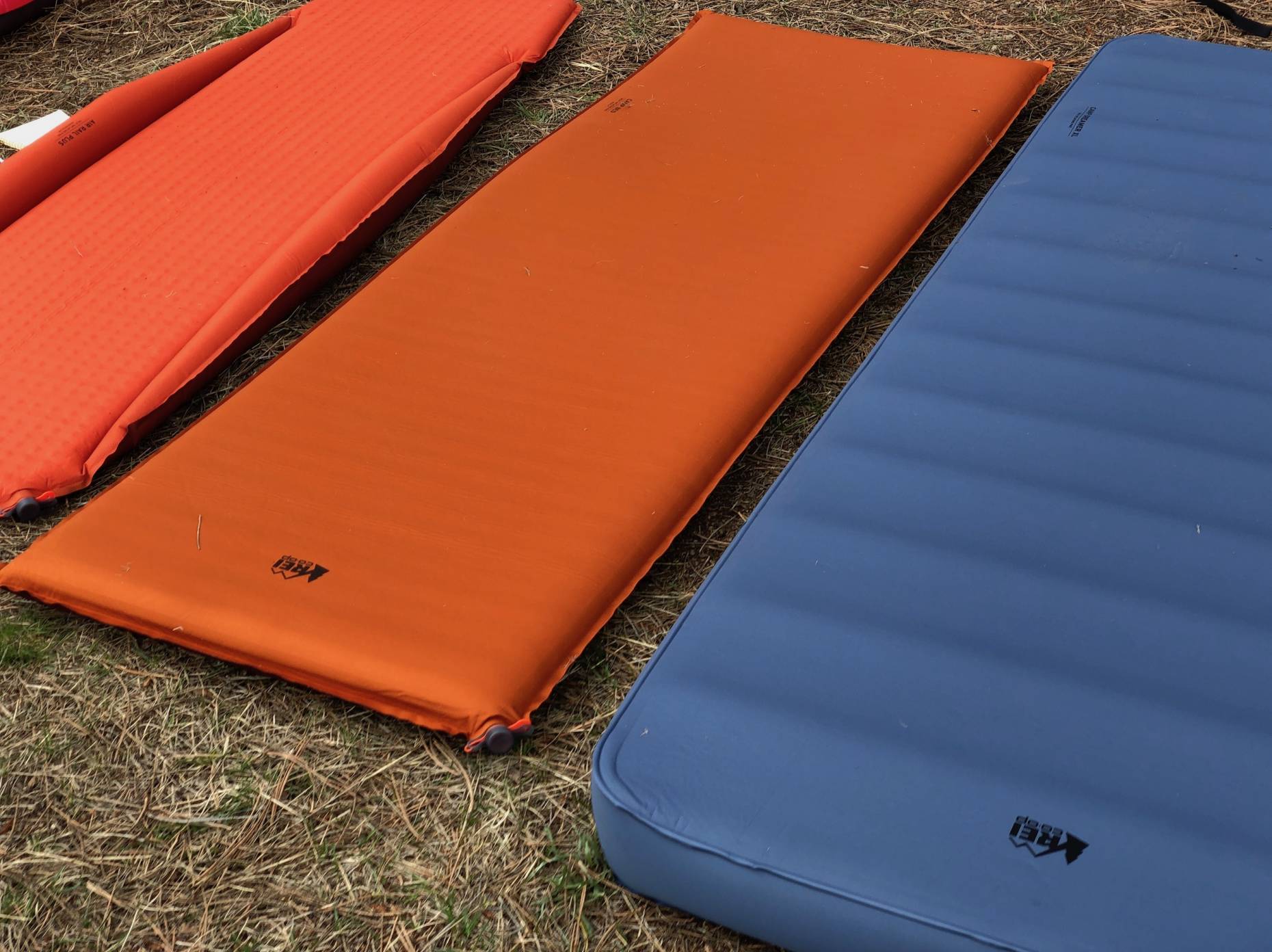 Comfort
In general, the thicker the pad, the more comfortable it is. Additionally, having a bit of foam or extra insulation increases the comfort factor and decreases the noise (see below).
If you're a side sleeper, you understand the need for plenty of cushioning under your hips and shoulders. For a better night's sleep, you would do well to get a thicker sleeping pad.
Durability & Denier
Denier is a unit of measure used to describe textile strength. The higher the denier, the thicker and stronger the fabric. For a sleeping pad, this is mainly important for puncture resistance.
On one end, the ultralight backpacking-friendly Therm-a-Rest NeoAir Uberlite is made with 15-denier nylon. On the other, the NEMO Roamer is made with 75-denier polyester. There's often a trade-off between durability and weight.
Price
We love a good value. But even more than that, we appreciate gear that performs well and lasts through several seasons of use.
If you only plan to sleep outside a weekend or two a year, a cheaper pad may get the job done just fine. But if camping is a regular occurrence, it's worth investing more in a pad.
This is the foundation of your sleep, and getting enough rest at night will make spending all day outside that much more enjoyable. In general, forking over a few extra bucks will get you some combination of increased comfort, durability, and warmth.
Warmth & R-Value
In addition to comfortable cushioning, a good camping pad should provide some insulation from the ground. The higher the R-value, the warmer and more insulating the sleeping pad will be.
The MegaMat clocks in with a whopping 9.5 R-value, making it cozy for year-round car camping. For backpacking, the Exped Downmat has an R-value of 8 while still weighing a reasonable 1 pound 15 ounces.
The R-value you need depends a bit on if you tend to be a warm or cool sleeper. In general, you'll want a sleeping pad with a value greater than 5 for comfortable winter camping. For summer, something in the 2 to 4 range should work for warmer nights.
If waking up with a cold back is a common complaint, consider choosing a warmer sleeping pad or add a foam pad like the Z Lite under your normal pad for additional insulation.
Length & Width
Most camping sleeping pads come in regular and long versions. And some also come in short, wide, and extra-long varieties. The length and width you need depends not only on your dimensions but also on your camping goals.
We know tall thru-hikers who happily cut their Z Lite pad in half to shave a few ounces off their pack weight. And we know some tiny testers who prefer a wide sleeping pad because they like the ability to roll around in their sleep.
The main thing to remember is an increase in length and width almost always corresponds to an increase in price and packed size.
Valves & Inflation
Up until recent years, almost all sleeping pads utilized a twisting plastic valve. Turn one direction to open it for inflation, and (quickly!) turn the other to close and trap air inside.
While this works, it's not the easiest to inflate. Because air can freely move back and forth, you need to either create constant pressure while blowing it up or skillfully use your tongue to stop air from exiting the pad while inhaling. It can be done, but we prefer the new inflation technology when tired on the trail.
Luckily, many pads now use flat valves with dedicated inflation and deflation settings. Best of all, a flap keeps air from escaping during inflation.
While many pads feature separate valves for inflation and deflation, the REI Camp Bed Dreamer XL has a valve that flips from one mode to the next. This makes achieving the perfect firmness a cinch.
In addition to valves, many pads now come with inflation bags. The Sea to Summit Ether Light XT comes with an inflation bag integrated into the stuff sack, as does the Kelty Tru.Comfort Camp Bed. The Big Agnes Pumphouse Ultra ($35) is sold separately and works as both a dry bag and an inflation bag.
Noise
The most common complaint about lightweight backpacking sleeping pads is the loud, crinkly noise. While packing less is great, sleeping on a pad as noisy as a potato chip bag is less than ideal. And having your tentmate toss and turn all night is even worse.
Fortunately, brands are taking note and making quieter sleeping pads.
---
The post The Best Camping Mattresses and Sleeping Pads of 2021 appeared first on GearJunkie.