— Recommendations are independently chosen by Reviewed's editors. Purchases you make through our links may earn us a commission.
One of the pleasures of renting a home is having the freedom to leave all of the repairs to a landlord. If you're a homeowner, you're on the hook for any issues that may come up, such as a broken faucet or a hole in your drywall. You might dread having to do these basic repairs, but I can promise you that few things can match the satisfaction that comes from completing a repair with your own two hands. To do a job well, you'll need good tools: not necessarily power tools like an electric screwdriver or cordless drill, but rather, the sort of basic toolkit full of good-quality hand tools that every homeowner or even a good tenant should own.
After rigorously testing eight different basic toolkits designed for homeowners, we discovered the Stanley 94-248 (available at Amazon) is the best toolkit for anyone interested in doing their own home repairs. If you're on a tight budget or feel that the type of repairs you'll need to make are both minor and infrequent, check out the Cartman B01NCJTSW7 (available at Amazon).
Here are the best toolkits we tested ranked, in order:
Stanley 94-248
Workpro W009036A
Deko B0723914V1
AmazonBasics Home Repair Kit
Workpro W009021
Apollo Toolkit DT9408
Apollo Toolkit with Tool Box (DT9773-53)
Cartman B01NCJTSW7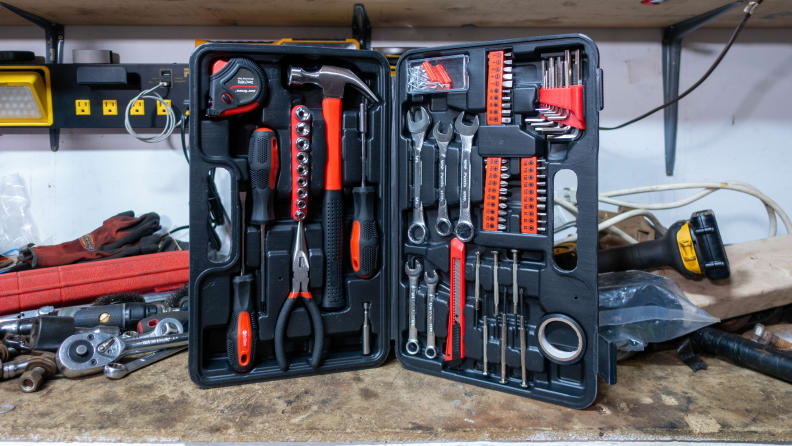 How We Tested Starter Toolkits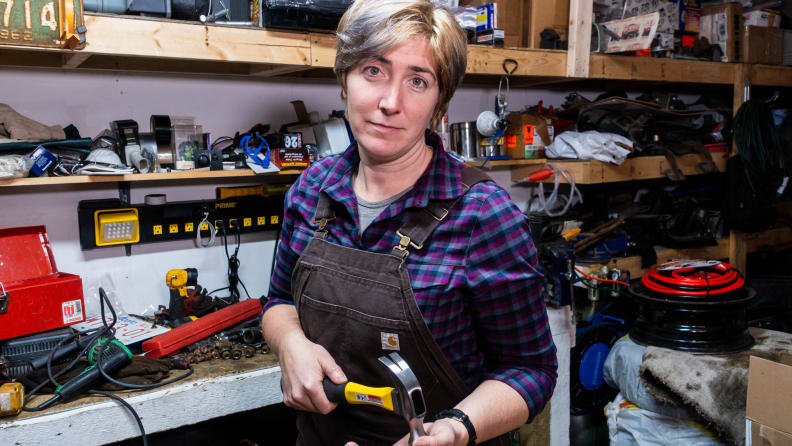 The Tester
My name is Rebecca Boniface. I live full-time in a 40-foot long motorhome, so while my path to homeownership might not be the same as yours, much of the maintenance I do inside of our RV is similar to the repairs you might encounter in your house or apartment.
When my partner and I moved into our RV, one of our first purchases was a starter toolkit. We anticipated plenty of small repairs and adjustments we would need to do on the move. Four years later, while many of the tools are still mostly functional, they've become rusty and the kit's hinges have split. Recently, the socket wrench adapter snapped in two while I attempted to remove a stubborn oil pan plug. I've invested in many new, high-quality tools over the years, but I still resent the poor quality of the first kit I purchased—and I'd love to save you from that frustration.
The Tests
We designed the tests for this guide based on the sorts of common tasks a handy person, like you, might encounter: hammering or pulling nails, putting screws into a board, as well as using a pair of pliers to remove nails or bend wire, to name a few. After I assessed how well the tools from each kit completed these do-it-yourself-related activities, I evaluated how comfortable it was to use each tool and whether the quality of each tool was such that I'd feel comfortable recommending it to you.
In order to test how resilient each tool was, I dropped them onto a laminate floor, while standing on the third rung of a ladder. Additionally, I left a tool from each kit (typically, the adjustable wrench) in a basin of tap water, overnight, to see if it showed any signs of corrosion. Not all steel is created equal. Tools made of metal with a large amount of carbon in it can rust easily.
After completing these tests, I took the four highest-scoring toolkits and used them to complete one final test: hanging a shelf on a wall and then removing it.
What You Should Know About Buying A Starter Toolkit
What Is A Toolkit?
A toolkit is a collection of the most commonly useful tools you'll need around the house. The specific tools you'll need depends on who you ask and what repairs you feel comfortable doing yourself, but in general you can't go wrong with this list:
Hammer: A good hammer will allow you to both build and break things. You can hammer in nails or bang a peg into a piece of furniture. With a claw hammer, like those featured in these toolkits, you can use its little built-in crowbar to pop a lock, rip off a baseboard or lever open a stuck window. Ideally, a good hammer is constructed to direct the force from your swing into the object that you're striking. The difference between a good hammer and a poor one becomes apparent when you strike a nail: A good one will drive a nail into a board with little effort on your part. A bad one requires more effort to do the same job. Comfort is another consideration. Generally, hammer handles that are ergonomically designed, sporting with handles with a soft rubber sheath are more comfortable to use than ones sheathed in hard rubber.
Tape measure: a useful tape measure is designed to be readable when extended to your left while being held in your right hand. If you're left-handed, you might want to check out one of our best tape measures as a separate purchase if you plan on doing a significant amount of measuring.
Level: generally, the longer a level is, the more accurate it will be. A torpedo level (also known as a nine-inch bubble level) help you make sure that the shelves you install and the photos you hang are, well, on the level. Additionally, their short length makes them ideal for use in confined spaces. There are also laser levels which we recommend.
Utility knife: a good utility knife is a more versatile pick than a hack saw in most situations. It allows for precision in cuts and scoring as well as being usable in a tight space.
Screwdriver set: for the sake of saving space, I favor screwdrivers with interchangeable heads that use the same handle. The trade-off for this adaptability is a noticeable loss in the strength of the tool. I typically use dedicated head screwdrivers to pry and lever off parts that I can't with a removable head screwdriver.
Adjustable wrench: while socket sets are lovely, odds are, around the house, you'll only need to wrench the occasional bolt. Until the time comes when investing in a full socket and wrench set makes sense, an adjustable wrench will serve you well.
Pliers: for when your meathooks are simply too big to get into a tight space or to clamp onto a tiny bolt or wire, pliers—particularly needle-nose pliers—allow you to apply force in a small, concentrated area to bend or strip wire and pick up or hold small things. Look for a comfortable grip and a corrugated contact surface.

Other Starter Toolkits We Tested
More Articles You Might Enjoy