When it comes to being a homeowner, or even just running a household that you rent, its amazing how many odd jobs you find yourself needing a sharp tool for. The same can be said for being a crafter or DIY enthusiast, and sometimes scissors just wont do. Thats why weve been on the hunt lately for a good utility knife! We want something we can use in either context, without issue.
By the time we were done bookmarking options in my online shopping forays for such a knife, we realized wed compiled a veritable list of good recommendations, even in the ones we didnt select in the end. We figured wed might as well share them so other people can see whats out there too! Check out these 10 best utility knives that we came across in our search.
If were being honest, size is a huge consideration when it comes to something we must use deftly but have to be very careful with. You see, the issues is that we have rather small hands! That doesnt mean we cant have a full-sized knife, of course; we just need something with good shape, a solid handle and a modest size.
Thats why we liked this particular knife from Gerber so much! The design is specifically designed to be light and easy to wield, and we like that thats reflected in the price. The blade is strong and easily replaced and the handle is made from durable stainless steel, making it fit to use in all kinds of circumstances.
View price on

Amazon
If youre going to invest in a utility knife, would you rather have the slightly less hardware based and slightly more classic kind that bears a retractable blade? We can understand that; the kinds with a folding blade can be a little risky to open and close depending on how loose or stiff their hinges are.
Thats why this particular retractable utility knife from Stanley caught our eye! Its simple, affordable, comes with three blades, and guarantees a solid locking into place so that the blade youre using doesnt slide back into the handle when youre applying pressure in use.
View price on

Amazon
Do you love the idea of a retractable blade but youre still convinced that you need something a little more durable and heavy duty than what you saw above? Then we think youll very much appreciate the design and materiality of this utility knife fromAlltrade!
Its a small touch more expensive than what youve seen so far, but not so much that the price isnt worth the features it bears. The main difference here is that the thing stopping the knife from retracting when you apply pressure is a squeeze handle, kind of like rotary cutters, giving you a little more control. There is, of course, also a locking button for ease.
View price on

Amazon
Are you still in the market for a retractable knife with a little more durability to it but youre not sure that a squeeze handle is the design you want to go with? Then wed definitely suggest browsing the details of this design fromKlein Tools for a moment!
In addition to being durably designed, this knife is extremely convenient when it comes to blade changing. Not only can dull blades be changed safely and extremely quickly in just a few clicks, but the knife actually has storage in its handle for spare blades so you can change them on the go if necessary. It holds up to six spare blades at a time! This design gets bonus points for having a wire stripping feature near its head where it doesnt get in the way until you need it.
View price on

Amazon
Are you actually still scrolling through our list thinking about how youd very much like to get a folding knife design rather than a retractable one, but you cant help feeling like the previous option we showed you was lacking some small detail? Then wed encourage you to take a look at this design fromWorkpro instead!
In actuality, this knife foldsand retracts, making it especially safe and also easier to store. Whats even better is that this particular knife has a clip on it so you can attach it to your belt or tool pouch for convenient storing while youre working that keeps it on hand and accessible.
View price on

Amazon
Have you felt quite enthusiastic about a number of the options youve seen so far but youre having trouble choosing between the features? In that case, we think you might get along a little better with a design like this one fromMilwaukee.
This particular knife has a durable all-metal body and space for the storage of four spare blades. It also has a wire stripper, a belt hook, and even a hole that you could put a lanyard through. Its as convenient in its features as it is hardy in its materiality.
View price on

Amazon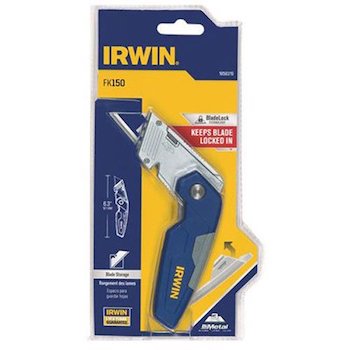 Have you actually been scrolling through our list thinking about how much you liked the concept of a utility knife that both foldsand retracts, but youd like to see more than one such design? Then heres another one for your consideration!
This knife from Irwin has an efficiently hinged folding action for easy storage, but also a retracting blade to keep things as safe as possible when its not being used. Its a mid-price product, more affordable than the one above but about on par with the other design we showed you that had both foldingand retracting capabilities. It also has a convenient wire stripper.
View price on

Amazon
Perhaps youre still feeling rather interested in the idea of using a retractable utility knife but youre also just not feeling sold on how steadfast the blades in some of these previous designs will stay and you know that you can be quite hard on your tools? Then we think you might get along a little better with a design like this one fromStanley.
This knife has an ergonomic, comfortable handle thats easy to grip. It also provides space for spare blades to be conveniently stored, and features a strong locking button that keeps the retractable blade in place, even when you apply pressure. Despite its good quality and strength, its actually one of the most affordable options and it comes with a lifetime warranty.
View price on

Amazon
Are you actually looking for a design thats much smaller but not devoid of strength, perhaps like something youd take camping? Then we can certainly understand wanting something a little smaller and thinner but still with all the strength of the other designs, somewhat like this utility knife from Outdoor Edge.
Compared to some of the other knives designed for housework and keeping in toolkits, this knife is quite simplified in its features. Its sized to slide easily into a pocket and the blade locks into place well in the durable handle, despite its smaller size.
View price on

Amazon
Did we hit the nail on the head when we mentioned a simplified design, but youre convinced youll be fine with something a little more classic than the awesome camping option you saw above? Well, this particular knife is a bit like a modernized version of the trusty old utility knife your dad probably had while you were growing up.
acetek offers you great safety and durability around the mechanism of a super easy quick-change blade. The box even comes with ten spare blades right off the bat, and you can get replacements from the company in a refill pack for a totally reasonable price.
View price on

Amazon
Conclusion
Do you know another DIY enthusiast who could use some help deciding on a great utility knife to use? Share this post with them so they have all kinds of information and guidance to aid them in making their choice!
The post What Are The Best Utility Knives For DIY Enthusiasts appeared first on DIYs.com.